Sahara's untold story: What the book reveals
Last updated on: May 06, 2014 11:22 IST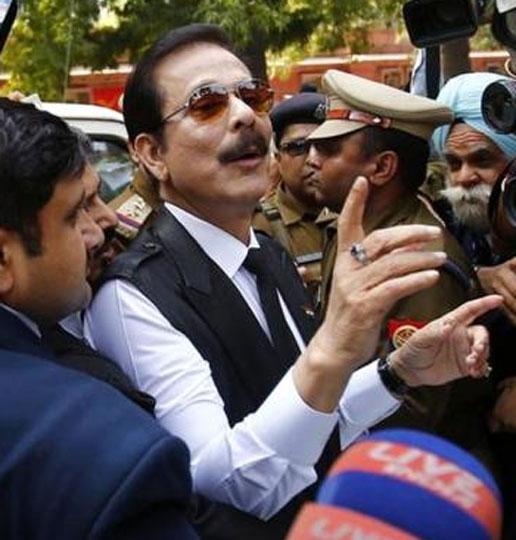 The embattled Sahara India group recently took the unusual step of moving the courts against the publication of a book, Sahara: The Untold Story, written by senior journalist Tamal Bandyopadhyay, seeking Rs 200 crores as damages from him. After weeks of legal wrangling, the group reached an out-of-court settlement with Bandyopadhyay, enabling the book to come out later this month.
The following extract from the book shows that wrangling with regulators is nothing new for the group. In the 1990s, too, it had run into the income-tax department and had used similar tactics as it is using against Sebi today to deflect the investigation into its affairs.
The suspicion that Sahara is a parking space for politicians' ill-gotten gains is as old as the organisation, but no investigative agency has conclusively proved that.
In December 1996, the IT department asked Sahara to furnish a list of MPs and MLAs who were supposedly keeping money with the group, with hundreds of names mentioned in the annexure.
Prasenjit Singh, the then assistant commissioner of income tax, central circle III, Lucknow, signed two notices that were sent to Sahara on 4th December and 23rd December. Both the notices had the same text:

Printed with permission from the publisher, Jaico Publishing House.
Click NEXT to read more…
Sahara's untold story: What the book reveals
Last updated on: May 06, 2014 11:22 IST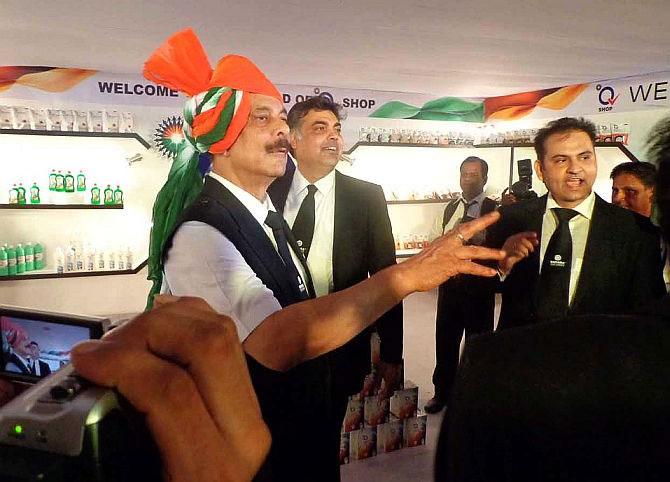 You are requested to furnish the following information along with documentary evidence:
a) The total investment made by the MLAs, MLCs and MPs as per annexure attached, from 1.4.1994 to 31.10. 1996.
b) You are also required to furnish the above mentioned details regarding the deposits made by the mayors of Lucknow and the corporators of Lucknow during this period.
The information should be given in the following format:
Name and address of person
2) Amount invested
3) Name of the scheme
4) Mode of payment
5) Date of deposit the money
6) Whether the money has been received back/or not.
This information about the deposits of the honourable MLAs, MLCs and MPs, mayors and corporators, is in reference to deposits made by them during the above period in the different deposit schemes run by the assessee or the above of the sister concerns.
Your reply should be furnished within a week of the receipt of this notice, failing which penalty proceedings will be initiated against you. (The) date of compliance is within ten days of the receipt of this letter.
The list in the annexure included three former prime ministers of India — PV Narasimha Rao, AB Vajpayee and Chandra Shekhar.
Click NEXT to read more…
Sahara's untold story: What the book reveals
Last updated on: May 06, 2014 11:22 IST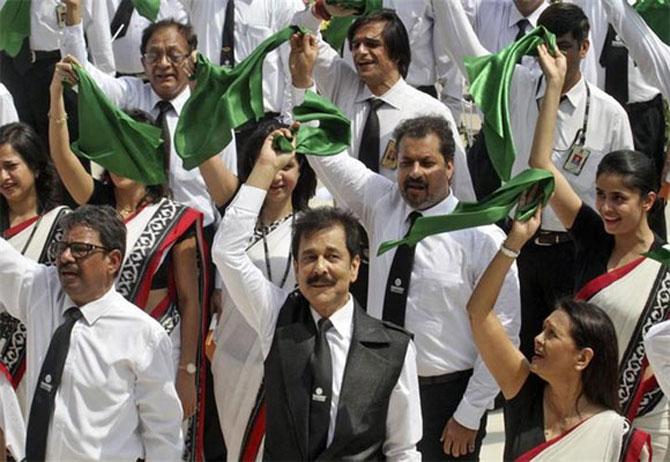 It also had ministers Mulayam Singh Yadav, Beni Prasad Verma and Gyaneshwar Mishra; speaker of the Lok Sabha PA Sangma; president of the All India Congress Committee Sitaram Kesri; Bahujan Samaj Party president Kanshi Ram; former chief ministers of Uttar Pradesh Kalyan Singh and Mayawati; and many others.
On 2 February 1997, about two months after the first notice was issued, Sahara wrote back to the IT department, saying, "In spite of our best efforts we have not been able to link any depositors in our accounts for and on whose behalf the names and addresses supplied by your honour along with aforesaid notice in respect of deposits."
The IT department wrote back on 8th February, saying, "The answer has to be specific and not loose-ended replies." It also said Sahara had not denied that leading politicians deposited black money with it.
Click NEXT to read more…
Sahara's untold story: What the book reveals
Last updated on: May 06, 2014 11:22 IST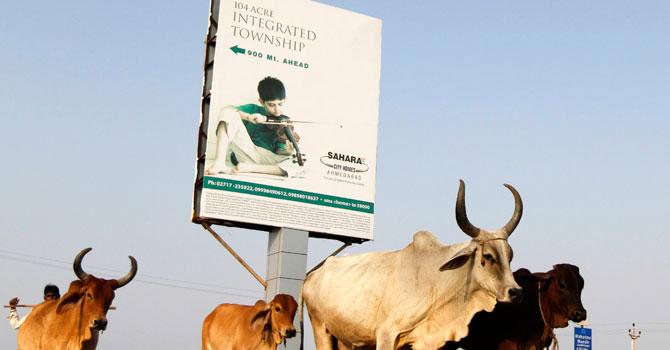 The Sahara Pariwar retaliated by releasing two full-page advertisements in national newspapers in February and March.
Signed by Roy, the 14th February ad carried an illustration of stones being thrown at a honeycomb and bees flying out, with a headline that read: "Till such time that the bees do not react to these stones throwers."

It also said, "We do no injustice nor tolerate injustice," and "We chase quality, quantity chases us."
Written by Roy himself, the text of the advertisement said: "I, as the chief executive of the organization, claim with total steadfastness that our intention has always been to abide by the rules and regulations of the land...
'It is unfortunate that instead of encouraging us for our multidimensional success -- maintaining such ideal norms - a few officials of certain departments have been regularly behaving in such a contemptible manner that it would not be possible to describe the degree of such meanness.
'We will never bow our head to their unjustified demands...'
Click NEXT to read more…
Sahara's untold story: What the book reveals
Last updated on: May 06, 2014 11:22 IST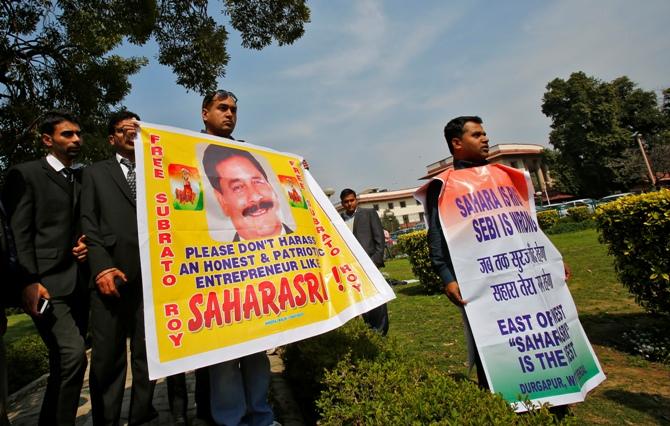 We would love to abide by the directive of income tax officials within seven days but we would like to inform that the complete control of our establishments (more than 1100 offices...) is done through our command office at Lucknow.
'For effective controlling... the computer department runs two shifts, 30 days a month. Our computerized system is based on a unique account number. In order to get a report based on names, it would definitely take more time.

'Besides, there is yet another point, that the list provided by the income tax department is in Hindi whereas all our entries are in English.
'Under these circumstances, when we translate from Hindi to English and then match the... name... it is quite possible to commit an error... In such a system, if there is a single wrong entry... the computer is unable to give the correct information.'
Click NEXT to read more…
Sahara's untold story: What the book reveals
Last updated on: May 06, 2014 11:22 IST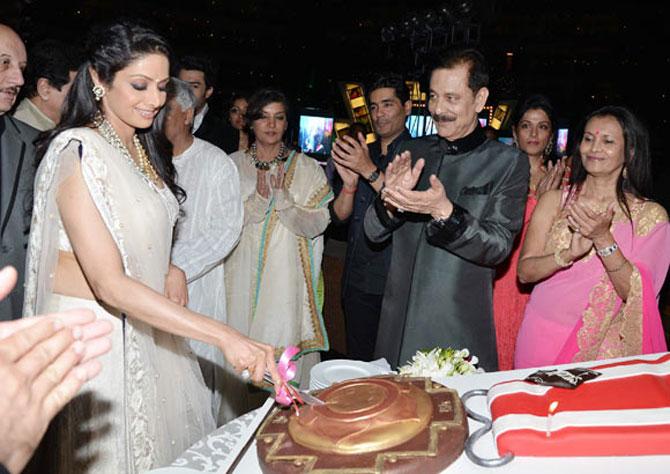 We have still made all efforts and in the preliminary we have not been able to find even a single name in our depositors' list in accordance with the list provided to us.... Many of the names in the list are of very important personalities with whom it is difficult to communicate in such a short time. Hence, we are publishing the names of the honourable citizens whom we believe will fully cooperate in abiding with the rules and regulations of the country to avoid any embarrassment to us and inform us at the earliest if they have deposited any amount in any scheme run by Sahara India.'
The ad carried the list of people mentioned in the IT notices.
On 15th March, the group issued a second ad: "Hear No Evil, See No Evil, Speak No Evil" — reminding one of the three monkeys, Mizaru who sees no evil, Kikazaru who hears no evil and Iwazaru and who speaks no evil. It added, "Do No Evil, Tolerate No Evil."
Click NEXT to read more...
Sahara's untold story: What the book reveals
Last updated on: May 06, 2014 11:22 IST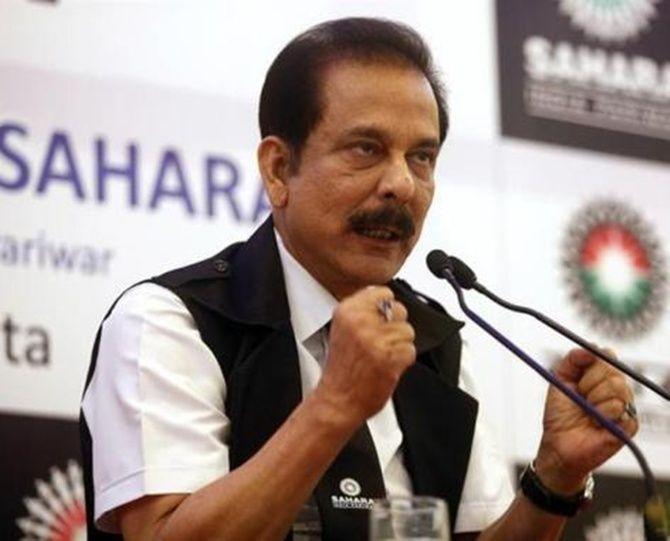 The ad claimed that Sahara India had given a 10,000-page reply to the IT department.
It challenged the tax office: "If any shortcoming, wrongdoing, weakness, dishonesty is found in our intention, which is against the nation's interests... we should be hanged at once, but we should not be harassed everyday... by misusing one's powers."
I am not aware of what the IT notices finally led to. The Sahara ads demonstrate the group's obsession with volume: a 10,000-page answer to an IT notice; 16 years later, it would send 127 truckloads of 31,000 cartons carrying documents to Sebi, running into millions of pages — for a list of investors in the OFCDs of its two group companies.
It also highlights the group's strategy when any clarification is sought — the delaying tactic. Computerising its entire data base in 1996 with unique identity numbers is laudatory, but it is difficult to accept the argument that such numbers did not have a name tag, or that converting English versions of names into Hindi would create chaos in the system.
The group used a similar tactic when Sebi asked for its list of OFCD investors.
Click NEXT to read more…
Sahara's untold story: What the book reveals
Last updated on: May 06, 2014 11:22 IST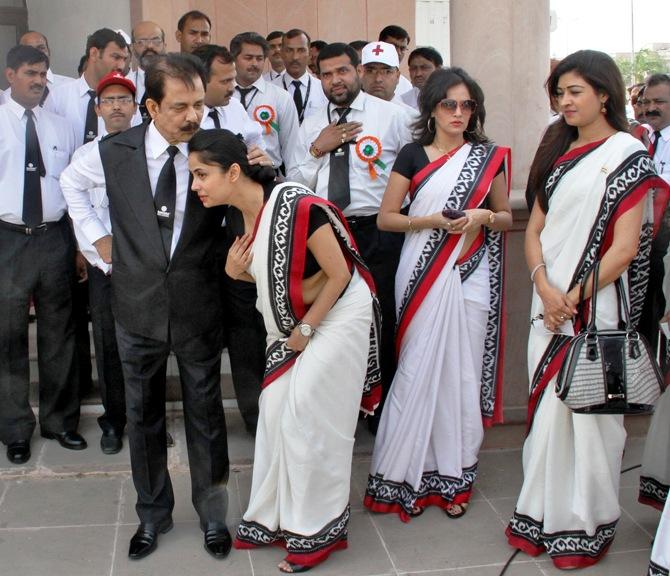 First, it said such investments were not under Sebi's jurisdiction; then, that its employees were on vacations; and finally, under the Supreme Court's deadline, that even with its 1,500 people and 50 photocopying machines, it would take 275 days to compile the data!
Incidentally, even today, Roy continues to say, "Prove we are doing wrong and hang us." The onus is on the regulator to prove Sahara wrong, not on Sahara to prove itself innocent.
Roy is firm on one ground: Sahara refused to give any information to Sebi as its regulator for OFCDs was the ministry of corporate affairs and it had taken advice from legal luminaries to vindicate this stance.
Sahara India Pariwar had filed a Rs 200 crore defamation suit against the author and publisher of the book and got a stay on its publication in December. Subsequently, the stay has been lifted and suit withdrawn following a settlement.
As part of it, Sahara issued a disclaimer which says "The book portrays Sahara in bad light by attributing unfound facts and incidents… The book at best can be treated as a perspective of the author with all its defamatory content, insinuation and other objections." The book will carry the disclaimer.
Source: