Falling rupee: Some say bottom may be near
Last updated on: June 10, 2013 18:36 IST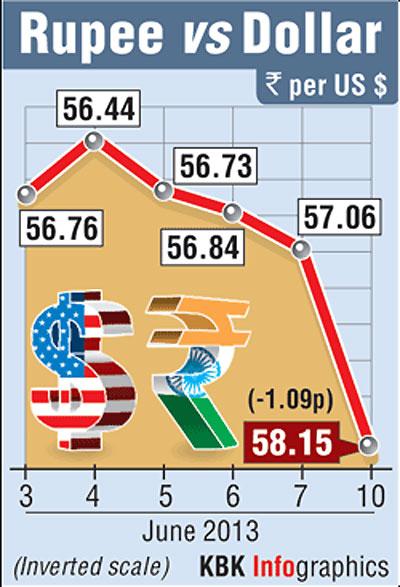 The rupee hit a record low on Monday, weighed down by broad gains in the dollar and choppy domestic shares, although the local currency was seen recovering on expected RBI intervention and potential government measures.
The rupee's fall has escalated worries about the country's current account deficit and complicated the task for policy makers looking to revive an economy that grew at its slowest in a decade in 2012/13.
Analysts said the Reserve Bank of India could turn more cautious about cutting interest rates at its policy review on June 17, potentially reducing confidence in the country's economic outlook.
The dollar rose against the yen and other major currencies on Monday, extending gains made after Friday's U.S. jobs report left open the prospect of the Federal Reserve scaling back stimulus soon.
Click on
NEXT
for more...
Falling rupee: Some say bottom may be near
Last updated on: June 10, 2013 18:36 IST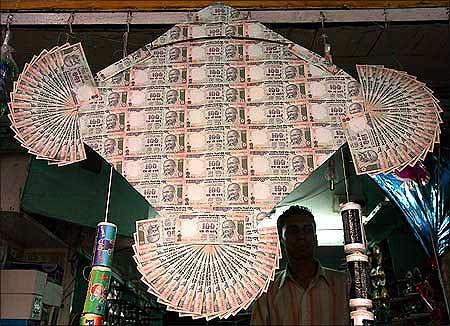 Although the central bank was not spotted intervening, analysts said this remained a prospect in days ahead. Government officials are also considering measures including easing investment rules for sovereign wealth funds.
"The bottom for the rupee is just around the corner. The possibility of intervention along with some rupee boosting measures might be on the cards in a few days, which should trigger a recovery for the rupee," said Shakti Satapathy, a strategist at AK Capital in Mumbai.
"The recent weakness has been due to panic selling, resulting from a threat in roll back of U.S stimulus. But considering recent data, we expect the chances of immediate roll back to be low and with a likely debt limit hike and one more rate cut towards July meet, the rupee may start recovering."
Falling rupee: Some say bottom may be near
Last updated on: June 10, 2013 18:36 IST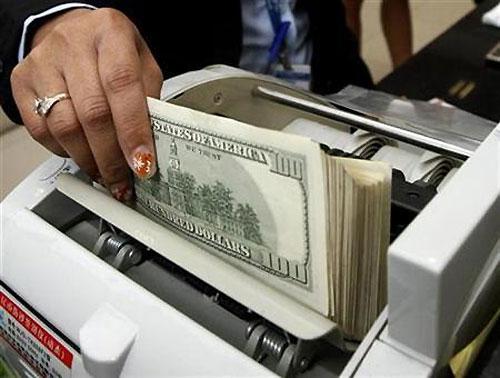 The partially convertible rupee closed at 58.15/16 per dollar after hitting a life low of 58.17. The currency fell 1.9 percent from Friday's close of 57.06/07.

Traders said the onshore forwards saw some selling as traders preferred to buy dollars in the spot and sell in the forwards.

The one-year forwards dropped to as much as 315.25 points, their lowest since January 7.

The Sensex ended flat as a fall in the rupee to a record low hit lenders on fears the RBI would hold off from cutting interest rates, while IT companies rose on hopes of improving returns from overseas markets.
Click on NEXT for more...

Falling rupee: Some say bottom may be near
Last updated on: June 10, 2013 18:36 IST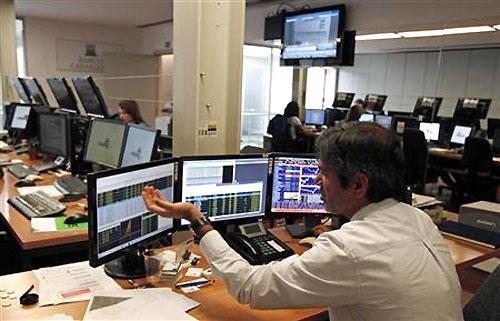 Traders will continue to monitor for any measures from the central bank and the government to boost the rupee. Not all see a quick recovery in the local unit and expect some more weakness.

"Our view on the INR remains unchanged - this is global not local - and therefore hurts all emerging market currencies, and is equally unlikely to settle before global uncertainty settles. We do not rule out 60 in the near-term," said Tirthankar Patnaik, chief economist at Religare Capital Markets.

In the offshore non-deliverable forwards, the one-month contract was at 58.55, while the three-month was at 59.16.

In the currency futures market, the most-traded near-month dollar/rupee contracts on the National Stock Exchange, the MCX-SX and the United Stock Exchange all closed at around 58.34 with a total traded volume of $8.8 billion.

Source:
© Copyright 2021 Reuters Limited. All rights reserved. Republication or redistribution of Reuters content, including by framing or similar means, is expressly prohibited without the prior written consent of Reuters. Reuters shall not be liable for any errors or delays in the content, or for any actions taken in reliance thereon.