Ratan Tata receives Dwight D Eisenhower Leadership Award
Last updated on: December 13, 2013 12:10 IST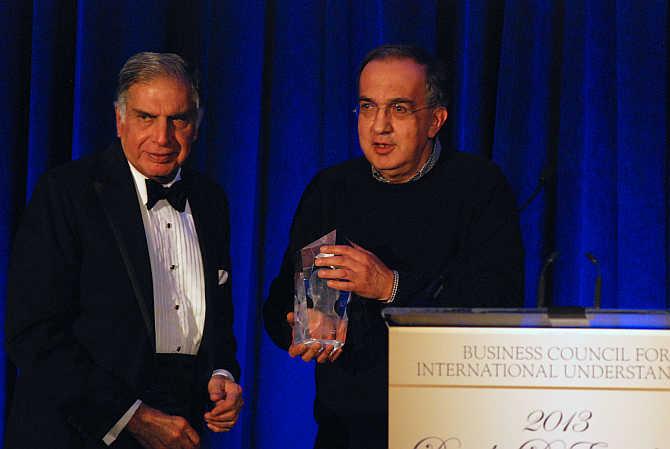 Tuxedos and floor-length gowns came out at New York's Ritz-Carlton Battery Park on Wednesday as guests handed heavy jackets, scarves, and hats to coat check attendants. Outside, the first snow of the season from the previous day still covered the edges of the road.
Green, red, and navy blue dresses, some with sequins or shimmery embroidery, complimented the hotel's festive holiday decorations. Some were in traditional Indian wear - a young woman, Pooja Rajput, had decided on a flowing red and gold anarkali, and Judi Kilachand, an American woman with an Indian ex-husband and a sustained love affair with India, donned a long eggplant-coloured salwaar kameez.
The champagne and hors d'oeuvres contributed to the elegant feel of the evening, though the tony venue and distinguished guest list needed little help with that. The event was the annual Dwight D Eisenhower Global Awards Gala, hosted by the Business Council for International Understanding, which was incepted in 1955 as a White House initiative under President Eisenhower.
It was honouring Ratan Tata, Tata Group chairman from 1991 until his retirement in December 2012 and now chairman emeritus of Tata Sons, with the Dwight D Eisenhower Leadership Award in recognition of the impact he has had not only on global business but also on his adherence to the values of social impact and responsibility to community.
During the cocktail hour, Mohini Dutta, who was an executive director of a Tata subsidiary and is now an advisor in Tata Capital and has known Tata for over a half-century, said, "He's our boss, he's the group chairman, and we're very proud of him and the contributions he has made, not only to the country or to the company but to the world in general. He believes very much in transparency, and we have something in the group called TCOC - the Tata Code of Conduct - and we believe in it and value ethics. If there's anyone at all who could have embedded all of this, it was Mr Tata. I have learned a great deal from him. He is an iconic figure not only for us but for the whole country."
Others echoed this from a more distanced perspective. Rajput, who lives in New York and works at JP Morgan, glowed as she described her feeling about the night: "Tata is a pretty big client for us, and we've been fascinated with their business. I've been in the US for 13 years now, but as an Indian, it's fantastic to be here. To me, Tata is a celebrity. It's a great honour to see him in person receiving this award."
Click NEXT to read more...
Ratan Tata receives Dwight D Eisenhower Leadership Award
Last updated on: December 13, 2013 12:10 IST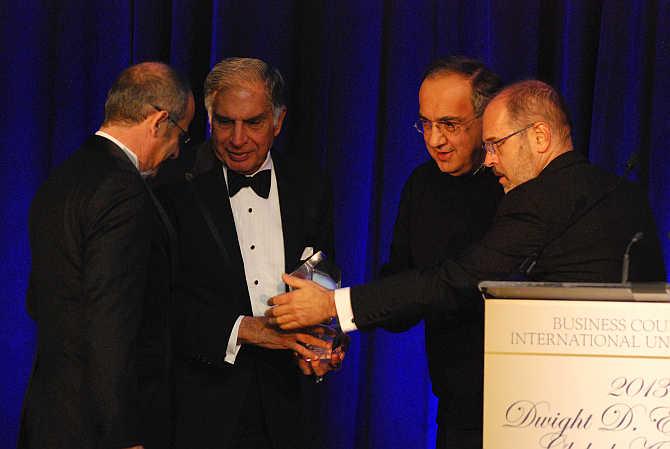 The crowd slowly made its way into the ballroom, but not before six Indian dancers performed a brief classical Indian dance and then, as quickly as they arrived, left, making room for the guests to enter. Jonathan Hollander, president and artistic director, Battery Dance Company, curated the evening's entertainment, which included music as well as five soloists showcasing Flamenco, South African Gum Boot, Kathak, Tap, and a Mexican dance style. They took their places in different corners of the vast space and followed the same beat with their movements rooted in disparate spots on the map.
"The Battery Dance Company has experienced the enlightened cultural policy of Ratan Tata and the Taj Group of hotels," Hollander said, telling a story of how the Tata family was integral in altering the history of who was allowed to perform at the legendary Taj during the height of Bombay's jazz age in the middle of the 20th century. He spoke of Mickey Correa, who took over the jazz band at the Taj as musical director in 1939, and introduced Correa's daughter, Christine, along with Frank Carlberg, to perform two songs for Tata.
The event was graced with a number of prominent faces, with Larry King acting as the master of ceremonies and Henry Kissinger sitting at the centre table across from Tata. Ahmet C Bozer, executive vice president, Coca-Cola International and chairman, BCIU, and Peter J Tichansky, president and chief executive officer, BCIU, spoke and 2011 award recipient Sergio Marchionne presented the award to Tata.
Bozer said, "I'm proud to say that we're gathered here tonight to support an organisation that is one of those positive and enduring forces. The Business Council for International Understanding, which I have the great honour to chair, is an agent of communication, education, cooperation, and understanding. It's ingrained with the deep and shard belief that the viable path forward is to replace conflict with cooperation. The leader, whose name is on tonight's award, once said, 'This world of ours must avoid becoming a community of dreadful fear and hate, and be instead and proud confederation of mutual trust and respect.'"
Bozer asked the crowd to take a moment to acknowledge the legacy of President Eisenhower and recognised the special guest - the former President's granddaughter Anne Eisenhower.
Click NEXT to read more...
Ratan Tata receives Dwight D Eisenhower Leadership Award
Last updated on: December 13, 2013 12:10 IST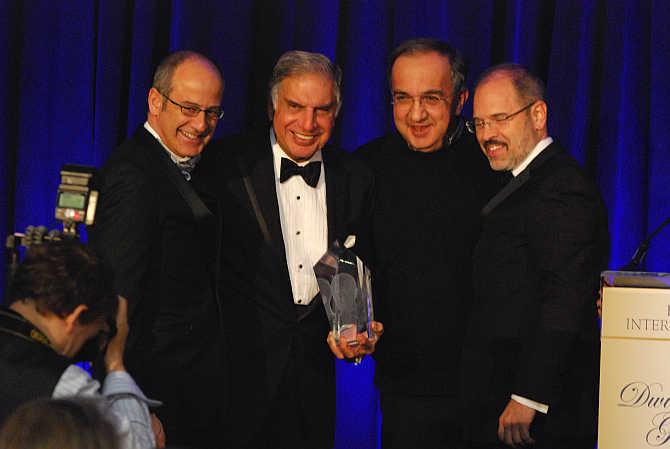 Shortly after, Marchionne - chairman and CEO, Chrysler Group; CEO, Fiat SpA; and chairman, Fiat Industrial SpA and CNH Industrial NV - gave his tribute to Tata. He shared a light-hearted anecdote about flying in a private jet with Tata, whose sense of adventure and humour seemed to be as much a part of him as all the other traits that make him the man deserving of the night's honour - industriousness, integrity, generosity, and the list goes on.
He mentioned Tata's vision of adapting to changing realities, the economic, social, and cultural transformations of the 21st century that transcend national boundaries and affect us all. Above everything else, the emphasis from the many who spoke about him was on his enduring commitment to social responsibility versus a narrow focus on profit and gain.
"The true value of any chief executive should be measured in the human impact he has on the organisation, in his or her ability to develop leaders who have the courage to challenge the status, to travel in uncharted paths, to break away from convention and assume the responsibility to build something much better for generations to come," Marchionne said. "So, when he retired and sat down as Chairman Emeritus, Ratan left behind not just a legacy about profits but also about his strong, unwavering sense of values. And it is for these reasons that I'm incredibly proud to present the Dwight D Eisenhower Award to Mr Ratan Tata."
Tata, who spoke briefly, made the guests laugh, and thanked BCIU. "I haven't been in a room with so many celebrities, so many dignitaries, and so many people I recognise in many, many years. I am deeply touched and greatly honoured to receive this award. It's something I won't forget for whatever few years I have left," he said.
"All through my life, I really did what my great grandfather said we should - mainly to give back to the community whatever we had in terms of prosperity. And in a place like India, and elsewhere in the world, for every prosperous person you see, there are several less privileged, less lucky, less healthy, and in fact, rather miserable. And if we can do something to help these people, do something that can bring prosperity to different communities, then the world would be a better place to live with greater understanding. Each of us has that responsibility, and that's what I've been trying to do in my own way."
When asked what words of wisdom he had for young people who looked up to his accomplishments, Tata told Rediff.com, "Do what you love. Do what is right."