'Rajaratnam made millions thanks to Indian-Americans'
Last updated on: March 22, 2011 17:16 IST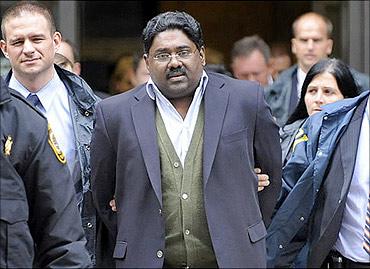 Sri Lankan-born billionaire Raj Rajaratnam made $4 million on Hilton stock in a single day after getting tips - in which two Indian-Americans were involved - when the hotel chain was bought by Blackstone Group in July 2007, a federal jury was told.
The jurors at the insider trading trial, in which Rajaratnam is the prime accused, also listened to more wiretaps that prosecutors say show disgraced former Intel executive Rajiv Goel provide secret information about pending technology industry deals to the hedge fund tycoon.
Goel has already pleaded guilty to giving Rajaratnam insider tips.
The central issue in the biggest insider trading case to hit US courts in decades is whether Rajaratnam, 53, made $45 million by using leaked confidential information.
Prosecutors claimed that the Galleon group founded by Rajaratnam bought the Hilton shares because Deep Shah, a junior analyst at Moody's, leaked news on July 2, 2007, a day before the New York-based Blackstone Group LP's $26 billion takeover of the chain was made public.
Click NEXT to read further...

'Rajaratnam made millions thanks to Indian-Americans'
Last updated on: March 22, 2011 17:16 IST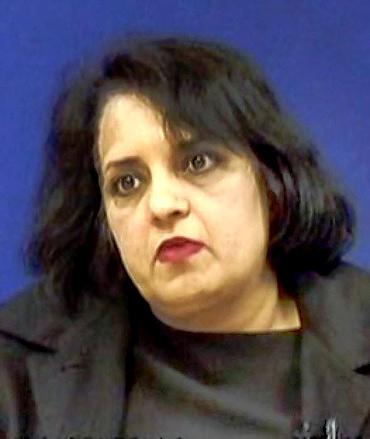 The Hilton tip was passed from Shah to Roomy Khan, a former Intel executive and stock trader, who in turn told Rajaratnam, prosecutors alleged. Khan has pleaded guilty in the case.
A Galleon fund held 475,000 shares of Hilton as of June 30, 2007, the defence said.
Galleon's Technology Fund bought about 400,000 shares of Hilton on July 3 - just prior to the Hilton acquisition was announced but after the alleged tip from Shah, prosecutors said.
Galleon earned $4 million on the transaction, the prosecutors said.
Margaret Holloway, a senior credit analyst at Moody's Investors Service Inc, testified that she learned about Blackstone's buyout of Hilton after receiving a call from a Hilton executive on July 2.
She said she immediately told Shah, while also warning him that the information was secret. Shah, who is believed to be in India, has been accused of being a co-conspirator in the sweeping insider trading case but has been at large since charges were filed in late 2009.
Click NEXT to read further...

'Rajaratnam made millions thanks to Indian-Americans'
Last updated on: March 22, 2011 17:16 IST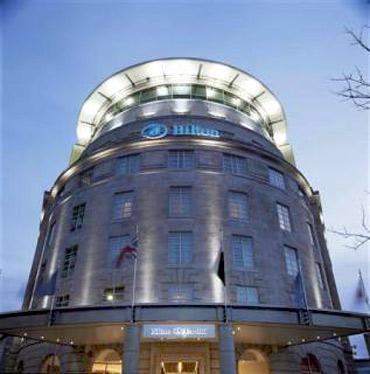 Rajaratnam's lawyers, however, said that Galleon had legitimate reasons to buy Hilton stock before its 2007 buyout that didn't involve inside information.
They said sophisticated traders knew Hilton was a takeover target months before Rajaratnam was allegedly tipped.
The prosecution played a secretly recorded phone conversation between Goel and Rajaratnam.
In a March 19, 2008 call, Goel told Rajaratnam, that Intel was planning to make a $1 billion investment in a new joint venture with Clearwire and others to develop an ultra-fast wireless Internet service.
Rajaratnam allegedly purchased through a Galleon technology fund 125,800 shares of Clearwire on March 24, 2008, based on inside information provided by Goel about the venture, the prosecution claimed.
"Intel has a board meeting, in fact, today," Goel can be heard telling Rajaratnam.
Click NEXT to read further...


'Rajaratnam made millions thanks to Indian-Americans'
Last updated on: March 22, 2011 17:16 IST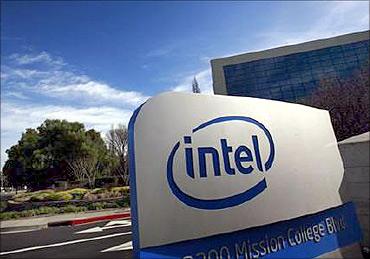 His lawyers say that Rajaratnam conducted his business based on information that was already in the public domain and through research.
Out of the 26 people arrested in this case, 19 have pleaded guilty.
Rajaratnam, however, denies any wrongdoing but could face up to 20 years in prison, if found guilty.
A government witness, Sriram Viswanathan, a senior Intel executive, told the jury that Goel had access to confidential information regarding a deal - nicknamed "Project Rain" - that Intel was having about creating a new 4G wireless network.
The information included details like how much money Intel might invest, which Goel shared with Rajaratnam.
Defence attorney Terence Lynam sought to show on cross-examination of Viswanathan that the information about the venture was publicly known long before Goel allegedly tipped Rajaratnam during the wiretapped telephone calls.

© Copyright 2019 PTI. All rights reserved. Republication or redistribution of PTI content, including by framing or similar means, is expressly prohibited without the prior written consent.