Bank-linked insurance may not be cheaper
Last updated on: January 14, 2013 13:15 IST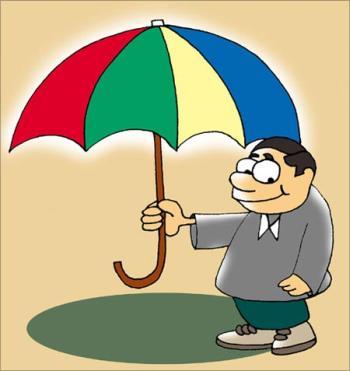 Is the bank branch in the vicinity? How reputed is the bank, what is the savings account interest rate? How well does it serve customers? These are usual questions you ask before opening a savings bank account. Whether the bank offers any insurance or not is often not a criterion in choosing.
Some banks offer personal accident and health insurance cover at a discount to account holders. What one needs to check is the product and how much is the payable premium if one buys the same product in the market.

The insurance product is not bundled with the account, as these are co-branded products, launched in association with general insurance companies offering medical insurance.
For instance, National Insurance offers a family floater plan to account holders of Bank of Baroda (BoB) and Bank of India (BoI). The banks charge account holders a premium of Rs 6,900 for a sum assured of Rs 5 lakh.

Whereas, if you buy the same product directly from National Insurance, you would have to shell out Rs 9,550, about 27 per cent more. However, the lower premium might come with a catch.

For instance, it is possible the product is offered under group health, due to which the premium is lower. In this case, it will not offer a tax benefit. Hence, first check with your bank if the product offered comes under the group or individual scheme.
"Most banks give policies which may not have all the features or may not function like a regular health policy. Also, to reap benefits from such policies, customers need to stick with the bank, even if other banks are offering higher interest. Some bank-linked policies may suffer from poor services and most of them do not qualify for tax benefit, since they are a part of group insurance. Hence, it's best to compare the product offered to the customer with the manufacturer (of the product) and also compare it online with other products available," says Akshay Mehrotra, chief marketing officer at policybazaar.com.
A National Insurance spokesperson says, "We have specially designed the family floater product for these two banks. We are offering discounts on the product because we get volumes from banks, and we are happy to pass this benefit to the customer in the form of discounts."
Similarly, Universal Sompo General Insurance offers health insurance to Allahabad Bank account holders. O N Singh, executive chairman of Universal Sompo, says, "Cross-selling and packaging products is always a win-win situation for both parties. We give discounted premium and have some special features in the product for the bank's customer. In the last three months, we have already sold more than 7,500 health policies."
Comparatively, Universal Sompo's product for non–Allahabad Bank customers is 10 per cent more expensive. That is, a family floater offered to a Allahabad Bank account holder will cost Rs 4,518, as against Rs 4,970 for a non-Allahabad Bank customer.

The specially-designed product for Allahabad Bank account holders gets reimbursed for day-care expenses, free health check-up up to four years and also doubling the sum assured in case critical illness gets diagnosed. These benefits are only available to the account holders.
However, it might not always be possible that co-branded products give you a discount. For instance, Kotak Mahindra Bank offers Tata AIG's health insurance cover to its account holders. A Kotak account holder will have to pay Rs 6,200 for a sum assured of Rs 5 lakh.

The premium will not change even if you buy the product directly from Tata AIG. But, if you look around, products from Religare and Star Health offer the same features at Rs 5,162 and Rs 5,506, respectively. The products are cheaper by 18 and 10 per cent, compared to the one offered by Tata AIG.
Some banks also offer personal accident and term policies. But it is important to remember that hospitalisation due to an accident is covered under health policies. Hence, if one already has a health cover, one wouldn't need a separate personal accident cover.

For instance State Bank of India (SBI) offers personal accident cover to all its savings account holders, worth Rs 4 lakh for a Rs 100 annual premium, in a tie-up with SBI General Insurance. DCB Bank, in a tie-up with Royal Sundaram, is offering personal accident cover of Rs 5 lakh at Rs 500, costlier than the SBI product.
Source: