Markets posts biggest weekly gain in 6-months
Last updated on: December 1, 2012 12:49 IST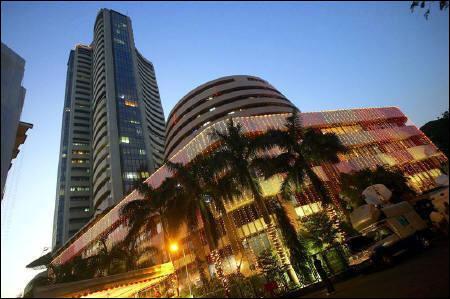 Indian shares posted their biggest weekly gain in six months on foreign investors buying witnessed in banks, capital goods, real-estate sectors amid reforms optimism after Congress-led UPA government agreed to a vote in parliament on allowing overseas inflows in the multi-brand retail.
Markets ended higher for the fourth consecutive trading session after weak GDP data raised hopes of some monetary easing by the Reserve Bank of India in the December 18 policy review.
The Bombay Stock Exchange's Sensex index ended 0.88 per cent up or 168.99 points higher at 19,339.90, its highest close since April 27, 2011, gaining 4.5 percent for the week. For the month BSE rose 4.51 per cent.
The National Stock Exchange's Nifty-50 index gained 0.94 per cent or 54.85 points, to 5,879.85, its highest close since April 21, 2011also adding 4.5 per cent for the week.
The measures posted their best weekly gains since the week ended June 8 on rising expectations of reform and sustained overseas inflows after Moody's stable outlook on India and after Goldman Sachs upgraded Indian equities.
"Funds will continue to come in till the valuations look steep. We may not see flows as high as 2012, but they would be substantial given the implementation of reforms and visibility of earnings coming through," said  Gajendra Nagpal, founder and CEO, Unicon Investment Solutions.
European markets also posted their first weekly gain while Standard & Poor's 500 Index posted its second weekly gains. Global risk appetite improved after House Speaker John Boehner, the top Republican in Congress, said he was optimistic that a budget deal to avoid fiscal cliff can be worked out and after European leaders approved Greece's bailout dampening concerns over exacerbating global growth slow-down.
Back home,  Indian economy grew by 5.3 per cent in the July-September period of the current financial year (2012-13), pulled down by poor performance of manufacturing and agriculture sectors, showing persistent signs of slowdown. The GDP had expanded by 6.7 per cent in the same period of last fiscal.
Meanwhile, India's fiscal deficit during the April-October period rose to 3.68 lakh crore, or 71.6 per cent of the Budgeted full fiscal year 2012-13 target, government data showed on Friday. During the same period in the previous fiscal year, the deficit was 74.4 per cent of the Budget target.
Overseas investors net bought $517.84 million worth of local shares on Friday and $990.49 million in November, data on Securities and Exchange Board of India site showed.
Movers and shakers
Rate sensitive sectors such as real-estate , banks and automobiles posted over 2-5 per cent gains in the week. Key stocks namely State Bank of India, ICICI Bank rose over 2 per cent on Friday while Mahindra and Mahindra Ltd, DLF posted nearly 1 per cent gain.
The top BSE gainers for the week included Sterlite Industries, country's biggest copper maker, surging 12 per cent, Bharti Airtel, India's biggest mobile - phone operator, gaining 10 per cent while Cipla rose 8 per cent.
Among individual stocks, loss-making carriers Jet Airways and SpiceJet gained over talks with overseas carriers, to sell minority stakes. Both gained nearly 5 per cent for the week.
PVR Limited rallied 24 per cent in the week after the Delhi-based multiplex major said that it had entered into a "definitive agreement" with Cinemax India to acquire a 69.27 per cent promoter's stake in an all-cash deal worth Rs 395 crore (Rs 3.95 billion).
SKS Microfinance rose 25 per centin the week ended Nov 30, after the foreign institutional investors (FIIs) hike their stake in the company to record high of 31.77 per cent in the July-September quarter.
In its biggest acquisition ever, ONGC Videsh Ltd (OVL) has agreed to invest around $5 billion to acquire ConocoPhillips' 8.4 per cent stake in the Kashagan field off North Caspian Sea. The deal is expected to be closed during the first half of next calendar year. The stock rose 5 per cent for the week.
Outlook:
Investors are likely to focus on outcome of the voting on foreign investment in multi-brand retail in Parliament and manufacturing PMI for November next week.
Global cues such as manufacturing PMIs of China, Europe and US coupled with European Central Bank interest rate decision, US non-farm payroll data and unemployment rate are likely to weigh on the investors sentiments.

Source: