'Rupee may rise if political parties agree on reforms'
Last updated on: December 3, 2012 08:22 IST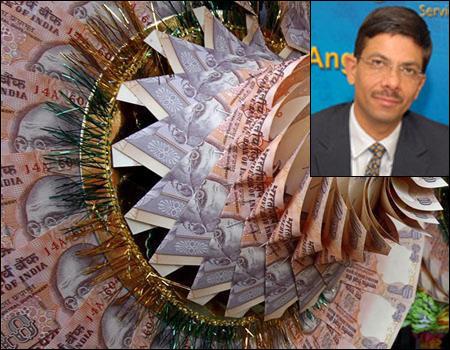 Naveen Mathur, associate director (commodities & currencies), Angel Broking, in an interview with Jinsy Mathew, says precious metals are expected to trade with a positive bias on optimism in the US. He adds the rupee may rise on optimism the government would clear reform measures it had announced earlier. Excerpts:
Last week, oil prices soared to $111 a barrel. What price levels do you see in the near term?
In the near term, Brent crude oil might find good support at 105/102 a barrel, while resistance is likely to be seen at $115.5/118 a barrel.
What is your outlook on gold and silver? Do you see further upside from current levels?

Precious metals are expected to trade with a positive bias on hope US President Barack Obama might be able to resolve the fiscal cliff issue with Congress law makers and agree on a new budget deal. Additionally, favourable data from the US is also expected to add to precious metal gains in the coming week.
Implementation of steps to provide aid to Greece has to be discussed with other Euro region policymakers. Any positive outcome from the meeting may push prices upwards. In the domestic markets, appreciation in the rupee may exert downside pressure on the Multi-Commodity Exchange (MCX) or cap sharp gains in precious metals.
Technically, gold prices on MCX February contracts may stand at Rs 32,500-33,000 per 10 gm on the higher side, while silver MCX March contracts may stand at Rs 66,500-67,000 a kg for a month.
Among base metals, which are the best picks in the market and at what levels?
Copper and nickel are the best picks in the coming month, as manufacturing data and housing sector data (in the US) are showing signs of a recovery, which would possibly result in a rise in the demand from consuming nations such as the US, China and Japan. This may support an upside in these metals.
Technically, lead prices on MCX may witness good support at Rs 110-100 a kg, while resistance may be seen at Rs 132-140 a kg. Nickel prices on MCX may see good support at Rs 885-840 a kg, and face resistance at Rs 990-1,030 a kg.
How do you see the rupee panning out in the near term?
The rupee is expected to appreciate, owing to optimism on the government passing announced reforms such as foreign direct investment in multi-brand retail in the winter session of Parliament. If political parties agree on this, the positive market sentiment would lead to appreciation in the rupee.
The rupee may also take cues from global market sentiments. However, with the government set to buy Rs 12 crore (Rs 120 million) of bonds through open market operations next week (starting December 1), the liquidity scenario might improve and the rupee might depreciate.
It might also depreciate if Standard and Poor's downgrades India's sovereign rating. The rupee may see good support at 53.7-52.7 levels, while resistance may be seen at 56-57.

Source: