Infosys dashes investors' hopes
Last updated on: April 12, 2013 18:11 IST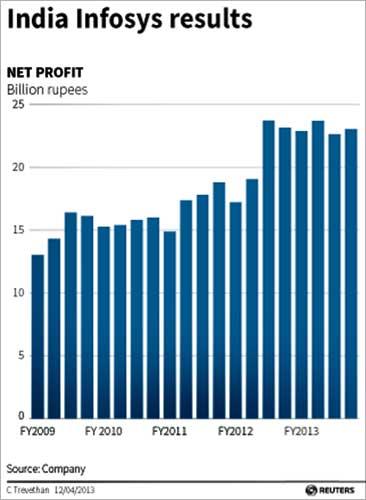 Infosys Ltd forecast full-year sales growth that missed analyst expectations by a margin of up to 50 percent, dimming investor hopes that India's No.2 software services firm will soon start reaping the benefits of its strategic revamp.
Infosys forecast on Friday dollar revenue to grow between 6 percent and 10 percent for the fiscal year that began this month.
That was less than analysts' estimates for revenue growth of as much as 12 percent, and slower than a gain of 12 to 14 percent expected for the overall industry. Shares of Infosys tumbled 21.3 percent.
The company, which had been losing market share for about two years to industry leader Tata Consultancy Services Ltd (TCS) and smaller rivals like HCL Technologies Ltd, has cut its pace of hiring to the slowest in three years with the aim of boosting profitability. Yet Infosys said on Friday that margins will be under pressure in the near term.

"The (revenue) forecast looks quite conservative, which is a concern. Fiscal 2013 was also not very good for Infosys," said K.K. Mital, CEO for portfolio management services at Globe Capital in New Delhi.

"This looks like company-specific problem. Even mid-cap companies are expected to perform better than this."


(Writing by Aradhana Aravindan; Additional reporting by India Company News team; Editing by Chris Gallagher)
Infosys dashes investors' hopes
Last updated on: April 12, 2013 18:11 IST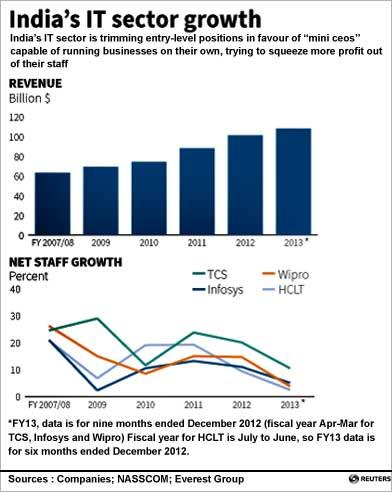 Infosys, once seen as a trend-setter for India's $108 billion outsourcing services industry, has turned in a string of disappointing results, except for in January when it surprised the market by raising its outlook.
The rough patch was caused in part by the challenge of implementing its "Infosys 3.0" push for revenue through the development of its own software platforms, to differentiate its services from those of its competitors, amid sluggish demand from clients in its core western markets.
In a sign that this strategy has yet to deliver, its products and platforms services contributed 5.7 percent of its overall revenue in the March quarter, down from 6.2 percent a year earlier.
Infosys lost more than $5 billion in market value after the forecast was announced, with its shares on track to post their biggest single-day percentage fall since April 2003.

Click NEXT to read more...

Infosys dashes investors' hopes
Last updated on: April 12, 2013 18:11 IST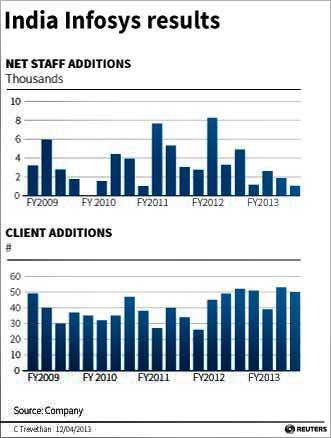 Q4 PROFIT
Consolidated net profit for the fiscal fourth quarter ended March 31 was Rs 2,390 crore (Rs 23.9 billion), compared with 23.16 billion a year earlier. Revenue for the quarter rose 18 percent to 104.5 billion rupees.
That compared with an average estimate of Rs 2,300 crore (Rs 23 billion) in a survey of 18 analysts by Thomson Reuters I/B/E/S. Revenue was estimated to grow 21 percent to Rs 10,700 crore (Rs 107 billion).
Infosys said it expected margins and pricing for its services to be under pressure in the short term, after reporting that billing rates fell 0.7 percent in the fourth quarter from the December quarter.
Analysts also said the absence of an outlook for earnings per share from the company, which stopped giving quarterly forecasts last year, was a reflection of uncertainty.
The company added 56 clients in the quarter, taking the total to 798, compared with an addition of 52 last year.
"We are confident, considering the deal wins in the last one year and the wins in the recent past, we feel that we are well positioned for the next year," Rajiv Bansal, chief financial officer, told reporters.

Click NEXT to read more...
Infosys dashes investors' hopes
Last updated on: April 12, 2013 18:11 IST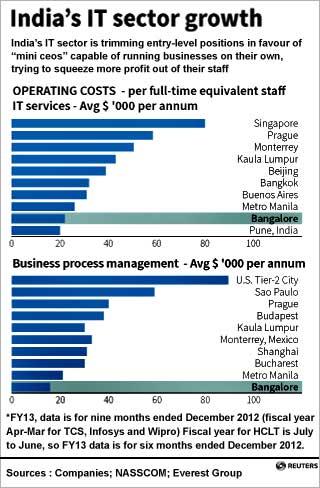 Infosys also said it would set aside up to $100 million to invest in products, platforms and solutions ideas.
"Because of this volatility we also understand that growth is the biggest challenge for us and that we've to get the growth back, which will require some investment, accelerating investments in the marketplace, also differentiate our service offering," Bansal said.
Infosys said it added 1,059 employees during the quarter, the slowest pace of additions in three years, in what could be a sign of the times in which India's IT outsourcers are looking to trim down on the hordes of entry-level staff.
Infosys is the first in the sector to report quarterly earnings. TCS is expected to report a 22 percent rise in fourth-quarter net profit on Wednesday, while third-ranked Wipro is seen posting a 15 percent rise on Friday, according to analysts.
Source:
© Copyright 2021 Reuters Limited. All rights reserved. Republication or redistribution of Reuters content, including by framing or similar means, is expressly prohibited without the prior written consent of Reuters. Reuters shall not be liable for any errors or delays in the content, or for any actions taken in reliance thereon.