Rupee kisses 59 per dollar; retreats at close
Last updated on: June 11, 2013 08:37 IST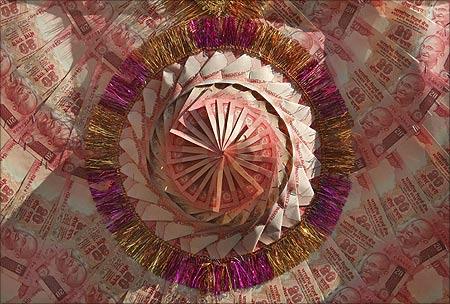 In a roller coaster ride, the rupee on Tuesday hit life-time low of 58.98 against dollar but erased a major part of losses to close at 58.39 after Reserve Bank of India intervened in the forex market to stem the slide in the local currency that caused much concern to government, markets and common man.
The rupee still closed 24 paise lower at 58.39 compared to Monday's close, extending losses for fifth straight day.
At the Interbank Foreign Exchange market, the domestic currency commenced lower at 58.30 a dollar from overnight close of 58.15.  
It dropped further to historic low of 58.98 on bearish stock markets amid reports of selling of government bonds by overseas investors to book profits.
Click on NEXT for more. . .
Rupee kisses 59 per dollar; retreats at close
Last updated on: June 11, 2013 08:37 IST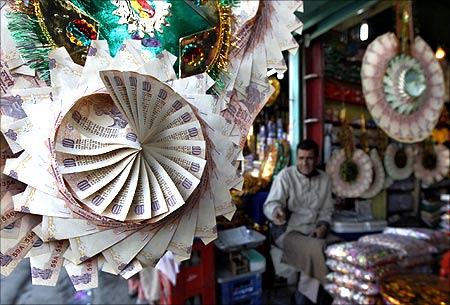 However, intervention by Reserve Bank of India near record lows and weak dollar overseas helped the rupee to bounce back to a high of 58.24, before settling at 58.39.
"RBI was possibly waiting to enter the scene at levels where importers step out and exporters step in.  
"It did so on Tuesday at around 58.9 levels.
"While the risk of rupee going to 60-levels is diluted, more is needed to bring it back to 57-levels," said Moses Harding, Head -- ALCO and Economic and Market Research, IndusInd Bank.
The rupee has weakened from 53.8 levels in April-end to over 58-levels at present and is also among the worst performing emerging market currencies in the 2013 so far.
"This is a temporary phase.
"This is simply a correction.
Click on NEXT for more...
Rupee kisses 59 per dollar; retreats at close
Last updated on: June 11, 2013 08:37 IST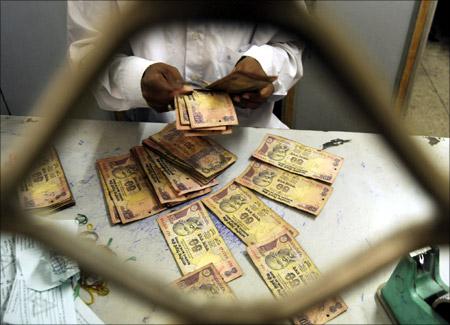 Our indication is some of the foreign institutional investors are now poised to bring in large funds. In next 3-4 days, we will see a mid-course correction," Department of Economic Affairs Secretary Arvind Mayaram said in New Delhi.
Chief Economic Advisor Raghuram Rajan said Finance Ministry will recommend to the Cabinet policies to enhance foreign direct investment limits on number of areas all this will help not just in short-term objective of financing the CAD safely but also in the longer term objective of ensuring sustainable growth.
Source:
© Copyright 2021 Reuters Limited. All rights reserved. Republication or redistribution of Reuters content, including by framing or similar means, is expressly prohibited without the prior written consent of Reuters. Reuters shall not be liable for any errors or delays in the content, or for any actions taken in reliance thereon.