How Ravi plans to restore Air India's lost glory
Last updated on: January 21, 2011 15:40 IST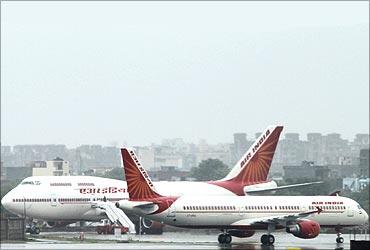 Civil Aviation Minister Vayalar Ravi, after assuming charge on Thursday, said making government carrier Air India a profitable business enterprise again would be his foremost priority.
The state-run airline is reeling under major financial losses and a plan of action has already been put in place to revive its lost status.
"My priority is to improve the services on Air India and to make it a profitable airline," informed Ravi.
To facilitate the same, he sought a coordination between the unions and the management so that the revival programmes could be implemented.
Allaying fears of the unions that have been under threat of redeployment to the subsidiaries of Air India, wage cuts and a freeze in salaries, Ravi said he would personally call every union and assure them that the government was concerned about them.
Click NEXT to read further. . .
How Ravi plans to restore Air India's lost glory
Last updated on: January 21, 2011 15:40 IST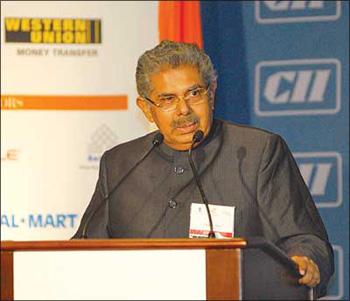 "I am here to hear them and seek their cooperation."
The minister also assured that he would look into the issues involving the de-registration of two unions by Air India -- Air India Engineers Association and Air Corporation Employees Union. There are a total of 12 unions now, excluding these two.
"The aviation sector has grown fast in the last few years.
"There are many more private players and budget airlines in the country today. I will carry forward the policies and implement the programmes initiated by Praful Patel (the previous minister) and strive to bring about improvement in the financial position of Air India as well as the overall aviation sector," Ravi said.
Click NEXT to read further. . .
How Ravi plans to restore Air India's lost glory
Last updated on: January 21, 2011 15:40 IST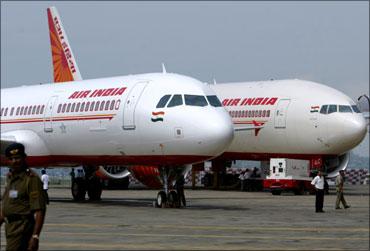 On policy issues in the sector, he informed he would take a positive attitude towards corporate entities and consult them.
He said he would meet corporate leaders and other stakeholders in the civil aviation sector shortly, listen to their issues and seek their cooperation.
"The employees and the corporates are like my two hands."
Asked about the problem of alleged cartelisation by airlines on airfares, Ravi said Patel had taken 'very strong steps when there were complaints (of high fares). I will follow in his footsteps and not allow such things to happen'.
The senior Congress leader from Kerala said he would meet the officials, the corporates in the sector and the employees' representatives before deciding on policy issues.
© Copyright 2019 PTI. All rights reserved. Republication or redistribution of PTI content, including by framing or similar means, is expressly prohibited without the prior written consent.