Get ready to pay more for primary articles
Last updated on: August 10, 2009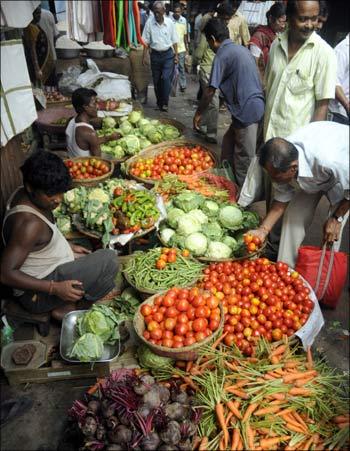 The weak monsoon this year will jack up prices of primary articles further, even as the country's inflation is likely to be in negative territory for the next three months, a report says.
The weak monsoon will exert further pressure on prices of primary articles, which are already high, as this year's deficient rain in most parts of the country, especially in north-east and north-west India, is a major cause for concern.
"Rainfall deficiency has been all the more pronounced over north east and north west India -- both important from the point of view of foodgrain production," Edelweiss Securities said in a research report.
Although a large buffer stock level is a silver lining, 'adverse monsoon effects on agro-production and an upsurge in agro-prices typically have knock-on effects on industrial prices as well', the report added.
Week-on-week growth in the primary articles' index stood at 0.4 per cent, caused by higher prices of food items.
Get ready to pay more for primary articles
Last updated on: August 10, 2009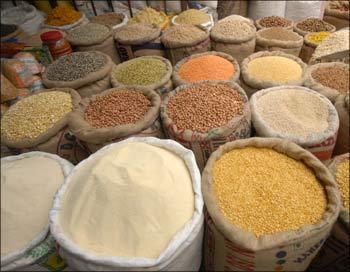 Fuel prices remained unchanged, while prices of manufactured products fell 0.1 per cent, with food products and paper and paper staff leading the fall.
Despite a sharp fall in the WPI, driven by decline in prices of industrial commodities (especially fuel and metal), consumer price index (CPI) inflation remained in or around double digits.
Meanwhile, a Citigroup report says that with cumulative rainfall deficiency in India estimated at 25 per cent (Jun 1 - Aug 5), and 141 of India's 593 districts declared as drought-affected, the government is adopting measures to mitigate the impact of inadequate rains.
These include steps to save standing summer crop and strategies towards alternate/winter crop.
With latest data indicating a 6% fall in crop sowing, to protect standing crop from further damage the govt has already given a diesel subsidy to facilitate supplementary irrigation in drought areas, provided additional power from the centre to Punjab, Haryana, Uttar Pradesh, Bihar and Assam.
Get ready to pay more for primary articles
Last updated on: August 10, 2009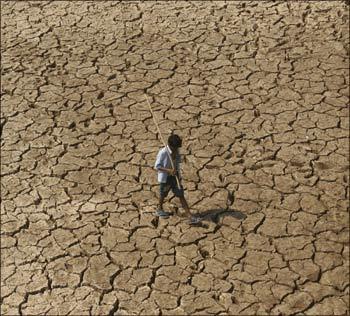 Strategies highlighted to ensure that the winter crop compensates the summer crop include making available seeds, fertilisers and credit.
However, despite mitigating factors such as possibility of a better winter crop and higher food-stocks primary product prices have begun to spiral. Commodities impacted include pulses (+19%), rice (+15.5%), fruits and vegetables (+ 15.2%), and cereals (+11.5%).
To counter this, Prime Minister Manmohan Singh has said that the Centre and the States, would need to use non-formal distribution channels and take strong action against hoarding and black-marketeers.
© Copyright 2021 PTI. All rights reserved. Republication or redistribution of PTI content, including by framing or similar means, is expressly prohibited without the prior written consent.