FM to meet state CMs, banks to review credit flow
Last updated on: November 11, 2012 13:50 IST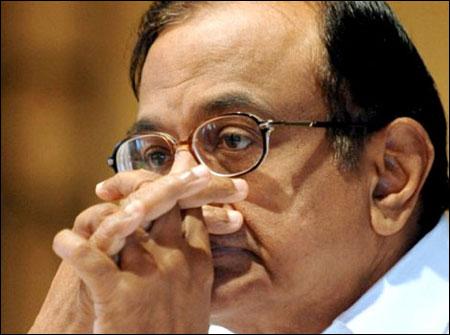 In the run-up to the 2014 general elections, Finance Minister P Chidambaram will review credit flow to agriculture, education and housing and monitor progress of centrally sponsored schemes, at a series of meetings with state chief ministers and public sector bank chiefs during the next two weeks. Employment generation is also going to be a focus area.

After reviewing the second quarter performance of state-run banks on November 15, the finance minister will meet chief ministers of north zone states and Union territories, comprising Punjab, Haryana, Delhi, Jammu & Kashmir, Himachal Pradesh, Uttar Pradesh, Uttarakhand and Chandigarh. Public sector banks will also attend the meeting in their respective zones.

On November 20, he will meet chief ministers of south zone states, comprising Tamil Nadu, Kerala, Andhra Pradesh, Karnataka, Lakshadweep, Andaman & Nicobar Islands and Puducherry. A meeting with east and west zone states may be convened after the Winter Session of Parliament in December.

Besides credit flow to some key sectors, financial inclusion, especially the campaign to ensure one bank account for each family in the country and electronic benefit transfer for government welfare schemes top the agenda. Chidambaram will look at recovery issues with state governments, key pending projects, and state-wise flow of credit to micro & small enterprises, weaker sections and minority community. Banks could be asked to spruce up lending to these sectors in some of the states.

"While the meeting with bank chiefs will be a quarterly feature, the finance minister also plans to meet state chief ministers once a year. This will be a good platform to bring states and the banks together and address issues in the banking and financial inclusion," a finance ministry official told Business Standard.

The progress of centrally sponsored schemes in each state will be reviewed. The key schemes include Swaranjayanti Gram Swarozgar Yojana and Swaranjayanti Shahari Swarozgar Yojana (schemes for self-employment of rural and urban population), Scheme for Rehabilitation of Manual Scavengers, Prime Minister's Employment Generation Programme.

Implementation of insurance schemes such as the Aam Aadmi Bima Yojana and pension schemes by the states for unorganised sector workers under the Swavalamban Pension Scheme will be reviewed in meetings with the state chief ministers.

In the meeting with banks on November 15, Chidambaram may ask them to lower interest rates and reduce the burden of instalment payments, especially with regard to automobile, housing and education loans.

Source: