Cooperative temper needed to take on global crisis: PM
Last updated on: October 10, 2013 13:00 IST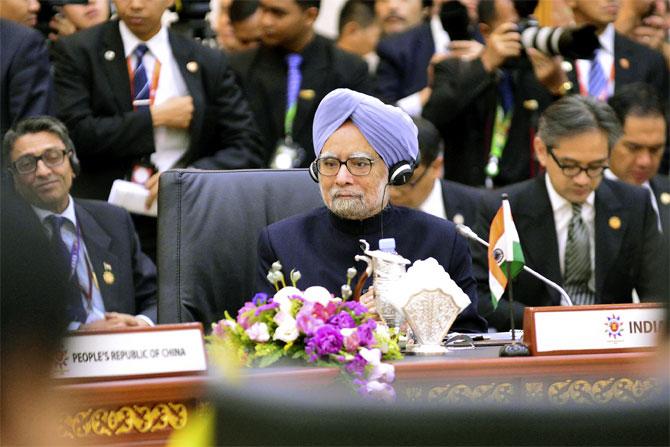 Calling for cooperation among Asia Pacific countries to tackle the global economic uncertainty, Prime Minister Manmohan Singh on Thursday said the vast growth potential of India and these nations can be realised only by inculcating a "cooperative temper".
Addressing the 8th East Asia Summit in Brunei, Singh said the meeting is taking place at a time "when the need for collective action, cooperation and collaboration in the Asia Pacific region has never been felt more acutely."
"Global economic uncertainty and political turmoil in other parts of the world have impacted countries in our region equally.

"In addition, this vast region faces challenges arising not only from its diversity, but also from differences. Clearly, the potential of unprecedented prosperity for our peoples can be realised only by inculcating a cooperative temper," the Prime Minister said.
"The East Asia Summit is a forum that is, in my view, ideally placed to help us realise our common goals for advancing security and prosperity in a cooperative framework," he added.
The EAS is a forum for cooperation among the ten ASEAN (Association of South East Asian Nations) nations and its partner countries -- Australia, China, India, Japan, South Korea, New Zealand, Russia and the US.
The ten ASEAN comprise Brunei, Cambodia, Indonesia, Malaysia, Myanmar, Lao PDR, Philippines, Singapore, Thailand and Vietnam.
Click NEXT to read more...
Cooperative temper needed to take on global crisis: PM
Last updated on: October 10, 2013 13:00 IST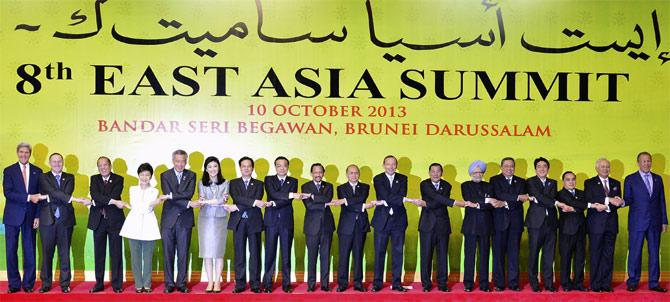 The Prime Minister told the Summit that the implementation of an earlier commitment for ASEAN Connectivity requires a sense of greater urgency and "building of physical infrastructure needs to go hand-in-hand with creation of soft infrastructure along the connectivity corridors.
"India welcomes dialogue and cooperation with like-minded countries on innovative means of financing these infrastructure requirements. We welcome Brunei Darussalam's initiative to hold a meeting between the ASEAN Connectivity Coordinating Committee and the East Asia Summit later this year," he added.
Singh further said the Regional Comprehensive Economic Partnership (RCEP, launched in Phnom Penh last year, has provided a roadmap for regional economic integration.
He said this can reinforce growth and accelerate development across the region, besides enhancing mutual stakes in regional stability and security. India remains fully engaged in and committed to the RCEP process, he added.
"We must supplement this effort with cooperation on the challenges of energy, food, health and human resource development. We, therefore, welcome the adoption of the Declaration of the 8th East Asia Summit on Food Security.
"We support Australia and Vietnam as co-Chairs of the launch of the Asia-Pacific Leaders' Malaria Alliance. We are happy to co-chair with Australia the Task Force on Access to Quality Medicines to combat malaria. We have also proposed a new initiative for cooperation among East Asia Summit members in trauma care and nursing," Singh added.
© Copyright 2022 PTI. All rights reserved. Republication or redistribution of PTI content, including by framing or similar means, is expressly prohibited without the prior written consent.