'Casino banking' can put us in danger: Subbarao
Last updated on: November 17, 2012 00:45 IST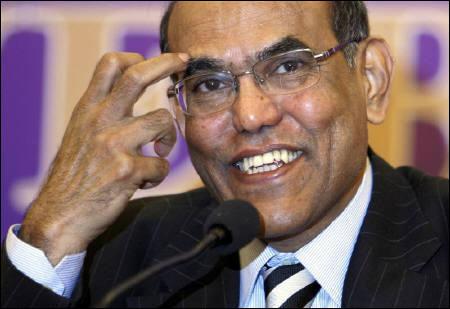 Reserve Bank governor D Subbarao on Friday warned against "casino banking" that has over- financialised the real economy, and called for inclusive growth to quell the growing disenchantment of the public.

"A growth process that increases inequity lacks durability, and indeed even legitimacy, eventually threatening the economic and social stability. Evidence in support of this is overwhelming--the 'Occupy Movement' of the past year being just the latest manifestation of the discontent associated with inequitable growth," Subbarao said at a seminar.

Inaugurating two-day international conference on 'Leveraging cooperative advantage', organised by the RBI-run College of Agricultural Banking as a part of International Year of Cooperatives of the UN in Pune, Subbarao said, "The recent financial crisis has taught us some very important lessons.

"The general disenchantment with 'casino banking' in certain developed economies underscored the dangers of over-financialisation of the real economy," Subbarao said.

Casino banking is the practice whereby a commercial bank engages in unduly speculative or risky financial activities with the aim of achieving high profits.

Stating that cooperatives have a very meaningful role to play in today's complex, globalising world, he said over the past 60 years, the world has seen several episodes of economic growth in many countries and "one clear lesson is that growth is sustainable only if it is inclusive".

The inclusive growth process is the one wherein "the poor contribute to growth and the poor benefit from growth", he said. "Cooperatives can become an effective instrument for inclusive growth and a powerful platform for enfranchising the less privileged," he said.

Noting that recent financial crisis saw many large commercial banks go belly-up, he said the cooperative business has been more resilient as its source of stability is the inclusiveness embedded in its very structure, which ensures that they aren't enterprises run for short-term profits, but are a business model for long-term sustainability and inclusive growth.

The experience of the 2008 global credit crisis has in fact generated serious thinking about cooperatives as a bulwark for financial stability as they do only basic banking and do not indulge in investment banking or trading, thus are not dependent on bulk or wholesale markets for funding, he said.

Noting that globally the cooperative movement covers over a billion people, he pointed out that India, China and the US have the largest number cooperative memberships, while Germany, France, the Netherlands and Italy lead in the number of cooperative banks.

With around 600,000 cooperatives, India has the largest cooperative movement in the world.

© Copyright 2023 PTI. All rights reserved. Republication or redistribution of PTI content, including by framing or similar means, is expressly prohibited without the prior written consent.