From a candle-seller to a multi-millionaire!
Last updated on: August 13, 2010 17:18 IST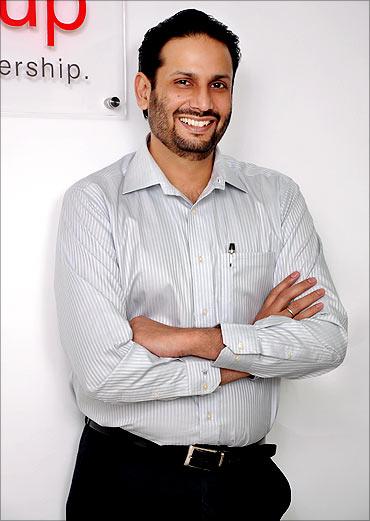 His is an amazing story. He learnt invaluable lessons of entrepreneurship from each of his failed endeavours.
As a teenager, Naresh Gulati was labelled as a failure by his family and relatives for he spent time selling candles and cloth in the streets of Chandigarh. Later, he was even duped by unscrupulous travel agents who promised him a lucrative career in Australia.
But today, the 39-year-old is a self-made millionaire with a group of companies in India and abroad with revenues of over Aus$ 19 million (   80 crore).
Ironically, he hit the jackpot by starting a firm, Oceanic Consultants, in 1996 that helps students and job seekers to get admission and placements, free of cost in colleges and organisations abroad.
At 15, when boys of his age were playing around, Naresh Gulati had to really struggle to make money. After he failed the tenth standard examination, the pressure only mounted on him to work harder.
"My family members were not so highly educated. So they wanted to me to study hard and do well. But I was not interested in anything they taught at school. My father wanted me to study in an English-medium school. I did not know the language neither did I want to learn it. When I failed the tenth standard exam, I got thrashed by my father and was locked up in a room. It was really humiliating," Gulati recounts.
Everyone thought he had ruined his life but he never thought he was a failure. He did what he thought he was good at: business. So what if it meant selling candles or cloth on the streets?
"My father had a cloth business that suffered a huge loss at that time. Since I was the eldest, I had the responsibility to look after the house along with my father. Even as a young boy, I wanted to do something different. I started by selling fancy candles. When others sold ordinary candles, I sold fancy ones, and made more money. This way I could earn pocket money and help my family as well," he says.
For him, this unfortunate turn of events, was a stepping stone to future success. Little did anyone realize that this young boy would one day become rich and famous.
Naresh was compelled to join school again. His father wanted him to become at least a graduate, and he obliged. Later, he went on to do a computer course. "My first job was at Aptech as a lecturer. The rest like they say is history," Naresh says.
Naresh now heads a group of companies in India and abroad. The OCA Group he founded is a holding company for three businesses: Oceanic Consultants, BPO Intelligence and Object Next Software.
Naresh Gulati shares the joy of being a true winner despite all odds...
Click NEXT to read on ...
You can send an email to Naresh Gulati at info@oceanicconsultants.com   Phone: 0172-4689000/3300300
From a candle-seller to a multi-millionaire!
Last updated on: August 13, 2010 17:18 IST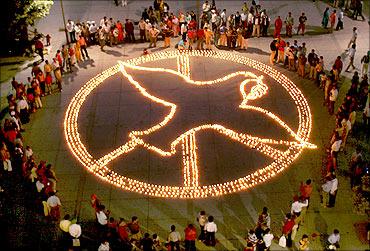 How was the experience of working as the street vendor? Were you happy doing it?
I enjoyed working. There was nothing else I could think of doing to be independent. I advised my father that the way he was doing business was wrong.
I did everything myself, instead of sourcing cloth from vendors, I went and selected the cloth I wanted to sell and made sure it worked. It was a tough life.
I had started the business by borrowing    5,000 from my uncle during Diwali. At the end of the first year, I could pay off the debt and still had   10,000 with me.
I continued to do the business even when as I started studying again. After classes in the evening, I used to turn into a vendor. Once during my college days, one of the girls in my class passed by and I felt very embarrassed.
Why did you decide to start studying again?
There was a lot of pressure from my parents that I should have a degree. So I went back to school. I passed the tenth standard but I failed again in the 11th standard. My family had given up all hopes on me. They thought I was useless and was wasting time.
However, I tried again and cleared the exam. Finally, I graduated in political science. Then I got selected to do a course in electronic data processing from the Regional Computer Centre. After this, I joined Aptech as a lecturer.
But I always wanted to start a business of my own. So I started a computer centre in Chandigarh, followed by a cosmetics company.
But the business was not doing very well. Then I came to know from an agent that Australia offers a great opportunity for professionals. The agent painted a rosy picture of things. He misled me to believe that everything will be taken care of while I pursue my further studies.
My parents took a loan of    2 lakh (   200,000) to send me abroad.


Click NEXT to read on ...
From a candle-seller to a multi-millionaire!
Last updated on: August 13, 2010 17:18 IST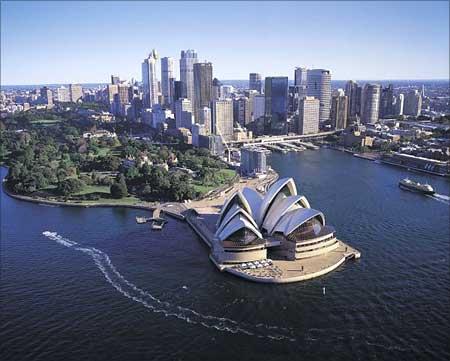 How was the experience in Australia?
When I reached there, I realized that I had been duped. There was no way I could afford to live there and study. I even slept outside on benches many nights not knowing what to do. But I was not ready to give up.
I knew I should not let my parents know about my suffering. I studied during the day and spend the evening working hard, washing dishes at restaurants, doing all kinds of odd jobs. I soon met many people who were duped by such unscrupulous agents.
This actually turned out to be a blessing in disguise. It struck me that a good service to guide the Indian students to join the universities abroad would be an excellent business opportunity.
After the post-graduate course in information systems from RMIT University, Melbourne, Australia, I got a job as an analyst programmer. I worked for one year and came back to India. I had saved enough to pay off my parents' debt.
I wanted to start the overseas education consultancy business.
Click NEXT to read on ...
From a candle-seller to a multi-millionaire!
Last updated on: August 13, 2010 17:18 IST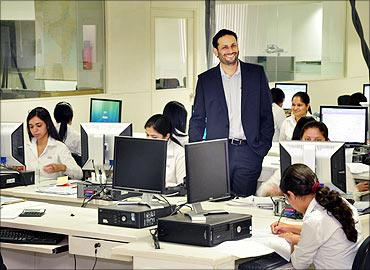 How difficult was it to start the company?
It was a tough decision. There were many things against me. I just had   143,000 with me after I cleared the debt. I was entering the market when there were about 100 companies offering similar service in Chandigarh.
When I began there were many people with expertise in this field. I had limited number of institutes in my list. I did not have enough funds.
But I never feared anything. I started Oceanic Consultants all by myself. It was a one-man show. It was really difficult to manage things myself. I could not afford to advertise or hire more people.
Luckily, business started picking after people realized that I was honest. My aim was to see my clients happy. So word spread about us and things started looking up.
From one small office in Chandigarh, we now have 20 offices across India. Even now, 75 per cent of our business is by word-of-mouth.
Click NEXT to read on...
From a candle-seller to a multi-millionaire!
Last updated on: August 13, 2010 17:18 IST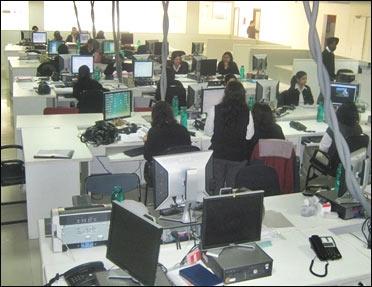 What kind of services does the company offer?
Oceanic Consultants Australia (OCA) is a Melbourne-based company that has three subsidiaries that offer a range of services to the international education industry.
Oceanic Consultants offers complete overseas education solutions to the students wishing to study in Australia, New Zealand and United Kingdom.
The company helps students choose the course and institution considering their background and career objectives. If we feel that a person will not be able to fulfill the requirements, we frankly tell them not to go ahead.
The company also offers assistance with student visa applications and travel arrangements. We do not charge the students. Instead, we charge the institutions overseas for our services.
Another company is BPO Intelligence that offers outsourcing solutions that help educational institutions involved in the recruitment of the international students to significantly cut their costs and become more efficient through innovative business processes and technology.
The third company, Object Next Software, develops high quality customised software solutions that help reduce their operating costs and increase productivity of its clients.
We are currently developing a state-of-the-art IT system for the educational institutions that are involved in the recruitment of the international students.
Click NEXT to read on...
From a candle-seller to a multi-millionaire!
Last updated on: August 13, 2010 17:18 IST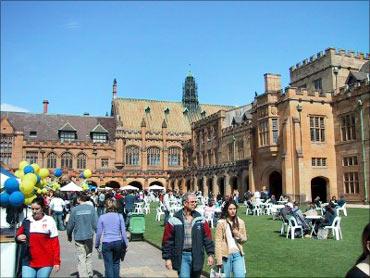 How do you compare the education system in Australia and India?
The quality of education is much better. The basic difference is that the education system is more practical. It is realistic, what you learn can be practiced.
Here in India, we learn mundane things. We continue to follow the old textbooks even when the world has changed so much. I studied political science for my degree, which I have never applied anywhere. I couldn't speak English till I completed my degree course.
I even asked my professor if I will ever be able to speak English fluently. He said try to think, talk, dream in English and that day I actually dreamt that I was talking in English!
So the education becomes a waste here. The exposure that students get in Australia is incomparable. It is a great experience.
In India, people are mostly self-centered. Instead of taking a holistic picture of how things will change with a better education system, people only think what will I benefit from this change?
How was the experience of being guest lecturer on entrepreneurship in leading Australian universities?
It was great sharing my insights with students of different nationalities and over 30 years of age. I was also able to guide many of them on their future course of action. I could also help them solve many problems.
Click NEXT to read on...
From a candle-seller to a multi-millionaire!
Last updated on: August 13, 2010 17:18 IST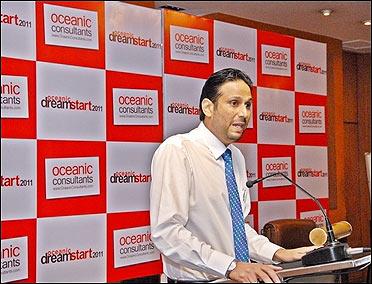 What are the challenges you face in India? How do you compare employees in Australia and India?
One of the problems I face is the lack of good quality people in India. We are expanding when other competitors are going slow on the business. The growth margin has come down with increasing operating costs. A new office takes at least 2-3 years to break even. The number of students going abroad is falling.
The employees in Australia are self-initiated; here we have to push them at times. But I am proud that I have one of the best teams. And I don't consider myself as the boss. I tell them that I am a person with a different set of duties.
How safe is Australia considering the attacks on Indians?
I would not say racism does not exist but I don't consider the attacks as racist attacks. I personally have not experienced anything bad.
Some of the incidents have happened in low quality institutes. My company had been winning awards in Australia. I have been featured in the top business magazines. My family and I have never faced any kind of discrimination.
I would say racism exists in India as well. When we see people from the North East we ogle at them as if they are from another world. Racism exists when we go for skin whitening. But I believe that the Australian issue has been exaggerated.
Click NEXT to read on...
From a candle-seller to a multi-millionaire!
Last updated on: August 13, 2010 17:18 IST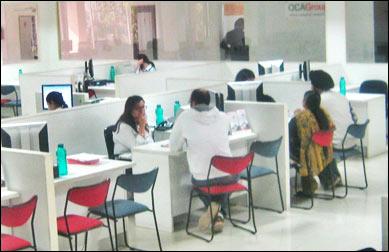 How profitable is this business? How have revenues grown over the years?
The revenue of OCA group for FY 2009 was more than A$19 million. When we compare apple with apple, the revenue of all my companies (there was only Oceanic Consultants) in Australian FY 1996, the revenue was less than $2,000. The profits for the FY2008 stood at more than $5 million. We estimate the value of the group at more than A$120 million.
Though we have recently seen a decline in the revenues and profits, we continue our expansion as we see the industry slowdown as an opportunity to expand our office network and product offerings.
Currently, we have 20 offices in India and we have plans to take to more 60 offices across India in next 3 years. The last year saw our entry into Kerala and Tamil Nadu markets besides opening of our UK office.
This year we opened offices in Bangalore and Mysore. We would be opening offices in Maharashtra (Mumbai and Pune) and Goa this year along with the offices in Canada and/or US.
We have helped more than 10,000 students since our business commencement.
Click NEXT to read on...
From a candle-seller to a multi-millionaire!
Last updated on: August 13, 2010 17:18 IST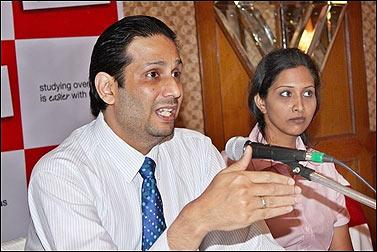 What are your views on India's growth and future prospects?
India is a land of great potential with a growing young population. It will emerge as an economic superpower in a few decades. However, we need to build on our education and infrastructure systems. Our education should be futuristic and change with the times.
How did you succeed as an entrepreneur? How important is it to be educated?
I had never set any goals in my life. But I was always positive. I never feared anything in life. I put in a lot of hard work and was determined to win.
The moment you fear that you can't do something, you will never be able to do it. Education gives you the right tools but if you don't know how to use these tools, it doesn't help you.
What are the biggest lessons that you learnt from your experience?
Bad times will never last.
Never fear anything.
Every problem is an opportunity.
What can't be measured can't be managed.
Believe in yourself.
Click NEXT to read on...
From a candle-seller to a multi-millionaire!
Last updated on: August 13, 2010 17:18 IST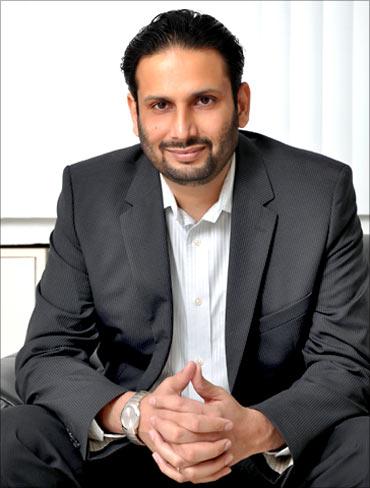 How important is money for you? What do you value the most?
Money cannot buy happiness. I value happiness and peace of mind. If you are happy, everything turns positive.
In fact, I am writing a book titled, One Life, Many Lives. It is about how we lead stupid lives. We have forgotten to live as we are forever chasing money. We have become too materialistic and we have ended up as the biggest losers.
In my book, I raise the question: What would you do if you know that you have just five minutes to live? Many people do not have an answer. We are too busy in calculating our bank balances that we have no time for our own happiness.
What is the best compliment you received so far?
My employees say they love me. That's a great compliment.
Another big compliment I got was from my young daughter, who said, "Everyone can become a father, not everyone can become a daddy like you."
What would be your advice for budding entrepreneurs?
Always believe in yourself, follow your gut, never be fearful, live as if this is your last moment, enjoy life and make the most of every opportunity.