Boeing to compensate Air India for grounded Dreamliners
Last updated on: January 19, 2013 08:14 IST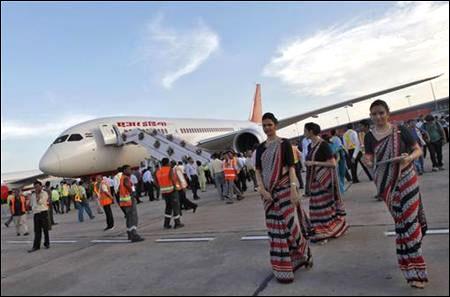 Boeing would give compensation to Air India for the period the latter's Boeing 787 Dreamliners remain grounded.

Yesterday, Air India had grounded all six planes in its Dreamliner fleet after the US Federal Aviation Administration issued a global directive to airlines that used the 50-odd Dreamliner aircraft around the world.

Air India would resume Dreamliner services only when the Directorate General of Civil Aviation (DGCA) clears this.

Even if the aircraft are grounded for a short time, Air India would seek compensation and the sum would be based on the number of flights operated daily, passenger load factors and average fares in those flights, said a senior aviation ministry official.

In an interview with Business Standard, Civil Aviation Minister Ajit Singh had said, "We expect if an aircraft causes a commercial problem, Boeing would have to compensate. At this point, we are not clear about how serious the problem is, what the commercial implications are and how long it would take. If we say anything now, it would be speculation."

Air India would start inspecting its six Boeing 787 Dreamliners from Tuesday. "Boeing is expected to send inspection guidelines, also called the service bulletin, to FAA (Federal Aviation Administration). The FAA-approved guidelines are expected by Tuesday," said an Air India official. Every Boeing 787 has two batteries and inspection would be carried out at Air India hangar in Mumbai to find out whether these have manufacturing defects.

A senior company executive said, "It will take 24 hours to inspect batteries in each plane. The findings would be shared with the DGCA and the FAA. If there is no defect, the planes will be redeployed on receiving a clearance from the regulator. However, if a defect is found, the batteries may need replacement and that would delay the restoration of Boeing 787 operations."

Air India had used the Boeing 787s on three domestic and three international routes. According to a statement by the airline, it is deploying a Boeing 747-400 plane on the Delhi-Dubai route and clubbing the Paris and Frankfurt routes using a Boeing 777.

About 80 Air India pilots are trained to fly the Boeing 787. With the Boeing 787s grounded, the airline would have to deploy Boeing 777s on the Frankfurt and Paris routes and airbus A320 for its domestic flights. Pilots from the 787 fleet cannot fly other aircraft, unless they attend a refresher course (simulator training and route checks) for a particular plane (for instance, Boeing 777).

FAA's directives followed two incidents involving lithium ion batteries in Dreamliners. "The battery failures resulted in the release of flammable electrolytes, heat damage and smoke on two Model 787 airplanes. The root cause of these failures is currently under investigation. These conditions, if not corrected, could result in damage to critical systems and structures, and the potential for fire in the electrical compartment," FAA had said in a release.

Source: