Bellary: How unrestrained mining turned it to dust
Last updated on: August 24, 2011 15:11 IST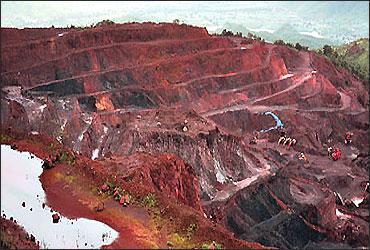 Karnataka's Lokayukta Santosh Hegde's report is a sordid story on the rise of India's mining poster boy, Bellary. The protagonists of the script, the Reddy brothers, used muscle and money to grease their way through government departments.
Initially, it was all gold. But Hegde's report exposed the dingy substrate of Bellary's mining operations. Heads have rolled, and the political establishment of Karnataka has been shaken up. BJP leader B S Yeddyurappa was made to quit the chief minister's post.
The Supreme Court has stepped in to ban mining on the basis of a report by the Central Empowered Committee (CEC).
The biggest losers have been the environment and the people living in the area. M Suchitra reports from Bellary and Kumar Sambhav Shrivastava analyses the CEC report.
---
The all-powerful iron ore mining mafia of Karnataka has hurled red dust into the eyes of democratic India with impunity, and for long. Convinced of their invincibility, the Reddy brothers, along with their mentors and cohorts, have ravaged the state's rich mines.
Between April 2006 and July 2010 the state lost Rs 16,085 crore (Rs 160.85 billion) due to illegal mining. When Karnataka Lokayukta Justice N Santosh Hegde submitted his 25,228-page final report to governor H R Bharadwaj on July 27, it revealed the colossal plunder of public wealth by those in power.
The report gives, with evidence, a detailed account of corruption, collusion and illegalities committed right from the ground level.
The report of the watchdog against corruption forced chief minister B S Yeddyurappa to resign, causing much embarrassment to the ruling Bharatiya Janata Party.
His successor, D V Sadananda Gowda, dropped from his Cabinet Tourism Minister Gali Janardhan Reddy and Revenue Minister Gali Karunakara Reddy, indicted in the report.
Besides the Reddy brothers, those indicted were Yeddyurappa's Cabinet colleagues: Health Minister B Sriramulu and Food and Civil Supplies Minister V Somanna.
Click NEXT to read on . . .
Bellary: How unrestrained mining turned it to dust
Last updated on: August 24, 2011 15:11 IST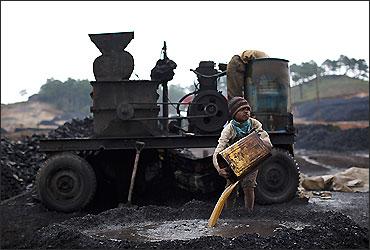 The names of more than 700 mining officials and 400 companies engaged in mining, iron ore trade and steel manufacture figure in the report.
Four mining majors - JSW Steel Ltd owned by the Jindal Group, Adani Enterprises Ltd, Sesa Goa Ltd and MSPL Ltd owned by the Baltoda Group - are listed as accused, besides the National Minerals Development Corporation (NMDC), India's largest public sector iron ore producer. So is former Karnataka chief minister and Janata Dal (S) leader H D Kumaraswami.
The name of Aarti A Lad, proprietor of mining firm VSL Enterprises and wife of business magnate-turned-Congress MP Anil Lad, also figures in the report.
Karnataka contributes about one-fourth of the country's annual iron production, which is 245 million tonnes. Sixty per cent of this comes from the state's Bellary district which has 124 mines, most of them within forest area.
The frenzy to extract iron ore started in 1999. And with it began the saga of unholy collusion between the political class and the mining and steel industries.
Joining hands, they gifted new leases and renewed the defunct ones. Large-scale mining led to massive environmental destruction.
In March 2007, the Karnataka government asked the Lokayukta to probe allegations of illegal mining. It was asked to "fix responsibility and initiate action against all public servants, including ministers, whether in office or otherwise", beginning from 2000.
Click NEXT to read on . . .
Bellary: How unrestrained mining turned it to dust
Last updated on: August 24, 2011 15:11 IST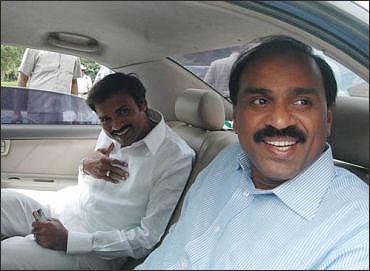 But investigating a mining lobby with immense money and muscle power was no mean task. The minister in-charge of Bellary district was Janardhan Reddy, the mining baron himself.
Almost all officials in the forest, revenue and police departments were handpicked by the Reddy brothers. "It was indeed a tough mission," recalls Hegde.
U V Singh, chief conservator of forests who led the investigation, was physically attacked. "But we refused to succumb," says Singh.
The report gives a detailed account of the irregularities committed in granting mining leases, mining, stacking, transporting, trading and exporting the iron ore.
Numerous cases of illegal activities were also found - that of mining without lease or after expiry of lease period, encroachment of forests and even others' mines, transporting ore without permits or with fake permits, overloading trucks, under-invoicing and benami transactions.
The activities were carried on in violation of many laws, including the Mines and Minerals Development and Regulation Act (1957), Forest Conservation Act (1980), Environmental Protection Act (1984), Foreign Exchange Management Act (2006) and Panchayati Raj Act.
This was in connivance with the departments of police, mines, forest, revenue, weights and measurements, commercial taxes, labour and the Karnataka State Pollution Control Board ( KSPCB).
Click on NEXT for more...
Bellary: How unrestrained mining turned it to dust
Last updated on: August 24, 2011 15:11 IST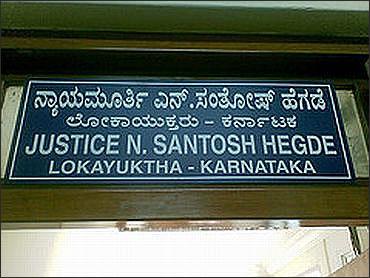 The Lokayukta report reveals that Karnataka's iron ore was being exported through Goa in the name of domestic consumption.
The state's high-quality ore was mixed with its inferior Goa variety and transported from Bellary in railway wagons. But there was no system to identify the illicit consignments. According to the Karnataka Forest Act, 1969, no forest produce can be transported by rail or sea without valid permits.
The report convincingly nails the Reddy brothers' claim that they never engaged in iron ore mining in Bellary.
It devotes an entire chapter to describe the illegalities committed by the Associated Mining Company, in which Janardhan and his family have a stake. The politician forced almost all miners to pay him 'tax' through "raising contract".
Raising contract is an illegal agreement through which a mine owner permits a third party to run the business and take a share of the profits or "lift" an amount of iron ore from his mines.
Those who refused were denied permits to transport ore. "We were also asked to pay them, but we did not oblige," says Raghavendra Rao, assistant general manager of MSPL Ltd.
The report also clearly states involvement of public sector companies. At a time when private players were making huge profits through legal and illegal mining and exports, NMDC was shipping ore at much lower rates. This was perhaps to help private players make big money.'
The National Agricultural Cooperative Marketing Federation of India Ltd (NAFED), which otherwise deals in procurement of oilseeds, pulses and cotton, also traded in iron ore through dubious means.
So did Mysore Minerals Ltd, a Karnataka government firm with 40 mining leases.
Click on NEXT for more...
Bellary: How unrestrained mining turned it to dust
Last updated on: August 24, 2011 15:11 IST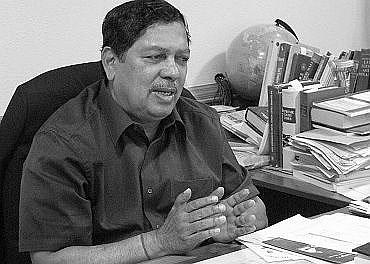 Hegde has listed names of officials involved and their bribery rates at the Belekeri Port.
The amount, he says, "progressively increased" from Rs 22 lakh (Rs 2.2 million) in 2004-05 to Rs 48 lakh (Rs 4.8 million) in 2005-06 to Rs 66 lakh (Rs 6.6 million) in 2006-07 and Rs 1.28 crore (Rs 12.8 million) in 2007-08.
The Lokayukta report has strongly indicted the KSPCB for encouraging and abetting illegal mining. It cites instances when the board avoided mandatory public hearings or conducted public hearings without involving villagers for granting new mining licences.
During peak mining period when air and water bodies were increasingly getting polluted, the board turned a blind eye.
Action awaited
For Hegde, the mission is accomplished. His term ended five days after he submitted the report. But he is not sure if the state government will take action. "My first report was completely ignored," he says.
In December 2008, Hegde had submitted a 274-page report which warned that the deposits would not last more than 20 to 30 years even under moderate rate of mining.
Click on NEXT for more...
Bellary: How unrestrained mining turned it to dust
Last updated on: August 24, 2011 15:11 IST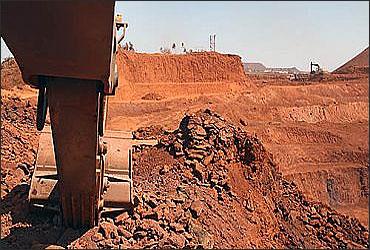 It recommended a ban on all trades of iron ore, including export. The report said the mineral should be reserved only for domestic consumption.
It also pointed out that the rate of royalty, between Rs 16 and Rs 27 per tonne, was absurdly low. It recommended action against many for contravening the law, including former chief minister N Dharam Singh, who held the portfolio of the department of mines and geology.
But no action was taken except filing of a few criminal cases against companies. Operations of 16 companies were suspended but they managed to get a stay from the state high court and resumed mining.
In December 2009, a special task force of the Indian Bureau of Mines ordered suspension of operations in 12 mines for violating mining plans. Similar orders were passed against 18 companies in April 2010. But exports went on unabated.
At present, the Central Empowered Committee of the Supreme Court is reviewing statements of big companies like JSW Steels, Adani Enterprises, Sesa Goa and NMDC that have refuted Lokayukta's charges.
But the miners are incorrigible. A day after the apex court banned mining activities in Bellary for three months, Fomento Mines Company was caught transporting 3,724 tonnes of ore worth Rs 75 lakh (Rs 7.5 million) by rail. Is this an indication to what the future holds?
Click on NEXT for more...
Bellary: How unrestrained mining turned it to dust
Last updated on: August 24, 2011 15:11 IST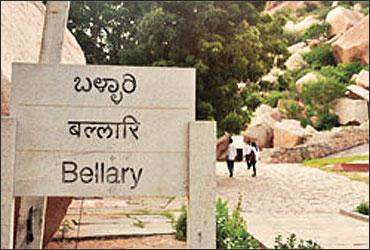 Picture imperfect
Fertile and picturesque, that is what Bellary was before companies started indiscriminate mining for iron ore
Papinayakanahalli is a tiny village in the foothills of the mountain ranges in Hospet taluka, the nerve centre of India's iron ore mining.
About two years ago people of this taluka, located in Bellary district, demolished their mud houses. They dug up the earth and collected huge amounts of iron ore dust. Selling it to traders fetched them handsome amounts.
Papinayakanahalli now has freshly built concrete houses. Its people also have tippers and earth movers that help them mine the rest of the land. There are 200-odd trucks in the village now.
Its people cashed in on the sudden surge in the price of iron in the global market. Hospet witnessed frenzied digging. Lands were leased to traders.
Illegal mining was the order of the day, and night. Trucks overloaded with iron ore jammed roads, even as women and children waited on crossroads holding containers and broomsticks to collect the dust that flew off open trucks.
But the bubble has burst.
On April 29, the Supreme Court cancelled mining activities of 19 companies based on a report by the Central Empowered Committee. On July 29, it ordered ban on all mining activities in the environmentally ravaged Hospet, Sandur and Bellary talukas in Bellary district. A cloud of uncertainty now hovers.
Click on NEXT for more...
Bellary: How unrestrained mining turned it to dust
Last updated on: August 24, 2011 15:11 IST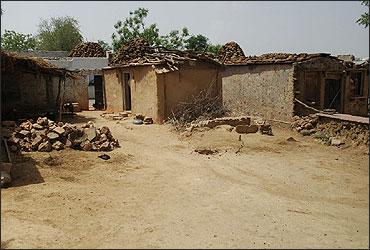 The old face of Bellary
A district that shares its border with Andhra Pradesh, Bellary is known as one of Karnataka's most backward areas.
In 2005, it ranked among the bottom 10 districts in the state's human development index.
But this poor district was also blessed with rich iron ore reserve. As per estimates in 2008, Bellary had close to 1,000 million tonnes of the mineral.
The district had witnessed mining for decades. But large-scale extraction began only in the second half of the 1990s. "Earlier, mining was done responsibly," recalls M Y Ghorpade, the oldest mine owner in Bellary and chairman of Sandur Manganese and Iron Ore Limited.
This could be because iron then was not a prized commodity. A truckload of iron ore cost just Rs 1,200, less than the cost of sand. Now, it has reached Rs 7,000 per tonne. Mining was never the main source of people's living.
"We used to grow onion in large quantities," says Moolaimanai Eranna, a farmer at Lakshmipura village in Sandur.
Sorghum, finger millet, green gram and pulses were also cultivated in this once picturesque land, he says.
This rainfed region had dense forests, grasslands and streams. So much so that when Mahatma Gandhi visited the place in 1932, he had commented, "See Sandur in September."
The place had a big goshala (cow shelter) and almost everyone in the taluka reared cattle. But they were forced to sell them when BJP MLA Anand Singh bought land here for mining.
Click on NEXT for more...
Bellary: How unrestrianed mining turned it to dust
Last updated on: August 24, 2011 15:11 IST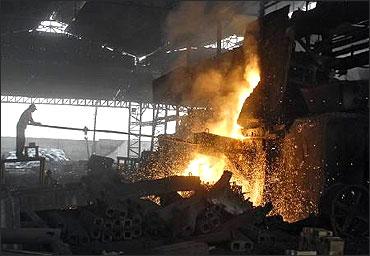 Mining was not the main profession in Hospet either.
"As per the 2001 Census, only five per cent of Hospet's population was directly employed by the mining and steel industries," says Chandra Poojari of the faculty of social sciences in Kannada University in Hospet.
This dry region is partially irrigated by waters from the Tungabhadra dam. Sona masuri, a quality rice variety, and sugarcane, apart from other crops in the unirrigated lands, are grown here.
Mad rush begins
Two factors paved the way for large-scale mining in Bellary - change in India's mining policy in 1993 and demand from China.
As the mining sector opened to private companies, China began importing huge quantities of iron ore to prepare for the 2008 Olympic Games.
It developed a technology that required iron dust - high grade ore sized 6-mm and below - for steel production.
The price of iron ore soared. From Rs. 1,200 per tonne in 2000 it crossed Rs. 5,000 per tonne in 2003. The massive loot began.
It was around this time that Gali Janardhan Reddy entered the scene. People in Bellary knew him as the son of a constable in the Central Reserve Police Force.
Poor at studies, he started a hotel which did not work. His tabloid venture failed. He incurred losses worth crores of rupees in a chit fund company.
Click on NEXT for more...
Bellary: How unrestrained mining turned it to dust
Last updated on: August 24, 2011 15:11 IST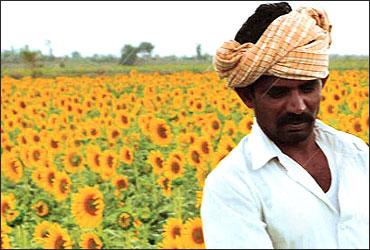 His luck turned in 1999 when BJP leader Sushma Swaraj stood in the general elections from Bellary. Janardhan campaigned for Sushma.
She lost but Janardhan gained as he managed to attain political clout. He entered the iron ore industry a few years later. He bought a mine in Obulapuram village in Andhra Pradesh.
The village shares its border with Bellary. Soon, Janardhan was encroaching upon 11 mines on the Karnataka side of the border.
"It was I who had to implement all the orders to encroach," says V Anjaneya, who was the deputy manager of Obulapuram Mining Company (OMC).
He has now turned an approver in the case against OMC registered by the Central Bureau of Investigation.
Over the period, Janardhan had gained money, muscle and political power. So powerful was he that he could even alter the inter-state border. "Before inspection from the Karnataka side we blasted the boundary to suit our needs," says Anjaneya.
Almost all mine owners, including Anil Lad, succumbed to his pressure tactics. Those who did not had to suffer losses. When MSPL Ltd, one of India's biggest iron ore companies, refused to pay him 'tax', it was denied permit to transport ore.
A few like D Ramesh, a mechanical engineer and son of former Congress MP from Anantapur district in Andhra Pradesh, adamant not to make any contract with Janardhan, could never start operations.
Tapal Narayan Reddy and his son Tapal Ganesh, who own Tumti Mines that borders Janardhan's, also became victims of his aggression.
Ganesh was physically assaulted. The Tapal family, which had completely lost its mine to Janardhan, is livid. "We are traditional miners. Why should we yield to the Reddys?" asks Ganesh. Janardhan was close to Y S Rajasekhara Reddy, the then chief minister of Andhra Pradesh, he informs.
Click on NEXT for more...
Bellary: How unrestrained mining turned it to dust
Last updated on: August 24, 2011 15:11 IST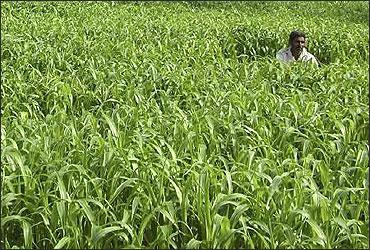 In 2008, Janardhan won the assembly elections and became Karnataka's tourism minister.
His two brothers also got a taste of power - G Karunakara Reddy as revenue minister and G Somasekhara Reddy as the chairman of the Karnataka Milk Development Corporation.
Janardhan's close associate B Sriramulu is the health minister. Janardhan himself became the minister-in-charge of Bellary district.
The Lokayukta report says the Reddys' writ ran in the 'Republic of Bellary'. Smuggling was smooth. Iron ore production, a mere 1.2 million tonne in 2000, crossed 42 million tonnes by 2010.
Bellary bleeds
The impact of indiscriminate mining was devastating. Everything in Bellary turned red - trees, crops, streams.
Suspended iron dust polluted the air. Agriculture was the worst hit. Farmers lost their crops, but were offered compensation of Rs 2,000-Rs 3,000 only if their farms were within 300 metres of the road, says Veeranna who runs a school in Papinayakanahalli.
Farm labourers started working with mining companies which offered them up to Rs 250 a day.
In Hospet, most mines are located near the catchment areas of tanks which provide water from the Tungabhadra. People of this taluka also depend heavily on borewells.
But many borewells have now gone dry, and the tanks are filled with silt. The Tungabhadra reservoir, just seven km from Hospet, which irrigates about two million ha of agricultural land in Karnataka and Andhra Pradesh, has also reportedly seen increasing siltation because of mining.
"Most patients who go to hospitals in Papinayakanahalli suffer from respiratory ailments," says Mary Mathew, a social worker in the village.
The once fertile land of Sandur now has iron ore and manganese silt in its upper crust.
The Lokayukta report notes that miners offered "attractive prices" to unsuspecting farmers for acquisition of land. Mining destroyed the top soil in Kurekuppa, Toranagallu and Bhujanganagar villages in Sandur taluka.
Click on NEXT for more....
Bellary: How unrestrained mining turned it to dust
Last updated on: August 24, 2011 15:11 IST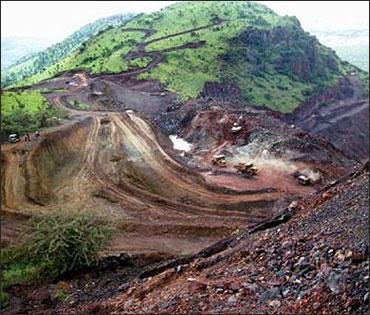 No resistance to massive loot
Rampant mining devastated Bellary. But no one resisted. Instead, they supported the rule of the Reddy brothers, or participated in abetting the crime.
The Sugalamma Devi temple, situated on the highest hill in the reserve forests bordering Anantapur district, was an integral part of the lives of the people of Bellary. In 2006, the mining mafia blasted it. No one uttered a word.
Could it be fear of the Reddy brothers? "That could be the reason," says Phani Raj, professor of civil engineering in Manipal University, who hails from Bellary.
But the outcome of the mammoth pirated economy could be another reason, he says. Huge amounts of cash flow through people's hands.
"All zilla panchayat and gram panchayat members, irrespective of their political leanings, receive Rs. 10,000 every month from the Reddy brothers for nothing," he says.
During elections, some families are given bikes, televisions and silk sarees. Youth, not even 25 years of age, own two-three trucks. "Money flowed, but there is no real development," rues the professor.
Click on NEXT for more...
Bellary: How unrestrained mining turned it to dust
Last updated on: August 24, 2011 15:11 IST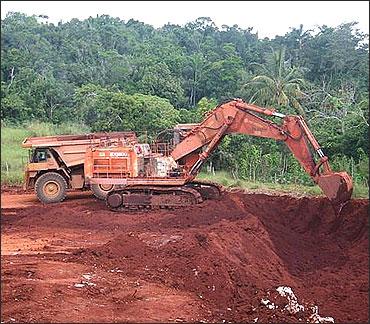 What next?
The ban on mining activities will affect about 50,000 people. Many migrant labourers have returned to their states.
Those who came to Bellary for good are gloomy. "We have been in this trade for a long time," says Venkateshwar, a truck driver at Sankar Nagar settlement near Hospet.
"Where will we go? What will we do?" About 7,000 trucks were actively involved in mining. Each truck employs three to four persons. Considering this, around 25,000 people will go jobless once the mines are closed.
Farmlands have been polluted and water scarcity is acute. No one knows what their effect will be on production.
The National Rural Employment Programme is a poor alternative as people will not get more than Rs 120 a day.
"Employment guarantee scheme is corrupt," says T R Chandra Sekhar who teaches at Kannada University.
Steel companies like Jindal Steels, BMM Ispat, MSPL and many other sponge iron factories are sure to face a huge iron ore crunch.
But as S R Hiremat of the non-profit Samaj Parivartana Samudaya points out, the present uncertainty is an outcome of the private companies' greed for profit. Lokayukta's first report had clearly stated that frenzied mining will soon finish all the iron ore in the district. The warning was completely ignored.
Click on NEXT for more...
Bellary: How unrestrained mining turned it to dust
Last updated on: August 24, 2011 15:11 IST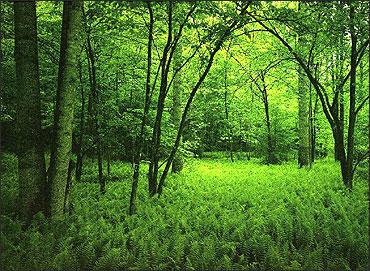 The wasteland
Bellary has lost 45 per cent of its forest cover to iron ore mining, says the CEC report
Environment comes first, profits later, noted Chief Justice of India S H Kapadia while ordering suspension of all mining operations in Bellary on August 5. Of the 148 mines in Bellary, only one company can mine iron ore, that too in limited quantity.
The state-owned National Mineral Development Corporation (NMDC) can extract iron ore, but only a million tonnes in a month for domestic consumption. Export from this region is disallowed.
Over the past decade, forest around Bellary has been destroyed by mining companies. The Central Empowered Committee (CEC), an advisor to the Supreme Court of India on issues pertaining to forest diversions, says that nearly 45 per cent of the green cover around Bellary may have been lost.
The recorded forest area in Bellary was 138,000 hectares (ha). But in 2009, the Forest Survey of India could find only 77,200 ha under forest cover. Of this, 11,000 ha comprised moderately dense forests. The rest was degraded forests.
"As a result of mining and associated activities, what was once an area with green, scenic, undulating hilly terrain, today presents a barren and dismal picture akin to a war-ravaged zone with huge ugly scars," the CEC report states.
The existing moderately dense forest is also under threat of degradation as most mining leases are given in such areas.
The report formed the basis for the Supreme Court ban.
The apex court ordered the investigation following a writ petition filed in the Supreme Court in 2009 against illegal mining in Karnataka's forests by the non-profit Samaj Parivartana Samudaya. In February this year, the court directed CEC to file a report on forest violations within six weeks. Its first report was filed in April.
On the basis of its findings, the court formed a joint team in May, comprising Central and state government officials and CEC members.
The team is to conduct surveys of 99 of the 148 functional and defunct mines in Bellary district. These mines were initially investigated by the Lokayukta in 2008.
Till July 29, the team had surveyed 60 mines. Of these, transgressions were found in 45. Their owners were asked to stop work by the committee, a CEC member informs. All the transgressions pertain to encroachment.
The joint team's survey will be periodically reported to the apex court. A final tabulation on the total encroached area is yet to be determined.
CEC's first report had stated that of the 7,220.8 ha sanctioned area in the 99 mines, 1,079.2 ha was encroached.
Click on NEXT for more...
Bellary: How unrestrained mining turned it to dust
Last updated on: August 24, 2011 15:11 IST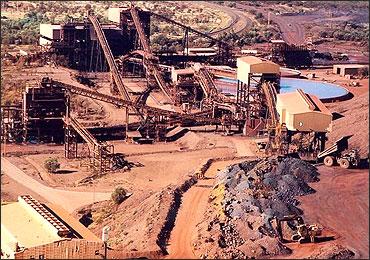 It also said that 74 mines were involved in illegal mining. But instead of taking punitive action against the erring miners, the state government allowed mining to continue.
After the 2008 Lokayukta report, the government had seized vehicles, tools and machinery of the erring miners, but returned them eventually.
CEC's first report says the state government illegally cleared 15 mining leases in the Ramgarh and Swamimalai forest blocks of Sandur forest range in the Bellary Reserve Forest.
In 2003, land meant exclusively for mining by public sector units was de-reserved for private entities.
Between 2003 and 2009, the district administration, along with forest and revenue officials, illegally re-classified forest area as non-forest area and issued no-objection certificates for mining on 183 ha in the two forest blocks.
At present, Karnataka has 266 iron ore mines, of which 134 are located in forest area. Bellary alone has 98 mines in the forest area covering 9,527 ha.
In view of the environmental degradation in Bellary, the Union Ministry of Environment and Forests (MoEF) in 2001 ordered that no fresh mining leases should be issued till the Karnataka government carried out a detailed Environmental Impact Assessment (EIA) of the entire region.
It also asked for a master plan to conduct scientific mining. The National Environment Engineering Research Institute (NEERI) submitted its EIA report in 2004.
It contained suggestions on: how to minimise dust from mining, storage and transportation; noise reduction techniques; safe disposal of mining waste; restoration and stabilisation of abandoned mines; and most of all using scientific mining techniques.
But the measures were never implemented and the malaise continued. NEERI's report and MoEF's order should have slowed down mining in the region.
Instead, permissions for iron ore production increased manifold. Environmental clearances were granted recklessly by the Centre and the state. Most of the mining activity had increased in 45 mines that have now been indicted by the Supreme Court's joint team.
CEC report points the finger at MoEF and the Indian Bureau of Mines which, it says, did not consider issues like area available to dump waste vis-a-vis the area required after increased production.
Click on NEXT for more...
Bellary: How unrestrained mining turned it to dust
Last updated on: August 24, 2011 15:11 IST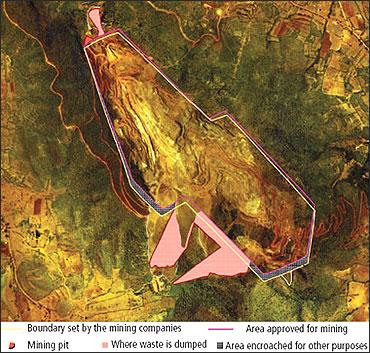 It also did not take into account the capacity of roads to allow increased transportation, and also did not bother about the impact of increased production on air and water.
To illustrate, Associated Mining Company, in which Janardhan Reddy has a stake, was granted permission by the mines bureau to increase its production capacity from 152,000 tonnes to one million tonnes per year.
The size of the mine was only 10.12 ha. The latest CEC report notes that the statutory provisions relating to dumping waste, bench formation for mining, internal roads, maintenance of safety zones, stacking of mined iron ores and maintaining prescribed standards of air and water qualities had to be compromised to maintain such levels of production in such a small sized mine.
Mining in Bellary will freeze for some time now, at least till an environmental appraisal is conducted. The Supreme Court directed the Centre to undertake a macro-level EIA and submit the report within three months. It also directed the Karnataka government to furnish within three months the reclamation and rehabilitation plan for Bellary district.
Anatomy of an illegal mine
It is clear from satellite imagery and maps prepared by the CEC team investigating forest encroachment that miners made no attempts to stick to the land leased to them for mining iron ore. For one, the government did not demarcate the boundaries of the mine sites.
The mining companies, instead, set up their own boundaries arbitrarily without caring whether they had encroached upon forestland. Seldom did the companies extract iron ore within their designated zone.
The encroached land was used not only for mining but also for dumping waste and other uses like building roads.
In this mine, the company was given a lease of about 105 hectares but its operations were spread over 121.5 hectares. Most of the encroached land was used to dump waste.
NEERI's recommendations that were never followed
The study conducted by the National Environment Engineering Research Institute (NEERI) in 2004 found 130-4,474 microgram per cubic metre of suspended particulate matter at many locations in Bellary, far above the ambient air quality standards.
The study found high levels of turbidity and heavy metals exceeding permissible limits in the surface water. Water samples from Narihalla dam and pond near the mining area showed deterioration of water quality compared to surface water from non-mining areas.
Groundwater in mining areas showed high levels of conductivity, hardness, dissolved solids, chlorides, fluorides and bacteriological contamination. Higher levels of iron, lead, manganese, sodium and potassium were recorded in groundwater. The report pointed out land degradation due to deforestation, soil erosion and unscientific mining.
Click on NEXT for more...
Bellary: How unrestrained mining turned it to dust
Last updated on: August 24, 2011 15:11 IST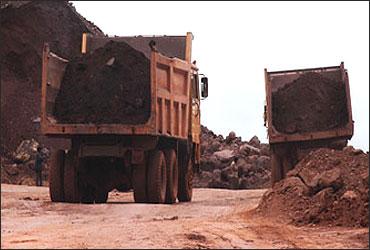 It suggested that mine lease area should not be less than 10 hectares. To minimise air pollution, the report suggested application of scientific methods of drilling, blasting and sorting of ore.
It suggested establishment of rail routes and ropeways to minimise road transport and enhance green belt. To prevent water pollution, the report recommended ban on waste disposal on hill slopes.
It said slopes of the waste should be maintained at 30 per cent for maximum infiltration and less run-off. The leases, it said, should be sanctioned or renewed by the government only on the basis of the five-yearly developmental plans for ore production on the basis of scientific mining methods.
Governance failure
How agencies meant to regulate mining conspired in the loot
Mining in India is regulated by multiple institutions functioning at multiple levels to provide checks and balances. In Bellary, however, every department and agency supposed to regulate and control mining simply collapsed under the weight of the 'loot'. Bellary, therefore, represents a colossal failure of governance.
There are seven ministries and departments directly responsible for regulating mining and its environmental and social aspects. Here is a look at how they failed.
Union Ministry of Mines: It is responsible for legislation and regulation of mines and development of minerals. It administers the Mines and Minerals (Development and Regulation) (MMDR) Act of 1957, the foremost mining law of the country.
Prior approval of this ministry is required before a state government can grant mining concessions for large mines. The ministry not only completely failed to see what was happening in Bellary it also failed to raise royalty on iron ore.
When the price of iron ore rose above Rs 3,500 per tonne, the royalty that it fixed was a mere Rs 16-Rs 27 a tonne, resulting in a massive loss to the public exchequer.
Indian Bureau of Mines: The premier mining regulatory body not only approves mining and environmental management plans, but also enforces these plans under the Mineral Conservation & Development Rules of 1988 and certain provisions of the Environment (Protection) Act of 1986.
It is supposed to inspect mines regularly, prosecute violators and has powers to suspend mining activities. The bureau's primary role is "conservation of minerals and protection of environment".
In Bellary, it failed on both counts. It allowed iron ore production to expand four-fold in 10 years and approved new mine leases in forest areas despite massive ecological degradation and wanton exploitation of minerals.
The Lokayukta report says the bureau used flawed methodology to arrive at the value of minerals on which royalties are charged by state governments. India lost huge royalties from iron ore because the bureau undervalued minerals.
Click on NEXT for more...
Bellary: How unrestrained mining turned it to dust
Last updated on: August 24, 2011 15:11 IST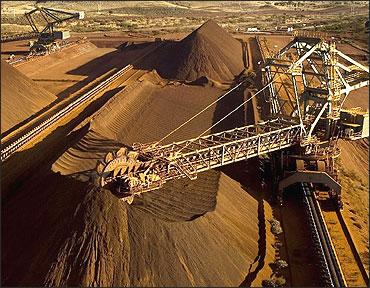 State department of mines: It undertakes mineral exploration, sanctions prospecting and mine leases and collects royalties. It is supposed to inspect mines and ensure mining plans are followed. It checks illegal mining and transport of minerals and also issues transit permits for transport of minerals.
The department failed to execute these responsibilities and has been indicted for facilitating illegal mining and transport of minerals from encroached forestland. It even allowed mining to continue beyond expired leases, resulting in lower collection of royalties. The department also allowed an illegal practice called "raising contract", banned under the MMDR Act.
Directorate General of Mines Safety: The regulatory agency under the Union ministry of labour and employment ensures occupational safety, health and welfare of mine workers. It ignored use of child labour and exploitation of women and contract labourers in Bellary. Most mine workers in Bellary are contract workers who work and live in abysmal conditions.
Union Ministry of Environment and Forests (MoEF) and State Environment Impact Assessment Authority (SEIAA): In 2001, MoEF put a stop to issuing fresh mining leases or renewing existing leases in Bellary and asked the Karnataka government to conduct a detailed environmental impact assessment for the entire region.
NEERI at Nagpur carried out the assessment and prepared an environmental management plan in 2004. It was never implemented. MoEF, nevertheless, withdrew the moratorium and started giving unrestricted clearances.
In October 2010, the then environment minister Jairam Ramesh declared no diversion of forestland for mining in Bellary. But the ministry allowed such diversions as late as March 2011. Interestingly, MoEF did not declare Bellary as a critically polluted area when it released its list of polluted areas in the country in 2010.
In 2006, SEIAAs were set up to grant environmental clearance to mining projects in 50 hectare areas or less. This opened the floodgates. Since 2007, Karnataka SEIAA has cleared more than 25 iron ore mines in the state; 19 of them are in Bellary. SEIAAs are turning out to be institutions which are held least accountable for their actions.
Karnataka State Pollution Control Board: It has not prosecuted even one mining company despite violation of environmental laws and the visible environmental degradation. It failed to even monitor the level of environmental degradation in the region.
Forest department: Its failures are colossal. Over 90 per cent of the mining leases in Bellary are in forest areas. The forest department colluded with mining companies and allowed encroachment of large tracts of forestland.
It issued transit permits to transport illegally mined ore though forests. In return, the department levied a forest development tax.
Besides these agencies, the district administration, too, colluded with mining companies; the railways and port authorities did not differentiate between transportation of legal and illegal ore and the customs department turned a blind eye to duty evasion. All departments had their snouts in the trough and there was no one to question them.
Click on NEXT for more...
Bellary: How unrestrained mining turned it to dust
Last updated on: August 24, 2011 15:11 IST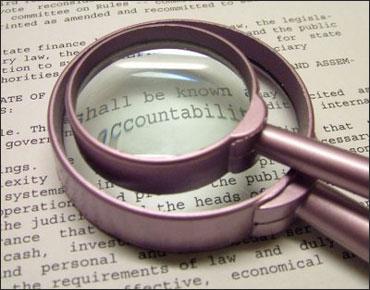 Lessons from Bellary
Bellary highlights the lack of accountability of our institutions and the failure of checks and balances that we have instituted. The systemic failure of institutions, therefore, should be viewed more seriously than all the illegalities and environmental degradation that occurred in Bellary.
Bellary is not unique in that it is a model of all transgressions in most mining belts of the country - Singhbhum (West) and the coal belt of Jharkhand; Keonjhar, Ib valley and Sundergarh in Odisha; Kutch, Jamnagar and Junagarh in Gujarat; Raigarh in Chhattisgarh and Goa. The list is unending. We must learn from the failures of Bellary.
In our governance system, everyone has powers but no accountability. This must change. First and foremost, we need to fix accountability in government institutions. Regional officers of pollution control boards must be held responsible for overall environmental degradation.
Members of the expert appraisal committee of MoEF and of SEIAAs who give environmental clearance must be held accountable.
Forest department officers must be held responsible for illegal mining in forestland. Inspectors of the mines bureau who clear errant mines must be prosecuted. Transparency in allocation of mining concessions and restructuring mining institutions must be our next priority.
The draft Mines and Minerals (Regulation and Development) Bill of 2011, which will replace MMDR Act, will help.
But the mines ministry must review the bill learning from the Bellary mistakes. The draft bill, which is hanging fire under the pressure of the industry, must be passed quickly.
Bellary also showcases how environmental and forest clearance processes are not working. Individual factories and mines are cleared without considering their cumulative impact on the environment. Cumulative regional impact assessments must become a part our system of environmental clearance.
Click on NEXT for more...
Bellary: How unrestrained mining turned it to dust
Last updated on: August 24, 2011 15:11 IST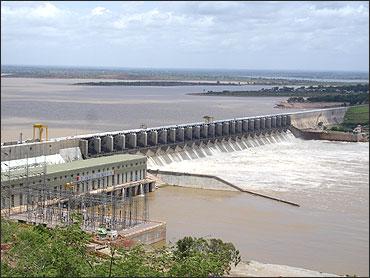 Double whammy
Bellary supposedly has one billion tonnes of iron ore reserve. But it will not last. The existing capacity of iron and steel plants in Bellary is 27 million tonnes.
Further, land has been allotted to Mittal, Essar, Bhushan and Brahmani steel companies. South Korean steel giant POSCO is also setting up a plant near Almatti dam. In a few years, the total steel manufacturing capacity in Bellary will touch 50 million tonnes.
This will require about 125 million tonnes of iron ore every year - about three times the current level of mining.
It means the total iron ore reserves will not last even 10 years. To produce 50 million tonnes of steel, large quantities of water will be diverted from the Tungabhadra and Almatti dams. The combined effect of mining and steel production will be catastrophic for Bellary.
A cumulative environmental assessment must be undertaken immediately to arrive at a sustainable level of mining and steel production. In addition, the government must initiate an action plan to restore mined areas and regenerate forests and ecology. Till this is done, the mining moratorium must continue.
Republic of Bellary
Bellary had many unique attributes. It had a minister in-charge of the district - Janardhan Reddy - who lorded over the district administration.
This is a unique system in Karnataka where ministers are assigned districts. The state also levied many taxes on Bellary's iron ore, not found elsewhere in India:
Forest development tax @ 12 per cent of sales price
Iron ore development tax
Road tax @ Rs. 500 per truck
Then there was dust-per-crop compensation of about Rs. 3,000 per 0.4 ha that mining companies paid farmers for damage to fields.
This was adjudicated by the state pollution control board. The profits were so huge and illegality so widespread that not even one company objected to these taxes.