Volkswagen loses ground as Honda steps in
Last updated on: April 26, 2013 09:51 IST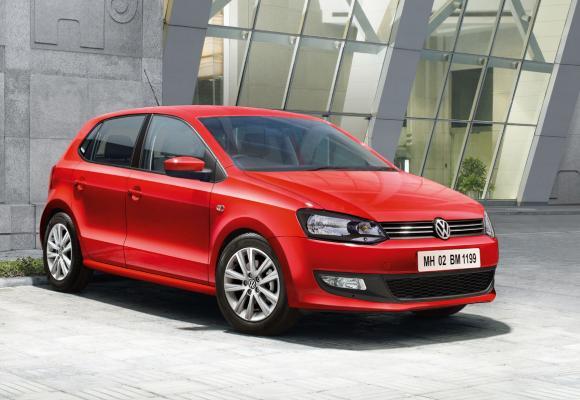 German automobile major Volkswagen, which aims to become the world's top car maker by 2018, has been finding the Indian market difficult.
The company, which had earlier challenged the decade-long dominance of the Honda City, saw sales of its Polo and Vento models decline in the last financial year.
For 2012-13, while Volkswagen's sales in India declined 16 per cent to 65,465 units, Japanese auto major Honda Cars India managed to gain ground and surpass the German company in sales, despite having an all-petrol portfolio. Its sales rose 35 per cent to 73,483 units.
The change in the momentum of sales of both companies comes at a time when the sales of diesel vehicles rose 27 per cent, while demand for petrol-driven models dropped 17 per cent in the domestic industry.
Click NEXT to read more...
Volkswagen loses ground as Honda steps in
Last updated on: April 26, 2013 09:51 IST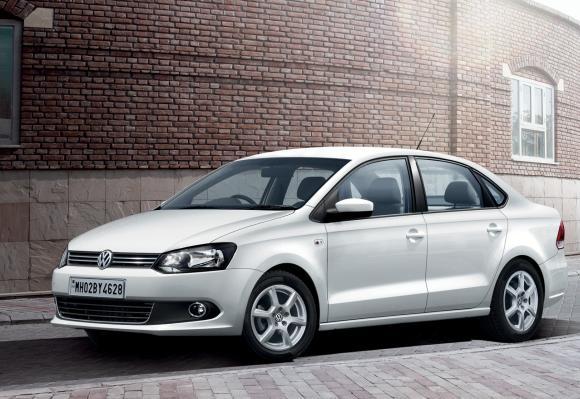 While the sales of Volkswagen Polo fell 7 per cent to 36,847 units, those of the Vento dropped a sharp 28 per cent to 24,585 units.
Honda more-than-doubled its volumes in the premium hatchback segment, selling 38,798 units of the Brio and the Jazz in 2012-13, compared with 14,635 units in 2011-12. Honda City recorded sales of 30,530 units last financial year, compared with 35,906 units in 2011-12.
Calls and messages to Arvind Saxena, managing director of Volkswagen India, did not elicit a response.
Jnaneswar Sen, senior vice-president (sales & marketing), Honda Cars India, said, "While we didn't have diesel vehicles, our products and customer service helped us record strong growth in sales volumes.
Click NEXT to read more...
Volkswagen loses ground as Honda steps in
Last updated on: April 26, 2013 09:51 IST
Brio production was disrupted right after its launch in September 2011, due to floods in Thailand. However, last financial year, we saw full production of the model.
The car was positively accepted in the Indian market, despite having only a petrol option. It accounted for a major chunk of our sales." In 2012-13, 32,179 Brio units were sold, accounting for 44 per cent of Honda Cars India's overall volumes.
"One of the reasons Volkswagen has been finding it difficult to increase sales in the Indian market is because the company has not launched any new product. Even through the next two years, Volkswagen has very little to show, except refreshes of existing models. In the same period, Honda has plans to bring in two new models and upgraded versions of the Jazz and the City. Currently, the momentum is in favour of Honda," said Deepesh Rathore, managing director, IHS India.
Click NEXT to read more...
Volkswagen loses ground as Honda steps in
Last updated on: April 26, 2013 09:51 IST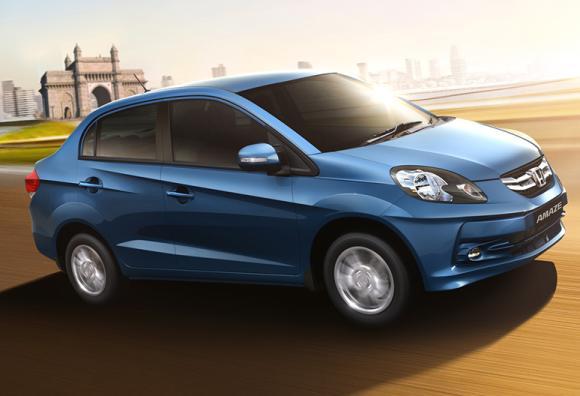 Honda Cars India has hinted the company is looking at introducing products in the fast-growing utility vehicle segment, with the launch of a multi-purpose vehicle and a compact sports utility vehicle through the next two years.
Honda, which launched the Amaze, its first diesel vehicle, this month, expects to exhaust its capacity of 120,000 units by the end of this financial year. Recently, Saxena had said Volkswagen didn't expect substantial growth in volumes, adding it would work towards retaining its numbers in FY14.
Volkswagen, while refusing to divulge the details of its product and expansion plans, has announced a target to double market share in India to seven per cent by 2018. The company, however, has no plans to launch new models till 2015.
"Honda has strong brand recall in the country. It is expanding aggressively. While it is not impossible for Volkswagen to meet its 2018 target, it really needs to have a strong offering in the mass segment to boost volumes," said an analyst at a Mumbai-based advisory firm, on condition of anonymity.
Click NEXT to read more...
Volkswagen loses ground as Honda steps in
Last updated on: April 26, 2013 09:51 IST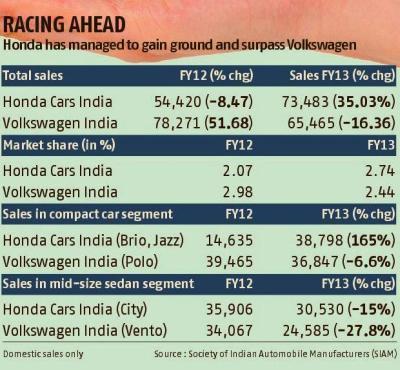 In November 2012, Volkswagen group board member and executive vice-president Ulrich Hackenberg had said India would not be a priority market for the introduction of new models such as small car Up!, as well as major investments till 2015, as the "business case is not positive".
The company has put on hold an investment of Rs 2,000 crore to expand operations in India, owing to a matter related to the refund of value-added tax in Maharashtra. Currently, Volkswagen group is investing 1 million euros (Rs 700 crore) on upgrading products and facilities.
Recently, Honda Cars India had announced it would invest Rs 2,500 crore on doubling the capacity of a diesel engine manufacturing facility to 2,40,000 units, as well as building a forging facility.
Source: