How Airtel plans to be most-admired brand
June 24, 2009 12:03 IST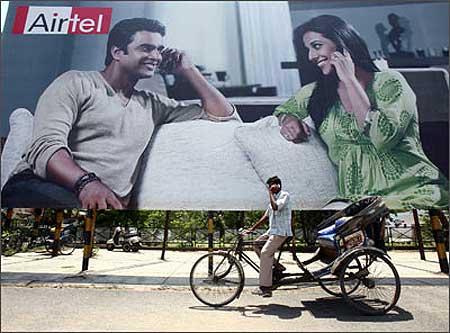 There are several targets that Bharti Airtel is chasing at the moment -- there is MTN of South Africa to acquire; footprint in emerging markets like Sri Lanka to expand; DTH (direct-to-home), IPTV and broadband operations to ramp up and mobile telephone services to grow in a crowded market.
Unknown to the rest of the world, another target on its crosshairs is to make Airtel the most-admired brand in the country by 2010. A recent survey had slotted it at number two after the state-owned Life Insurance Corporation.
"The brand Airtel is our most valuable asset after our people. We have built it with a lot of passion," says Bharti Airtel CEO and Joint Managing Director Manoj Kohli.
"Airtel is all about trust, innovation and ownership bundled with an emotional connection. I can think of very few brands in the whole world which straddle so many categories and talk to so many different economic groups."
Text: Bhupesh Bhandari
How Airtel plans to be most-admired brand
June 24, 2009 12:03 IST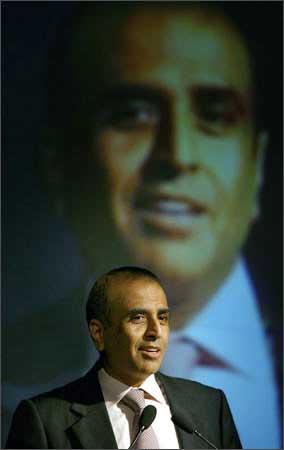 The brand is used for mobile services, DTH, fixed-line telephony, IPTV, broadband as well as managed communication services for large corporations. Customers thus range from socio-economic categories A and B to below the poverty line, urban and rural, multinationals to small businesses.
The challenge for Airtel is to communicate to all of them for different services without offending any one of them.
At the moment, the brand strategy seems to be working.
In mobile services, Airtel's consumer market share has improved from 22.9 per cent in 2007 to 24 per cent in 2009. More important, its revenue market share has shot up from 26.4 per cent to 31.8 per cent during the two-year period.
"It is clear that we are getting more high-value customers," says Kohli.
How Airtel plans to be most-admired brand
June 24, 2009 12:03 IST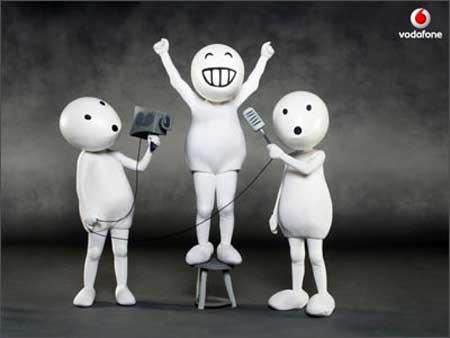 Stand out and shine
Kohli says that three objectives have been set out for the brand: It should be the preferred brand for prospective customers with its promise of trust and innovation; two, it should help retain existing customers and make them buy other services the brand has to offer; and three, it should help the company double its mobile subscriber base to 200 million in the next three years.
Though there are several services, the two which are expected to drive growth for the company in the near future are mobile services and DTH, followed by broadband.
There are challenges in mobile services as well as DTH. To begin with, the market place is overcrowded. Each mobile circle has at least half a dozen operators and more are ready to get in.
There are five large DTH players (Essel Group, Tata Sky, Bharti Airtel, Reliance Communications and Sun Direct). At least one more, Videocon, is all set to join the bandwagon.
Two, both the services have no entry barriers. After the government has given its nod to virtual mobile network, the go-to-market time for a new operator has come down sharply. DTH technology too can be bought off the shelf.
Three, both the services have a commodity element -- they are sold in bulk, are not personalised and the underlying technology is somewhat similar. The differentiator in this scenario has to be the brand.
How Airtel plans to be most-admired brand
June 24, 2009 12:03 IST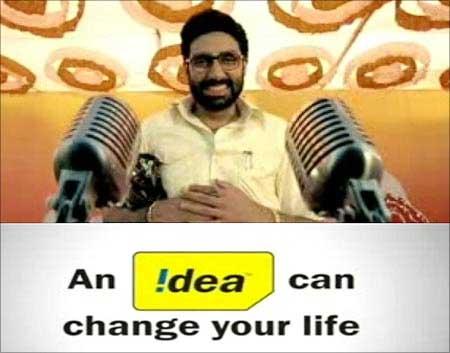 The jury is still out on whether brands matter in telecom services. Almost all brands acquired in India were extinguished overnight -- Hutch, Escotel, Spice and so on.
"Telecom brands do not have any intrinsic value. They are a mile wide but only an inch deep," says Nirmalya Kumar, professor of marketing and co-director of the Aditya Birla India Centre, London Business School.
And Bharti Airtel's rivals are no walkovers.
Vodafone has worked wonders with its imagery, Idea has connected well with rural folks and Tata Indicom has of late highlighted the low congestion on its network. Aircel has made a splash with Mahendra Singh Dhoni as the brand ambassador. Reliance Communications has got into the act with Hrithik Roshan.
In DTH, Essel has Shah Rukh Khan for endorsement, while Tata Sky has the infallible Aamir Khan.
How Airtel plans to be most-admired brand
June 24, 2009 12:03 IST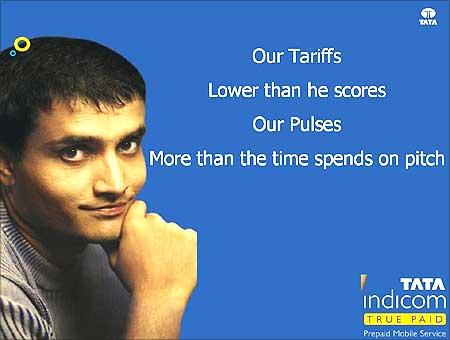 Engage through differentiation
Given the clutter, Bharti Airtel knows it has to take a different line. The key to its communication, the company has decided, will be an emotional strain (it never fails to work in India) and the promise of magic (driven though product innovation).
Till a few years ago, Bharti Airtel had brands like IndiaOne, Touchtel and Magic in its portfolio, apart from Airtel.
The company realised that it could extract value only when there was one brand. Thus, out of the window went IndiaOne, Touchtel and Magic along with the tagline, Express Yourself. The company decided to focus on Airtel (Bharti remains the corporate brand).
According to internal documents reviewed by The Strategist, the quest of the brand is to make the world a better place which is full of hope and optimism. Its belief is that people despair when they are alone and are happy when together.
The role identified for Airtel is that it should act as a beacon of hope and release positive energy. And its action is to break down communication barriers and ring in hope. These are the core values that Airtel has set out to communicate.
How Airtel plans to be most-admired brand
June 24, 2009 12:03 IST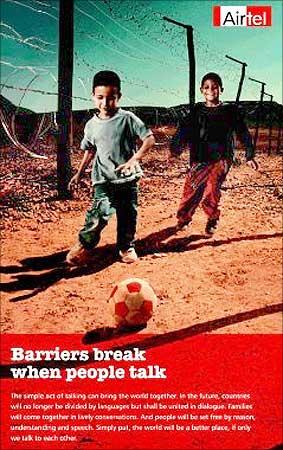 "The brief to our communication team as well as the two agencies, Rediffusion and JWT (for non-mobile services), is that it is a simple brand which connects emotionally with every stratum of society," says Kohli.
The first step was to segment the customers, so that the communication could be customised. All Airtel mobile service subscribers have thus been bucketed in four categories: 'Achievers' who want speed and new value-added features, 'Funsters' who are largely young men and women in towns and cities, 'Productivity Enhancers' like small businessmen and 'Social Callers' like housewives.
The first campaign that came out of the new thinking was 'Barriers Break' which showed two boys across a fence who come together to play football. The campaign was shot in Morocco.
The company deliberately gave it a foreign feel so that people in India do not identify with the problem which would dilute the message. It showed no telephone. Still, it was an instant hit.
"We got a request from an international airline which wanted to show the commercial on its flights," says Kohli.
How Airtel plans to be most-admired brand
June 24, 2009 12:03 IST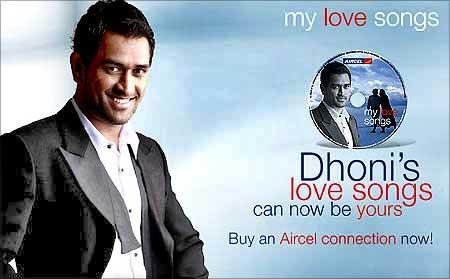 For rural consumers, a campaign was put together with actor Shreyas Talpade. In the commercial, which was shot in Rajasthan, he leaves home for Mumbai but stays in touch with his family on the Airtel network -- a fact of life for most rural households.
For housewives and kids, an ongoing campaign shows a child talking to his father on a toy handset.
Another campaign with actors Madhavan and Vidya Balan is targeted at young couples. The chemistry between the two was noticed by Bharti Airtel Senior Vice-president (marketing) and Head (brand and media) R Chandrasekar when he was watching Mani Ratnam's Guru!
"Why can't we have the same chemistry for our commercials, I asked myself," says Chandrsekar.
How Airtel plans to be most-admired brand
June 24, 2009 12:03 IST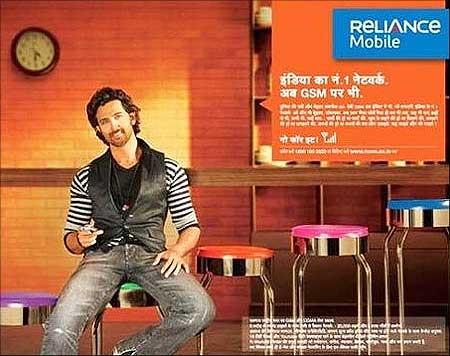 Bharti Airtel has avoided getting drawn into the network technology debate.
"Mobile service is a transformational category. The central point of our communication is that technology is not a physical body but an invisible enabler of some magic that needs to happen in life," says Chandrasekar who joined Bharti Airtel from Marico some time in 2006.
Likewise, for its broadband, Bharti Airtel has come out with a campaign on impatience, a vital element of youth behaviour these days, called 'Impatience Is the New Life.'
For the first 15 days, it was run only on the Internet so that young men and women, the principal users of broadband, get the message first.
How Airtel plans to be most-admired brand
June 24, 2009 12:03 IST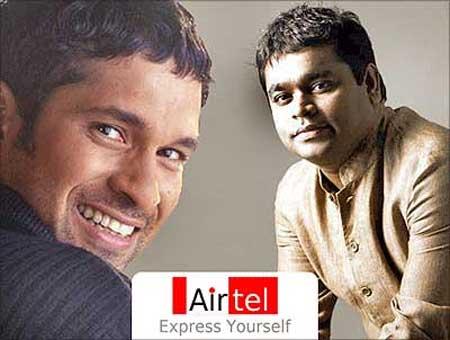 Brand promise
But in this also lies the biggest challenge for the company. The brand promise of magic is pretty serious -- the company needs to offer something new all the time to its customers. "It's like riding a tiger; the moment you get off, it will devour you," says a rival who does not wish to be quoted.
Kohli and his team are aware that delivery needs to match brand promise. According to Kohli, the company works on innovations on its mobile and DTH services at least six months in advance.
For mobile services, it works with a score of application developers. "It is a buyer's market," says Bharti Airtel Director (marketing and communication) Shireesh Mukund Joshi who recently joined from PepsiCo in China.
"The best developer first comes to us because of our size. It gives him maximum visibility." (Bharti Airtel also has its own team of application developers but they work on features for rural telephony.)
How Airtel plans to be most-admired brand
June 24, 2009 12:03 IST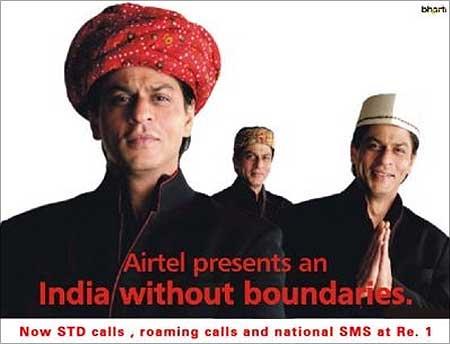 Sector analysts say that it takes little time for rivals to catch up with any feature. Obsolescence sets in within months, if not weeks. Here, says Kohli, the first-mover advantage is often crucial: "We were the first to introduce Hello Tunes (caller ringtone). Our competitors also offered the service. But our penetration of 40 per cent is amongst the highest in the world."
Bharti Airtel's latest innovation is to help the consumer activate or stop a service with the use of his handset. "This way, we have empowered the customer. There is no need to call the company for it," says Joshi.
The brand promise also needs to be backed with availability. The Airtel mobile service is available in 425,000 of the 600,000 villages in the country and all the 5,000 towns. The distribution network is being expanded from 1.2 million retailers to 2 million by the end of 2010.
Since retailers are known to push brands which offer them the best profit margin, Kohli says the brand pull will hold Airtel in good stead.
How Airtel plans to be most-admired brand
June 24, 2009 12:03 IST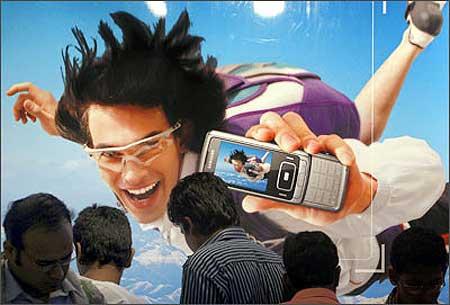 Bharti Airtel can certainly leverage its scale in the mobile services business. But in DTH, it has a tough challenge.
The Essel Group (Dish TV) moved first and was followed by Tata Sky. Then Bharti Airtel came along with Reliance Communication. Sun Direct queered the pitch with its low-priced offer.
In the absence of any independent audit, the company is reluctant to talk about market share. "We are better than fifth in all circles," says Joshi.
Since the communication played on the magic aspect with a plethora of celebrities, Bharti Airtel has had to innovate continuously.
Its set-top box, claims Joshi, is more aesthetic than rivals because most households prefer to keep the television in the drawing room. It is the only DTH operator to offer one remote control stick for the set-top box and the television. In case there is a power failure, the set-top box locks the channel and when power returns, the viewer goes back to the same channel.
More could be on the way. According to Chandrasekar, the roadmap for DTH innovations is ready till the end of 2010.
How Airtel plans to be most-admired brand
June 24, 2009 12:03 IST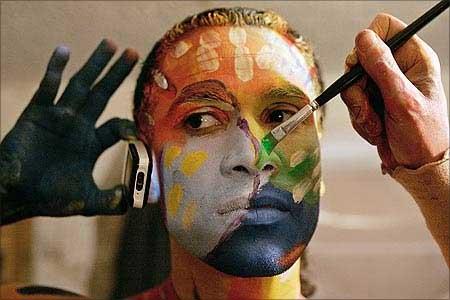 Several celebrities from filmdom as well as cricket have endorsed Airtel.
According to Kohli, the company has got the maximum bang for the buck from film star Shah Rukh Khan, cricketer Sachin Tendulkar and musician A R Rahman. The signature ringtone composed by Rahman, which is played at the end of all Airtel television and cinema-screen ads, is the largest downloaded ringtone in the world, claims Kohli.
The key here, say brand specialists, is not to allow the celebrity to hog the limelight from the brand.
According to Chandrasekar, Airtel scripts are not written for celebrities; in fact, celebrities are fitted in to the script.
For the Airtel voice SMS campaign, the script had two brothers in a boarding house. Shah Rukh Khan and Saif Ali Khan were brought in only because their chemistry in the film Kal Ho Na Ho matched the one required in this shot.
Kohli, of course, is happy with what has been achieved. Often, he goes to villages and quizzes people on their brand perception. "Almost 60 per cent say their favourite telecom service brand is Airtel. And after that comes Nokia!"
Source: