Kingfisher denies report of stake sale to Etihad
Last updated on: December 11, 2012 17:32 IST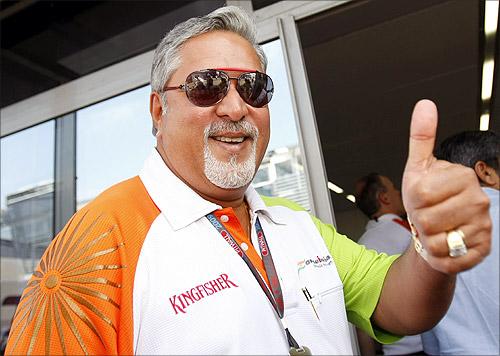 India's debt-laden Kingfisher Airlines has denied a newspaper report that it had reached an agreement on selling a 48 percent stake to Etihad Airways.
Kingfisher is in discussion with various investors, including Etihad, for equity investments in the company, but matters are merely at negotiation stages, it said in a statement to the stock exchange.
India changed its Foreign Direct Investment (FDI) policy in September to allow foreign carriers to buy stakes of up to 49 percent in domestic airlines, a move seen as a potential boon for its struggling domestic aviation sector.
The Mumbai Mirror had reported that Gulf carrier Etihad Airways is close to buying a 48 percent stake in debt-ridden Indian carrier Kingfisher Airlines for a little over Rs 30 billion ($550.3 million).
A formal announcement of the deal could come around December 18, the birthday of Kingfisher's flamboyant chairman, Vijay Mallya, the newspaper said, without saying how it got the information.
Click NEXT to read further...
Kingfisher denies report of stake sale to Etihad
Last updated on: December 11, 2012 17:32 IST
Abu Dhabi-based Etihad will initially buy a 30 percent holding in December and a further 18 percent by next August, the paper said, adding Etihad and Kingfisher refused to deny or confirm the stake sale.
Battling stiff competition and high operating costs, Indian carriers have been in talks to sell minority stakes to foreign investors. Etihad was reported to be eyeing buying a stake in Jet Airways, India's largest airline by total passengers carried.
Kingfisher, which Mallya launched with much fanfare in 2005, was once India's second-largest airline by domestic market share. For most of this year, the carrier has struggled to pay its staff and has not flown since early October due to protests and safety concerns.
According to one estimate, it is saddled with roughly $2.5 billion in debt.
Source:
© Copyright 2023 Reuters Limited. All rights reserved. Republication or redistribution of Reuters content, including by framing or similar means, is expressly prohibited without the prior written consent of Reuters. Reuters shall not be liable for any errors or delays in the content, or for any actions taken in reliance thereon.