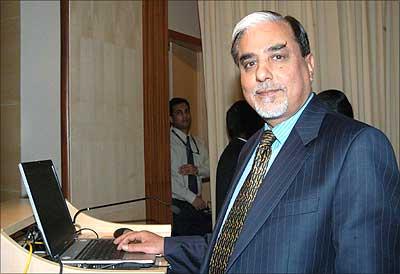 Demerging print and TV news businesses will allow for separate investment by interested players.
The news media arm of the Subhash Chandra-led Essel Group has been directed by the National Company Law Tribunal's (NCLT's) bench in Mumbai to have a shareholders meeting on March 27.
The agenda is to clear the demerger of the print business from Zee Media Corporation, a listed company housing both the print and television news media interests of the group.
The rationale for the demerger, according to a notice to the stock exchanges by the company, is to unlock value and simplify the business structure. The move acquired significance in the wake of speculation around consolidation in Indian print media.
In recent weeks, HT Media and the ABP Group have restructured their operations, laying off staff and streamlining pages and supplements, in a bid to align with new business realities.
Essel Group's media and entertainment wing gives over 48 per cent of its nearly Rs 23,000-crore annual turnover.
The wing has in the past year acquired Anil Ambani's television and radio businesses under Reliance Broadcast Network, overseen merger of its Dish TV with rival Videocon d2h and the sale of Ten Sports to Sony Pictures Networks.
The proposed scheme of arrangement involves amalgamation of subsidiaries Mediavest and Pri-Media, which are into newspaper printing, into Diligent Media Corporation.
Maurya TV, which runs Zee Purvaiya, a regional news channel, will be amalgamated into Zee Media.
This way, agree some experts, the print and TV news businesses will allow for separate investment by interested players.
"There are different regulations that govern television and print news media. By looking at the two media verticals independently, one can better structure businesses to scale up, with needed efficiency," says Priyanka Chaudhary, director, Grant Thornton India.
At present, up to 49 per cent foreign direct investment (FDI) is permitted into companies engaged in the business of broadcasting news and current affairs channels.
FDI up to 26 per cent is allowed in those engaged in the business of publishing of newspapers.
Foreign interest, especially in TV news media, is said to have increased after the raise in November 2015 of the permitted FDI levels in the segment.
New York-based Bloomberg LP and Raghav Bahl, founder of Quintillion Media, for instance, signed a joint venture last year to launch a co-branded TV news channel and website.
The latter -- bloombergquint.com -- has been operating for some time.
The channel is expected to be launched later this year. Bahl, for the record, has a 74 per cent stake in the JV; the rest is with Bloomberg.
Bloomberg's rival, Reuters, has tied up with Anil Ambani's Business Broadcast News, which runs English business channel BTVi, to offer global financial news. The arrangement sees the two leveraging each others' resources.
DNA, in the interim, added an edition in Delhi, taking its total tally (of editions) to four.
There is speculation of it launching in more centres (the present ones are Mumbai, Delhi, Ahmedabad and Jaipur), though nothing has been officially indicated.
In the past, DNA was also published out of Pune, Bengaluru and Indore, but subsequently closed the editions.
Image: Subhash Chandra. Photograph: Arun Patil.