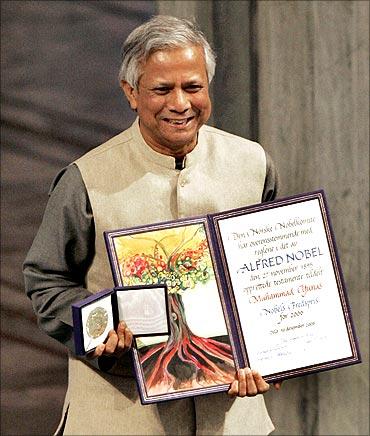 Bangladeshi Nobel Laureate Muhammad Yunus has been summoned by officials for allegedly dodging over $1.5 million in tax, in the latest setback to hit the micro-financing pioneer.
The National Board of Revenue said that 74-year-old Yunus had given about Tk 77 crore as gifts to his family members and others over three assessment years, against which Tk 15.39 crore as tax was payable to the state.
But a legal counsel for Yunus on Monday said the amount should get tax exemption as per rules as the money was given to family members for maintenance.
Earlier this month, the microcredit pioneer went to the High Court challenging the NBR decision to impose tax on the amount he had given out from his already-taxed money. The case is still pending.
Meanwhile, a field office of the tax authority, Tax Zone-6, issued a letter to Yunus asking him or his representatives to attend a meeting with Tax Commissioner Md Meftha Uddin Khan at the commissioner's office on March 29, Daily Star reported.
"Since the matter is sub-judice, we would like to wait until the court decides the matter," said Kazi Ershadul Alam, legal adviser to Yunus.
The dispute surfaced last year when the NBR's field office claimed the gift tax against the money he had handed over as gifts through three trusts during the income assessment years of 2011-2012, 2012-2013 and 2013-2014.
Yunus appealed to the tax office only to be turned down. He then went to the Taxes Appellate Tribunal, which in November last year upheld the decision of the tax office.
Later, the Nobel laureate filed an application before the High Court.
The NBR now claims Yunus owes Tk 11.77 crore as gift tax, as he has already deposited Tk 3.6 crore and Tk 2.07 crore before filing the appeal at the Tax Appellate Tribunal and the High Court respectively in line with the rules.
Yunus shared the Nobel Peace Prize with the Grameen Bank, which he founded nearly 40 years ago, in 2006.
But he faced much criticism both at home and abroad after a Norwegian TV documentary broadcast in 2010 held him responsible for misusing donor funds.
It had uncovered documents revealing nearly $100 million in donor funds to Grameen Bank were transferred out of the bank to a private corporation, Grameen Kalyan, which was also set up by Yunus.
The Bangladesh Bank in March 2011 had ordered Yunus' removal as the Grameen Bank managing director, saying that his reappointment was not approved by it and that he had been managing director illegally since 1999.
He went to court to fight the central bank's order, but lost the legal battle. Two months later, he stepped down from the office.
Image: Nobel Peace Prize winner Muhammad Yunus of Bangladesh poses with his award during a ceremony at the city hall in Oslo. Photograph: Leonhard Foeger/Reuters