Youths are shying away from low-cost Yuva trains if Railway occupancy figures are any indication.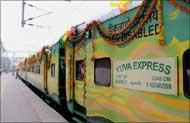 Five months after its launch, the low-cost air conditioned Yuva trains have few takers.
Despite the concessions available to unemployed youth and poor, only 118 boarded the Howrah-bound Yuva train against the total 3,774 seats available during its total 5 trips in January, according to the railway occupation chart.
In contrast in the general category, 1,649 passengers boarded the Howrah Yuva train against 2,244 seats available in January.
The weekly Yuva trains - Delhi-Mumbai-Delhi and Delhi-Kolkata-Delhi - meant for unemployed youth and economically poor sections became operational in January.
Though the passenger trains in these two sectors are witnessing a heavy rush, the passenger occupancy rate in low-fare AC Yuva trains with seated accommodation is not very promising.
The passenger number did not pick up in February and only 1,993 youth and general passengers travelled against the available 4,488 seats during its total four trips.
Yuva train made four trips in March and 2,072 youth and general passengers boarded the train as against 4,488 allocated seats.
Persons in the age group of 18-45 years, who are either unemployed or from low income groups, are eligible to avail the facility in Yuva trains.
As per the fares, railways have kept it at Rs 299 up to Rs 1,500 km and Rs 399 upto 2,500 km for Yuva trains.
April witnessed a marginal increase with 2,708 youth and general passengers travelling as against 4,488 available seats in the Howrah Yuva train during its four trips.
The Howrah-bound Yuva train leaves every Sunday from New Delhi station. The train leaves Howrah every Thursday for Delhi.
The train made three trips to Howrah upto May 20 and 2,268 youth and passengers booked their tickets in it as against 3366 available seats, according to the data.
The Nizamuddin-Bandra Yuva train also has an abysmal occupation rate in January. Only 64 youth boarded the train against the allocated quota of 1,530 seats during the total three trips in the first month.
"Yuva trains have 60 per cent reservation for unemployed youth and low income group passengers," said a senior Railway Ministry official.
In February, 1,262 youth boarded the Mumbai bound train as against 2,958 available seats during its total four trips.
In March, the Mumbai bound Yuva made four trips and 1,473 youth and general passengers boarded the train as against total 3,264 available seats.
The train made four trips in April and 1,644 youth and general passengers booked their tickets against the availability of 3,264 seats.
The train made two trips upto May 20 and 1,000 youth and passengers availed the facility against the availability of 1,632 seats.
"It was a budget proposal to run trains for unemployed youths on a pilot basis," said the official, adding "we will see how the trains can be made more popular."
Youth and low income group passengers are required to carry a proof of their date of birth as proof of age as well as registration certificate of a government-run employment exchange or registration card of National Rural Employment Gurantee Act at the time of booking of the ticket as well as travelling in Yuva trains.