At this point, the general market can expect the median salary increase and salary hike figure to stay between 10-11 per cent.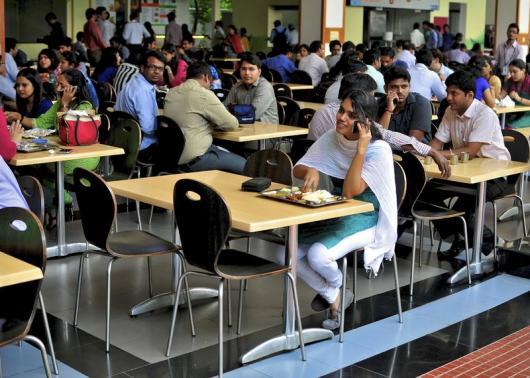 Image:

An employee speaks on a mobile phone as she eats her lunch at the cafeteria in the Infosys campus in Bangalore. Photograph: Abhishek Chinnappa/Reuters
Employees in India are likely to see their salary rise by an average 11.3 per cent this year with FMCG and chemical industry expected to lead the market, according to global management consultancy Hay Group.
The year 2015 is likely to see an average pay increase of 11.3 per cent across job roles, slightly higher than actual average salary rise of 10.9 per cent across India Inc in 2014.
"The study that we have conducted predicts that the pay raise in 2015 will remain in double digits.
At this point, the general market can expect the median salary increase and salary hike figure to stay between 10-11 per cent," Hay Group India Country Manager, Productised Services, Amer Haleem said.
According to Hay Group, clerical and operations professionals are expected to beat the average across job levels, standing at 11.9 per cent, while middle management professionals can expect an increase of about 11.1 per cent.
Across all four employee levels, the increments range between 10.6 per cent and 11.9 per cent.
"The outlook is positive and organisations are putting hiring plans in place. Our detailed analysis also highlights that in terms of specific sectors, FMCG and chemicals are expected to lead the market," Haleem added.
The report added that the "pay for performance" trend continues for India Inc, with payouts widely influenced by both individual and company performance.
The actual paid out variable pay stood at 12.7 per cent across sectors and levels. Oil and gas sector remained at the top at 15.4 per cent for 2014, followed by FMCG at 14.5 per cent and chemicals at 14.4 per cent, the report said. "Another interesting trend that we've noticed is how companies are now choosing to unfollow the 'one size fits all' approach.
"Instead, they are now focusing on 'bespoke reward strategies'," Haleem said, adding that over the past three years, the difference between the rewards offered to average employees vis-a-vis a top performer has been growing sharper.
The report also said that 60 per cent companies operate a different remuneration policy for graduates as opposed to the company's standard pay policy.
Typical hiring salary for a graduate with a Bachelor Degree on an average is 350,000 in local currency.
The figure for a graduate with a Masters degree is 470,000.
The Hay Group Compensation Report includes pay insights on 443,756 jobs from 415 organisations, across sectors such as industrial goods, automobiles, high technology, oil & gas, FMCGs, chemicals, transportation, retail and others.