The US-based Internet giant Yahoo Inc, accused of hosting allegedly objectionable content on its site, got relief from a Delhi court which removed it from the list of accused parties.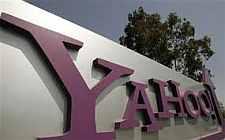 Administrative Civil Judge (ACJ) Praveen Singh allowed the application of Yahoo Inc for removing its name from the list of accused websites after Santosh Pandey, counsel for plantiff Mufti Aijas Arshad Quasmi, gave his no objection to it.

The company, in its application, had told the court that there was no defamatory material posted on its website and that no case was made out against it.

It had also submitted that Yahoo India has already been discharged by the court for lack of any case aganist the company.

Meanwhile, the court asked the complainant's counsel to give a clarification regarding duplication of names of the accused websites by April 10, the next date of hearing.

The judge asked him to remove all improper parties from his plaint so that the case can proceed against proper parties.

Earlier last month, the court had dropped Yahoo India and Microsoft from the case saying no case was made out against them.

The court had also imposed a fine on the plaintiff for filing a frivolous petition.

Mufti Aijas Arshad Quasmi had moved the court against Yahoo, Facebook, Google, Microsoft, Orkut, Youtube, Blogspot, Zombie Time, Exboii, Boardreader, IMC India, My Lot, Shyni Blog and Topix and others for hosting allegedly objectionable content.