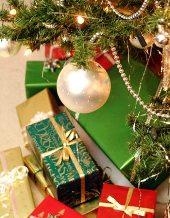 Women have a figure in their minds which they expect their partner to spend on their Christmas gift -- half a week's salary to be exact, a new survey has found.

Men also have a figure -- but it is far lower than a woman's at a third of a week's wages.

The average salary for men in Britain is 30,852 pounds a year -- which means women whose partners earn that sum expect a present of the value of 296.50 pounds.

The average salary for women is more than 6,000 pounds less than men at 24,228 pounds, the Daily Mail reported.

Men with partners earning that average figure would expect a present valued at 155 pounds, found the study by a popular dating site.

As the income increases, so does the expectation on spending -- so a woman whose partner earned around 100,000 pounds would expect a present costing around 1,000 pounds.

Traditionally
men are expected to spend two month's money on an engagement ring.
The figure for a Christmas present was always expected to be lower -- but what was surprising was how important expenditure was to women, the report said.
"What this shows is that girls love to be treated like princess and spoilt.
"It might be a cliche but the sexiest thing about a man to many women is his wallet.
"Women want to be pampered and they expect men to spend far more on them than they do on their men," SeekingArrangement founder Brandon Wade said.
The poll also revealed that shoes, bag and jewellery were among the top gifts for women while men would love a watch, a tablet or a football season ticket.
Among the least favourite gifts for women were household items, vouchers, champagne, a gym subscription and kitchen utensils.
A tie, socks, shirt, book and cufflinks were the least favoured gifts for men.