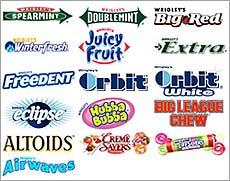 Wrigley, maker of Orbit brand of chewing gums, on Tuesday said it will consider bringing more products from its global portfolio, although its immediate focus will be strengthening the existing ones in the country.
"We will continue looking at opportunities as and when we can introduce more products in India. However, at the moment, growing the market is what we will focus on," Wrigley director (marketing) Himanshu Khanna told PTI.
He, however, declined to give a time frame as to when the company would introduce the new products, saying, "it is too early to talk now."
The company has been focusing on growing the sugar-free chewing gum category in India.
"The category itself is a challenge for us as it is at a very nascent stage. So creating awareness about oral health is an initiative which we have doing and will continue to do. At the same time, our products will be known in the process," Khanna said.
The company has been associated with several activities, including the IPL and Van Heusen Men's Fashion Week recently held in the Capital.
"We will resort to a balanced mix of marketing and product launches to drive growth here," he said, while declining to give further details on it.
Wrigley has operations in over 40 countries and has brands like Spearmint Juicy Fruit and Altoids among others.