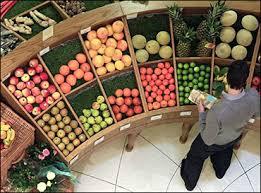 Continuing decline in food prices, including vegetables, pulled down the September wholesale price inflation to a five year low of 2.38 per cent.

The Wholesale Price Index-based inflation was at 3.74 per cent in August and 7.05 per cent in September 2013.

As per data released by the government today, the food inflation fell to a nearly two-and-half year low of 3.52 per cent. Food inflation is on Delcine since May.

The sharp drop in WPI inflation comes just at the back of retail inflation declining to a record low of 6.46 per cent in September.

Wholesale inflation in onion contracted to 58.12 per cent in September as compared to a contraction of 44.7 per cent in the previous month.

While inflation in vegetable basket as a whole shrunk to 14.98 per cent in September, rate of price rise in potato was 90.23 per cent from 61.61 per cent in the previous month.

The data further revealed that inflation in milk, eggs, meat and fish continued to decline in September as well.

However, there was slight
increase in the prices of fruits during the period.
Inflation in manufactured products, like sugar, edible oils, beverages and cement, fell to 2.84 per cent in September as against 3.45 per cent in the previous month.
The WPI inflation declined for the fourth straight month, the data released by the government said.
Inflation in the fuel and power segment which include LPG, petrol and diesel declined to 1.33 per cent as compared to price rise of 4.54 per cent in August.
Meanwhile, wholesale inflation based on final index for July has been revised upwards to 5.41 per cent from the provisional estimate of 5.19 per cent.
The September WPI data is also provisional, the statement said.
It also said the build up inflation rate in the financial year till September was 2.61 per cent compared to a build up rate of 6.23 per cent in the same period of 2013-14.
The Reserve Bank, which has kept its key interest rate unchanged since January citing inflation pressures, is scheduled to announce its next bi-monthly monetary policy on December 2.
The Central bank primarily factors Consumer Price Index while deciding on policy rate.