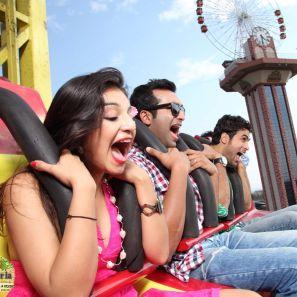 Wonderla Holidays, the amusement park operator, had an unbelievable stock market debut on Friday, with its shares soaring as much as 30 per cent compared to its issue price --- the most among the recent public offerings.

The company's shares listed at Rs 160, up Rs 35, or 28 per cent, compared to its issue price of Rs 125 apiece. The stock on the first day moved in the range between Rs 152 and Rs 168.

Wonderla's listing gains were more than that seen in some of the recent initial public offerings (IPOs), including that of Just Dial, CARE and Multi Commodity Exchange (MCX).
Market experts said the gains were on the back of robust demand from investors, who couldn't get proper allotment in the IPO subscribed 35 times.

Wonderla's Rs 180-crore ( Rs 1.80 billion) offering had seen demand to the tune of Rs 6,000 crore ( Rs 60 billion).

Given the high subscription, the company had to adopt lottery system to allot shares, where only one of 10 retail applicants received allotment — that too just 100 shares.

High net worth investors (HNI) and institutional investors also got allotment for only a fraction of their application size. The quota meant for HNI investors was subscribed nearly 160 times, while institutional investors subscribed almost 17 times more.
Investment bankers said institutional investors were seen accumulating shares from the secondary market anticipating further gains. While HNI investors, who had invested using borrowed money, might have taken the money off the table, they said.

A total of about Rs 80 crore ( Rs 800 million) worth shares—third of the issue size—changed hands on both BSE and NSE. It is likely most investors have stayed put despite the strong listing.

Analysts said investors were attracted to Wonderla's business model, attractive return ratios, good record of promoters and growth potential.

HNI bets pay off

Market players said leveraged HNI bets might have paid off, as the listing premium was higher than the break-even cost.

Rich investors and corporates had borrowed a total of Rs 4,000 crore ( Rs 40 billion) to invest in the IPO. They had borrowed the money from financing arms of several large brokerages at up to 10 per cent interest to apply in the IPO.

Factoring in the borrowing costs and huge over subscription, the break-even costs for leveraged investors worked out to about Rs 25 per share—leaving Rs 10 on the table for investors.

According to Securities and Exchange Board of India (Sebi) norms, only delivery-based trades are allowed for the first 10 days after listing for IPOs of less than Rs 250 crore ( Rs 2.5 billion). Market players said price discovery would be better once the Wonderla scrip