After starting petcoke production earlier this year, Essar Oil is looking at export opportunities in Pakistan. The company has entered into an agreement with Maple Leaf, a cement major there, for its supply and has already delivered 15,000 tonnes.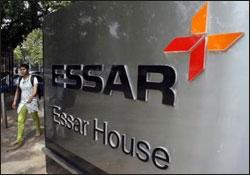 "Post the Maple Leaf consignment, there have been a few enquiries and we are looking forward to sign more contracts," said an Essar Oil spokesperson in an emailed response.
Essar had commenced production of petcoke in April and the annual capacity is 1.8 million tonnes, the second largest after Reliance Industries' refinery in Jamnagar.
Petcoke is a by-product from the processing of heavy crude oil. Due to its high calorific value, it is cheaper than the alternatives on a calorific basis and can also reduce fuel costs. Fuel cost is around 40 per cent of total cost in the cement industry. Petcoke is also low on moisture content and ash, resulting in savings on transportation.
With the addition of coking units at refineries and new refineries being commissioned with cokers, the country's production of petcoke is likely to nearly double from the present 7.5 mt to 14 mt annually over the next three years.
The Maple Leaf cement factory is a 11,700-tonne a day unit in Lahore, producing portland and white cement. It is the largest producer of white cement in Pakistan, with 80 per cent of market share.
Indian oil companies are finding Pakistan a good export destination for petrochemicals. Reliance Industries, India's largest private sector oil company, sells around 6,000 tonnes of polymer every month to Pakistan. State-run Indian Oil Corporation plans to sell around 5,000 tonnes of polypropylene every month this year, double last year's monthly average. It had been exporting polypropylene to Pakistan after its Panipat naphtha cracker went on stream in early 2010.
Besides, the Bhatinda Refinery, jointly promoted by steel magnate Lakshmi N Mittal and Hindustan Petroleum Corporation, is also testing the waters. It has appointed an agent in that country.
Meanwhile, tension gripped the project site of Essar Steel near Paradeep as irate company labourers clashed with the security personnel. Nearly 20 persons, including company employees, were injured in the scuffle. The clash erupted when the labourers were agitating in front of the factory, protesting the burning down of their makeshift rest sheds by the security personnel of the company. Essar Steel was constructing its own conveyor belt for transporting raw materials from Paradeep port to the project site. Around 40 labourers were staying in temporary rest sheds under the conveyor line.
Company authorities had served an eviction notice to the labourers staying in temporary rest sheds as it was affecting construction work on the conveyor belt. After the labourers refused to budge, the security personnel last night, torched the temporary rest sheds.
Hundreds of aggrieved labourers, including the villagers of Nuagarh and Handia, staged an agitation, protesting the eviction. The agitation was followed by a clash involving the labourers and security personnel. As security personnel attempted to disburse the agitators by using lathis, the labourers retaliated, pelting stones. The agitators also ransacked the two company vehicles and security guard camp office.
Police led rushed to the spot and deployed a platoon to avert a law-and-order situation in the factory.
Fifteen labourers were injured during the clash, of which seven were hospitalised.
On the other hand, four company officials including project director of Essar Steel P K Gupta have sustained minor injuries.