Wipro is in the news, again.
The information technology (IT) services company has mandated freshers, who had opted for a lower salary package of Rs 3.5 lakh per annum, instead of Rs 6.5 lakh per annum, clear a new training module titled Project Readiness Program (PRP) and score at least 60 per cent or stand terminated.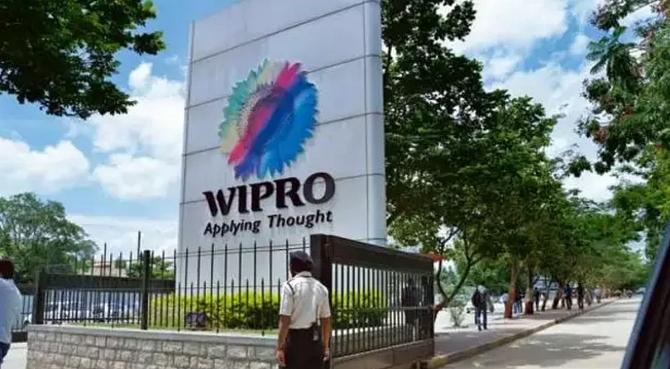 Wipro is not the only company to have implemented such a programme.
IT services company LTIMindtree had introduced a similar training programme with the possibility of elimination if not successfully cleared.
In February, Wipro had asked fresh-faced graduates to join at a lower salary than they were eligible for.
It had mandated they opt for a salary of Rs 3.5 lakh, from the Rs 6.5 lakh promised earlier, as projects in the higher salary package were not available any longer.
These graduates were asked to clear an assessment programme titled Velocity before being signed on in March.
"They are now being asked to undergo training again," said Nascent Information Technology Employees Senate (NITES) — an IT sector employee union working extensively for the welfare, rights, justice, and empowerment of IT, business process outsourcing, and knowledge process outsourcing professionals in India.
Calling Wipro's actions "unethical, unfair, and unjust", NITES President Harpreet Singh Saluja said, "In March 2022, before starting the unpaid Velocity training, the company's human resource department assured employees that if they completed the module, they would not have to undergo training again.
"After joining on March 30 this year, Wipro asked its employees to take another test."
In an email response, a spokesperson for Wipro said, "At Wipro, we place immense value on seeing our talent grow and succeed.
"The PRP is part of our routine onboarding process and designed to ensure that our next-generation (next-gen) associates are assigned to the right client projects and have the most up-to-date skillset to make an immediate impact."
The company did not respond to a query on why freshers who cleared the assessment were being tested again.
"This sudden change in Wipro's policy has left many of its new employees in a quandary.
"The company is playing with employee future.
"They have invested a year and a half at Wipro.
"The company's threatening approach that talks about termination is causing them immense stress and anxiety," said Saluja.
However, some of the senior executives of the company Business Standard spoke to confirmed that skilling and reskilling have been integral to Wipro.
"At every level, irrespective of the department, the employee has to clear regular assessment and skilling programmes.
"This has been happening for years now," said an executive.
According to the training instruction mail, PRP is a programme offered by Wipro's Talent Transformation to all campus and off-campus hires referred to as Next-Gen Associates (NGAs). The broad objective of PRP is to equip NGAs with the requisite knowledge and skills that will enable them to start working on customer projects.
In January this year, the company laid off 425 new candidates as they fared poorly in these assessments.
Testing times
Wipro previously informed new hires who had completed the four-month-long Velocity training that they only had a Project Engineer job profile available at Rs 3.5 lakh per annum, and that if they accepted this offer letter, their prior offer letter at Rs 6.5 lakh per annum would be void.
The union said that the freshers who accepted the job role for a lower package received a new offer letter with the joining date of March 30, 2023, to be onboarded on March 14, 2023.
The company has now insisted that the employees undergo a new training programme after joining the company on March 30, 2023.