Parag Milk Foods, Prabhat Dairy, Hatsun Agro and other dairy companies are sharpening their gaze on the retail space and buttering up their customers with new offerings be they butter, cheese, flavoured lassi or ice cream.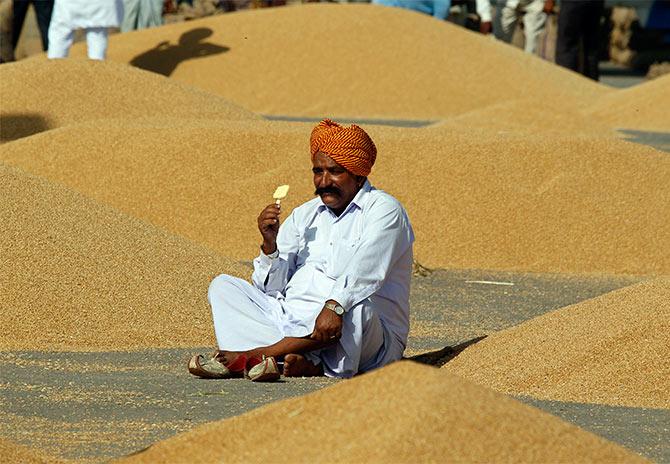 IMAGE: Consumption of dairy products is going up in India's urban areas. This Chandigarh farmer, while he waits to sell his wheat crop, enjoys his ice cream. Photograph: Ajay Verma/Reuters.
As customers across the country shift from unpackaged to packaged dairy products, be it butter, yoghurt, ghee or, ice-creams and consumption of value added dairy products such as cheese goes up in urban homes, private dairies are out to milk the phenomenon.
From being vendors to big brands like Amul, Mother Dairy, Nestle and others, more and more dairies are focusing on the business-to-consumer segment to improve margins and ride the rising consumer interest in branded dairy.

Luring companies in, is the promise of better margins. The business-to-consumer (B2C) segment accounts for far better margins (around 20-25 per cent) compared to the business-to-business (B2B) segment (where margins are lower at 8-11 per cent although this varies widely among the players).


IMAGE: Customers across the country shift from unpackaged to packaged dairy products. Cans of evaporated milk are being packed in this Nestle plant at Moga, Punjab. Photograph: Munish Sharma/Reuters.
Companies are further encouraged by changing consumption habits. Consumers are switching from unbranded to branded ware in categories such as yoghurt and ghee.
According to a report by Euromonitor on India's dairy sector (December 2016), consumers in smaller cities are shifting from unpackaged or local dairy yoghurt to packaged yoghurt. In urban areas, growing health consciousness is driving sales of flavoured yoghurt.
Also consumption of butter, cheese, buttermilk, lassi and value-added dairy is growing in urban homes. And that is the reason why many dairies are whittling down their B2B divisions.

At Parag Milk Foods, B2B accounts for just 13 per cent of revenues today as compared to 32 per cent five years ago. At Prabhat Dairy, the share of B2C products is being pushed up to 50 per cent from 30 per cent and Hatsun Agro says that more than 90 per cent of its products are direct to customer.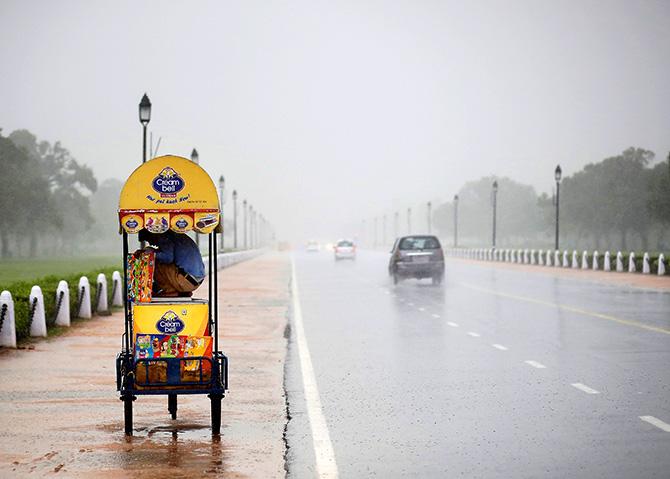 IMAGE: Many dairy companies are looking at launching new ice cream brands. This Delhi ice cream vendor, who takes shelter from the rain inside his cart, sells a wide variety of ice cream. Photograph: Anindito Mukherjee/Reuters.
Maharashtra-based Parag has a diversified product portfolio with over 170 stock keeping units and four established brands; Gowardhan, GO, Pride of Cows and Topp Up. Last quarter it launched two new brands, Milkrich and Avvatar to enter the dairy whitener and whey protein powder categories respectively.
Bharat Kedia, chief financial officer, Parag Milk Foods, said that the B2C segment is indeed the focus. The B2B segment comprises mainly skimmed milk powder and is only 13 per cent of the company's revenues and has been steadily going down year-on-year for the last six years. It was around 32 per cent six years back.

Kedia said that in FY17, however, the share has grown marginally. "The procurement of milk has grown over the years and this has been one of the reasons why we had an opportunistic sale of skimmed milk powder in this year.
"Generally, we are not focused on the sale of skimmed milk powder, but on sale of consumer products and fresh milk," Kedia said. Even on the export front, the company is focused on branded consumer products, but exports are a very small portion of turnover for Parag, at around three per cent.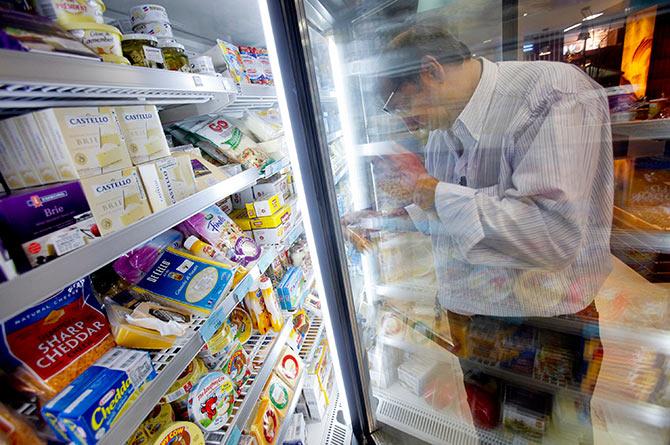 IMAGE: Diversification by dairy companies has radically grown the selection of cheese available in the market like in this Mumbai grocery store. Photograph: Vivek Prakash/Reuters.
Another listed private dairy player, Prabhat Dairy recently said that it is expecting to draw 50 per cent of its business from B2C products by 2020 from 30 per cent at present. Prabhat is working on building new categories in B2C. It recently launched two ice-cream brands, which it sells through retail outlets and modern trade. Other B2C products include liquid milk, cheese, paneer, curd etc. However, as of now, 70 per cent of its business comes from B2B, which includes supplying to Mondelez, Abbott, Parle, Nestle and Future Group, among others.

At an analysts' call in May this year Vivek Nirmal, joint managing director, Prabhat Dairy said that the company, over the next three years, could see aggressive consumer business growth and that he has bolstered his managerial team to take on the challenge. He said that the company had just launched Volup ice cream and would come up with new brand launches mainly in milk-based beverages, cheese, and such products. "We are in process of revamping Prabhat Dairy brand identity," he said.
Increasing the B2C component will help enhance capacity utilisation at Prabhatfrom 60 per cent to 85-90 per cent in the next two years. Accordingly, the company is looking at doubling the number of retail outlets in the next two years to 200,000.

South-based Hatsun Agro draws more than 92 per cent of its business from B2C segment. "We do some institutional sales of SMP, however, that is negligible. We even do not do institutional sales of our ice creams or other products like cheese etc," said R Chandramogan, managing director of Hatsun Agro. His brands include Arun Ice Cream and Arokya milk.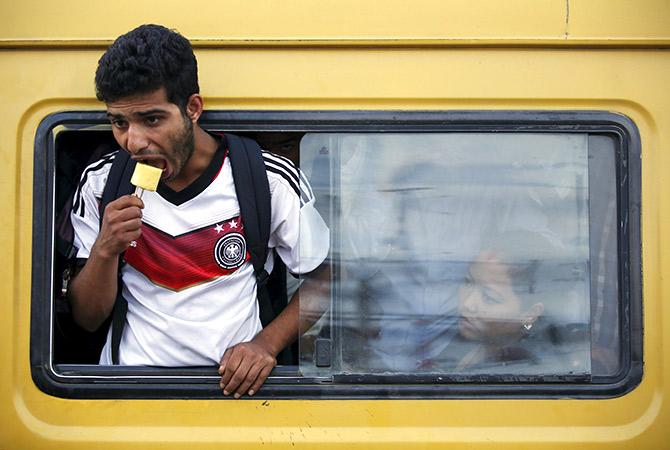 IMAGE: From the B2B model to the B2C: More and more dairy companies sell directly to the customer rather than to another company. South-based Hatsun Agro says it draws more than 92 per cent of its business from B2C segment. "We do some institutional sales of skim milk products. That is negligible. We even do not do institutional sales of our ice creams or other products like cheese etc," said R Chandramogan, managing director of Hatsun Agro. Photo representational Photograph: Navesh Chitrakar/Reuters.
The country's largest dairy player, Gujarat Cooperative Milk Marketing Federation which owns the Amul brand, however, feels that one cannot ignore the B2B segment altogether. Amul draws 16-17 per cent of its revenues from the B2B segment. For certain product categories, share of B2B is quite high; in cheese it is 45 per cent, for butter it is 10 per cent while for ice creams it is about 20 per cent.

R S Sodhi, managing director of GCMMF says, "With additional capacity coming up in cheese, the share of HoReCa (hotel, restaurant, catering) is likely to rise."
He, however, admits that the B2B segment is very price conscious and hence the margins are low. No wonder the consumer is king.