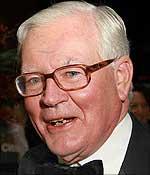 Former Citigroup chairman Win Bischoff will take over as the chairman of beleaguered Lloyds Banking Group from September 15.
His appointment comes in the wake of Lloyds Banking Group chairman Victor Blank's decision to step down. Bischoff would take up the position from September 15, the company said in a statement on Monday.
Bischoff would take home an annual fee of 7,00,000 pounds and would not be eligible for any of Lloyd's incentive arrangements.
One of the worst hit by the financial meltdown, Lloyds has been extended billions of pounds by the UK government, which now has more than 40 per cent stake in the banking group.
Blank became the chairman of Lloyds in May this year.
"Lloyds Banking Group has a proud history and an excellent customer franchise, and I am both honoured and pleased to accept the chairmanship of its board.
"(In) Short term we face many challenges but in the long term, the group is well positioned to deliver significant benefits to its customers, shareholders, employees and the public," Bischoff said.
He served as chairman of American financial services major Citi from December 2007 till February 2009.
Image: Win Bischoff