With Nexa, the value-for-money mass-market car maker hopes to attract premium buyers. Sangeeta Tanwar reports.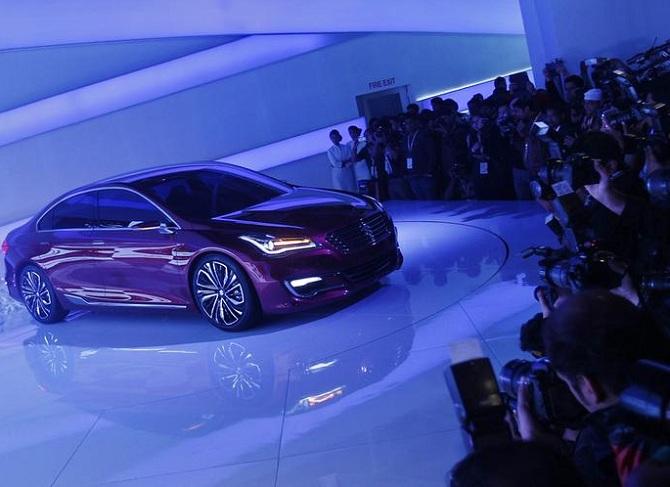 IMAGE:

Since the launch of Nexa, Maruti has launched Ciaz, Baleno, S-Cross and Ignis, covering the spectrum from a sedan priced more than ₹8 lakh to a compact car priced at ₹4.59 lakh.

Photograph:

Anindito Mukherjee/Reuters

.
Maruti Suzuki (Maruti), the automaker synonymous with value-for-money mass-market cars, has been making attempts to upscale its imagery by offering buyers "premium car buying experience" through its new-age Nexa showrooms.
Since the launch of Nexa in July 2015, Maruti has launched Ciaz, Baleno, S-Cross and Ignis. The launches show that at one end of the spectrum the automaker has Ciaz, a sedan (priced upwards of ₹8 lakh), and on the other it has the compact car Ignis (priced at ₹4.59 lakh).
Launched exclusively through Nexa, the two cars are poles apart in terms of positioning and pricing. What does this huge gap in buyer profile and pricing say about brand Maruti's attempt to go premium with launches emerging out of Nexa?
Does it amount to diluting Nexa's core brand proposition of delivering a premium customer experience to buyers?
The company brushes aside any hint of contradiction or toning down the brand proposition of Nexa.
Vinay Pant, assistant vice-president, marketing and sales, Maruti Suzuki India Limited, says, "With Nexa, we aspire to replicate technology brand Apple's business model which commands a premium on a wide range of products at different price points."
For example, Apple has an iPad and an iPad Mini, and it also offers a MacBook Air alongside a MacBook. The idea is to cater to mass as well as niche buyers while ensuring that products with Apple's logo are seen as a premium offering by buyers.
Similarly, Maruti wants to command a premium on vehicles which have a Nexa imprint.
With an aim to maintain its "premium" imagery, Maruti is positioning and pricing each Nexa vehicle launch smartly.
For example, Ignis is a compact car but the vehicle is priced at a premium vis-à-vis its competitors. Offering premium features, Ignis is not in competition with Renault's small car Kwid.
For Maruti "premiumness" does not necessarily come from the price tag alone.
For instance, Ignis is a differentiated product targeted at young first-time car buyers.
In the compact segment with a 1.2-litre engine, Ignis offers a five-speed automated manual transmission and the "Smart Play" touch screen infotainment system that boasts Android Auto, Apple CarPlay features that appeal to millennials.
The car targets a segment that understands technology and is willing to pay for it. At traditional showrooms, the key consideration for a buyer is a good car package (competitive pricing plus service guarantee) and not the technology. Ignis, as a first-time buy for millennials (who already have a car at home), would not have been appreciated as much had it been launched through traditional Maruti showrooms.
Pant explains that the automaker's traditional showrooms, by virtue of their positioning, cater to first-time buyers. About 50 to 60 per cent of customers visiting these showrooms are first-time buyers.
In case of Nexa, about 70 per cent of visitors are replacement buyers who have already experienced a car. Nexa visitors would already have an Accord or a Honda car, but now they are on a lookout for a smaller vehicle like Baleno.
These are the buyers who have been changing their cars and while upgrading did not consider Maruti as a replacement brand.
Nexa, therefore, is looking to change this.
With Nexa, the automaker is looking to bring back 55 per cent of buyers who are not returning for their second or third car purchase.
Sridhar V, partner, Grant Thornton India LLP, says for companies which have achieved market share the next logical step is a move to increase margins. And for passenger vehicle companies, to focus on distinguishing and attracting a set of customers through premium positioning and branding is not out of place.
"When you price it appropriately, the strategy could lead to success. Young customers are aspirational and they look for passenger vehicles with advanced features, something a mature player in the market would not want to miss out on," adds Sridhar V.
Pant believes Maruti faces a unique challenge.
Of the top 10 brands in India, eight are from Maruti's stable. And yet, when one talks about premium products, the industry gets back to talking about volumes.
According to the automaker, with differences in sales channels, models, reach and size it is unjust to compare Nexa sales with its traditional showroom sales.
For example, sales of Swift and DZire combined are to the tune of 30,000 per month. These models are sold through 2,000 outlets across India.
By comparison, Nexa is a young network with 200 stores in 121 cities. As of January, the network has sold over 185,000 vehicles. Nexa launches Ciaz and Baleno have done well for Maruti. Baleno is selling an average 10,000 units per month.
Nexa, says Pant, "is not about volumes".
At present, he adds, Nexa as an initiative is more of an image building exercise, and in due course numbers too would follow.
"But Nexa sales cannot compete with a Swift or an Alto -- these cars are first-time buys, and sales numbers will be high. We will need those models because they are what Maruti has built its success on. We will not lose focus there and keep fortifying our position in the mass car market."