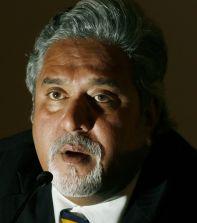 United Bank of India (UBI)'s decision to declare UB Group chief Vijay Mallya a wilful defaulter has cast a shadow on Zuari chief Saroj Poddar's plan to jointly own controlling stake in Mangalore Chemicals and Fertilizers (MCF).
Poddar and Mallya had jointly made an open offer for additional stake in the fertiliser company, and this was approved by the Securities and Exchange Board of India (Sebi).
According to a May 12 agreement between the UB Group and Poddar's Adventz Group, if they jointly secured controlling stake in the company, Mallya was to remain MCF chairman for the next five years.
The agreement also allowed Mallya to appoint three directors on the board and gave him the right of first refusal over Poddar's shares in MCF.
However, with Mallya being declared a wilful defaulter, he might not be allowed to secure a board seat in any company.
Sources said unless Mallya secured a stay on UBI's decision to tag a wilful defaulter, the agreement would have to be re-worked. Everything regarding the bid has to change if there is no stay order on the wilful defaulter tag on Vijay Mallya.
He cannot remain the chairman of MCF, neither can he appoint directors on its board...
The next course of action on the MCF open offer will be decided once Mallya comes up with a plan to tackle UBI's notice," said a person familiar with the development.
Poddar refused to comment on the matter. A senior banker said UBI had already alerted the Reserve Bank of India, the Credit Information Bureau India and Sebi about the move.
"It is unlikely Mallya will be allowed on the board of any company," the banker added. On Monday, UBI declared grounded Kingfisher Airlines, its chairman Vijay Mallya and three other directors — Subhash R Gupte, Ravi Nedungadi and Anil Kumar Ganguly — wilful defaulters for non-payment of dues worth about Rs 400 crore (Rs 4 billion).
Kingfisher Airlines had moved the Calcutta High Court after the bank had identified it as a wilful defaulter. But last week, the court dismissed the airline's plea.
On August 29, Kingfisher Airlines had filed a special leave petition order before the Supreme Court against the high court.
The company said it intended to pursue all available legal options, including the special leave petition filed before the apex court.
Through the UB Group, Mallya holds 21.98 per cent stake in MCF. He has joined hands with Poddar, who is competing with Deepak Fertilisers for controlling stake in MCF.