With plenty of jobs available in the sector, workers, even if mistreated, choose to keep quiet rather than risk spoiling their careers by organising themselves.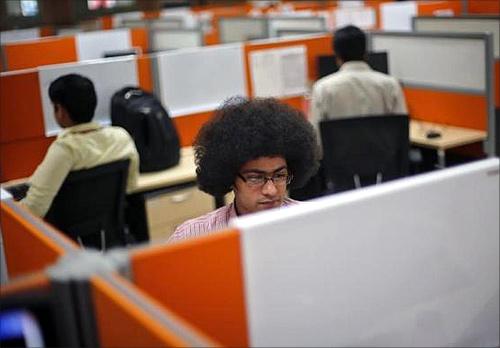 Recently, when Tata Consultancy Services (TCS) laid off a handful of employees, prominent trade unions rushed to offer their support to workers who had lost their jobs.
The unions looked at this as an opportunity to finally gain a toehold in the sector. But like Silicon Valley, its counterpart in the United States, the $120-billion Indian software services export industry continues to shun trade unionism.
The unions could have been better prepared for the rebuff if they had read a two-decade-old Associated Press article from December 1983 that could have been presciently describing the situation in the Indian technology industry of 2015: "Silicon Valley, breeding ground for the largest unorganised industry in the country, works as hard to make labour unions irrelevant as it does to make last year's computer products obsolete."
The article went on to add that the industry "has a formidable non-union track record.
"Even in situations likely to attract organisers, workers have, with very few exceptions, said no to representation."
Why is that despite numerous calls in the past, workers in the technology industry - who comprise one of the largest workforces in the country with over 2.5 million people - continue to say no to trade unions?
Former human resource head of Infosys, TV Mohandas Pai, doesn't mince words when he says that the Indian IT industry is not the place for trade union activities.
"If any of these people who have left or have been laid off create trouble for TCS, will anybody else ever hire them," he asks matter-of-factly.
Trade unions are useful when people want "job security" and want to work for a single employer for 25-30 years, he says, and contrasts this with the technology sector: "This is an industry where people move from company to company, depending on who pays you better.
Employees give a 15-day notice, attrition is in double digits - what employee rights are you talking about?"
According to Pai, people in the middle management bracket who are paid Rs 40-50,00,00 annually don't need labour law support.
Those who do are the entry-level employees. But, even if mistreated, these junior workers will not risk spoiling their careers, "rather they will keep quiet and go somewhere else because there are lots of jobs around."
This, to a large extent, explains why trade unions have failed to make inroads into the industry.
During the initial decades, when business was galloping at very high growth rates, the industry took everyone along.
The sector became synonymous with plush offices, foreign postings, attractive perks and stock options.
There are stories of how even the support staff (such as drivers and office boys) of companies like Infosys became wealthy, having acquired company stock in the early days.
And instead of firing employees, companies spent millions of dollars in training even unemployable staff to feed the constant requirement for more hands.
But, over the last couple of years, the rise of automation and the disruption caused by digitisation are forcing IT companies to revisit their business models.
Given the fact that the industry is highly focused on cost, experts believe that while hiring at the lowest levels will continue, those at the middle level are likely to feel the heat.
But this is unlikely to provide trade unions a toehold in the sector. False alarm Towards the end of 2014, rumours of a large scale lay-off at TCS hit the headlines.
A few affected employees also ran a campaign on social media that included creating a page on Facebook called "We are against TCS layoff".
Last month, TCS finally broke its silence on the controversy, saying the company hadn't initiated, and wasn't planning to initiate, "large-scale exits" for any section of its staff in any part of the organisation. Giving a detailed break-up of the "involuntary attrition" for the first nine months of 2014-15, TCS said the figure stood at 2,574, or 0.8 per cent of its overall employee strength.
The corresponding numbers for 2013-14 and 2012-13 were 2,203 and 2,132, respectively. Virjesh Upadhyay, general secretary of the Bhartiya Mazdoor Sangh, which is affiliated to the Rashtriya Swayamsevak Sangh, says that the trade unions have taken the TCS issue very seriously.
"It is a major concern that companies do not allow the unions to enter the IT sector," he says.
He also says that the employees in the sector were not interested in joining the trade unions in the early days, but are now realising that they lack a collective voice to fight for their rights.
"If trade union registration is not allowed to take place, such problems will persist," says Upadhyay. "IT is a booming sector and that is why we are demanding formation of unions there."
Upadhyay may claim that the need for trade unionism in the industry is stronger than earlier, but Pai maintains that such movements "happen in a momentary fit of emotion" and then fizzle out.
Failed attempts at unionising several IT and BPO companies prove the truth in Pai's statement, as do parallels from around the globe.
Most of the labour groups in the US have failed to unionise the core employee base of tech powerhouses, and their only success has been in taking up the cause of workers in ancillary activities.
British daily The Times reported in October 2014 that one of the most prominent labour groups in the US attempted to organise bus drivers working at Facebook.
Apple also had an encounter with trade unions when some of its retail showroom employees demanded better wages and improved benefits in 2011.
When the issue came up at the recent Jaipur Literature Festival and Infosys founder N R Narayana Murthy was asked about the crisis employees face when companies issue pink slips as part of their cost-cutting measures, he replied, "Always remember, performance is the criterion to remain in a job.
Even if there is cost cutting, you will be evaluated on your performance before you are issued a pink slip.
So, always focus on the performance." The 1983 Associated Press article said that there was a "mental attitude" against unions perhaps due to an amalgam of competitive pay and benefits, dedication to labour relations and a sense that the Valley was special and its people a breed apart.
"Silicon Valley workers don't go in for mobilisation, they find no haven in numbers, no satisfaction in paying somebody else to negotiate…
Partly, this is because Silicon Valley is no longer a manufacturing hub."
Baffling as it may seem, these lines ring absolutely true for the India industry too.
(Somesh Jha contributed to this report)