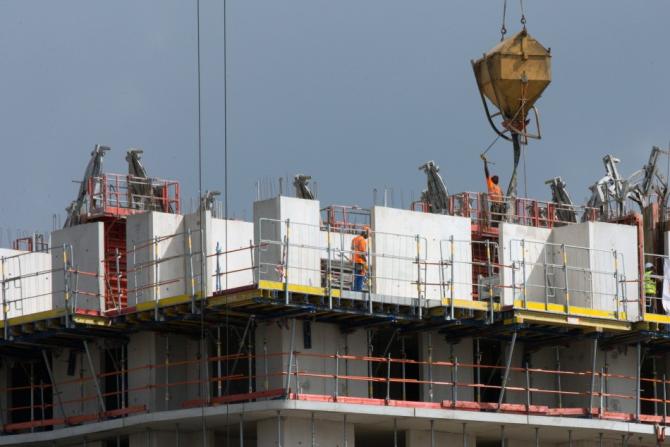 Rahejas, Hiranandanis prefer bank debt, internal capital and community financing.
They're the largest and oldest real estate players in India. However, they have stayed away from the private equity (PE) route to raise funds.
They - Rahejas, Hiranandanis, Kalpataru... the list is long - have largely depended on internal accrual and bank loans for funding needs.
PE in real estate jumped two-fold to Rs 15,410 crore last year, the highest since 2008, signalling a renewed interest by domestic and global investors in Indian real estate, according to property consultant Cushman & Wakefield.
The growth issue
Niranjan Hiranandani, managing director of Hiranandani Constructions, one of the country's oldest developers, says it is a question of growth versus need of capital.
"We're not expanding that much to require capital from outside. We do not need that much liquidity."
Hiranandani raised funds from the London-based Alternative Investment Market (AIM), but the company was de-listed from the stock exchange after a tussle between the Hiranandanis and the company broke out.
"It is a question of mindset. How much you can grow without debt, structured debt and PE," says Hiranandani.
Agrees an executive with
K Raheja Corp, which owns Shoppers Stop and Inorbit Malls: "It is about why you need capital and when you need it. It depends on the strategy." K Raheja listed its investment vehicle, Ishaan, on the AIM, but took it private two years ago.
"We were planning to list a Reit (real estate investment trust). Since that is not happening, we have to decide whether we have to raise private or public capital," he adds.
Averse to structured deals
These developers seem to be averse to the structured or mezzanine debt deals offered by PE firms.
These are so structured that they carry a fixed coupon rate plus redemption premium. PE firms do the structured deals at 18-20 per cent.
"We certainly don't want structured debt, which is expensive," the Raheja executive said. He adds they raise funds by discounting lease rents and borrow for construction finance - both at 11 per cent.
Says Vijay Wadhwa, promoter of Wadhwa group: "Private equity is expecting too much. To give them exits, we have to borrow at high rates which are really tough."
Adds an executive from Hiranandani group: "Real estate is a long-term business and PE firms want returns in the short term. It is not possible to return the money in four or five years."
Community funding
Some developers also take funds from the community to which they belong, at an interest rate of about 15 per cent.
This is prevalent in Sindhi and Marwari communities, where wealthy investors lend money to trusted developers.
"It can be one month or for several years, depending on the need of lenders. In this case, there's much documentation involved and the developers don't need to mortgage anything," said a senior executive of a property developers, who does not want to be named.
According to the executive, since money is raised from a pool of lenders, there is a risk of rumours about borrowers.
"Even if a developer has raised Rs 25 crore (Rs 250 million) at 16 per cent, some people might spread rumours that they have raised money at 18 per cent."
AVERSE TO PE
Some of the oldest, largest developers prefer own capital, bank funds to private equity (PE)
Most of them raising funds at 10-12 per cent as against 18-20 per cent expected by PEs
Some of them also take funds from investors from communities they belong to
Last year saw PE of Rs 15,410 crore (Rs 154.10 billion)
Photograph: Reuters