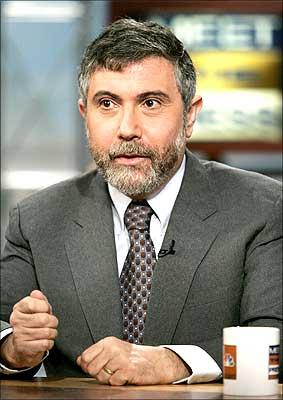 When there is all-round gloom over India's economy, with everyone from experts and others tearing into the government for its inability to control the rupee's tango with the dollar, soaring inflation and falling GDP figures, here's a bit of good news for the UPA.
Writing in the New York Times, Paul Krugman, the Nobel Prize winning economist, agrees that while the falling rupee is the big story of the story, why the panic?
The rupee may be down a lot in quick time but it is not unique among emerging market currencies, he writes, and offers a comparison with another comparable emerging market economy, Brazil. According to the real effective exchange rate arrived at by Krugman from the Bank for International Settlements figures and his own estimates, the Indian rupee's REER is around 88 per dollar, while the real's REER is at a steep 110.
Krugman also demolishes the theory that the emerging market currencies are in turmoil over the US Fed's quantitative easing.
The rupee's recent decline is sharp, yes, he says, but the tale would be scary if India was like the Asian crisis countries of 1997-98, or even Argentina in 2001, when large amounts of debt was denominated in foreign currency. According to him, India's percentage of external debt to GDP was around 20.
Since comparisons have been made to India's current economic plight and the 1991 payments crisis -- when the economy was rescued by then finance minister Manmohan Singh who is now the prime minister -- it is educative to realise that the external debt to GDP percentage then was double, at 40.
Krugman rounds off his article with the caveat about the downside to the rupee's fall -- a spike in inflation -- but even this, he says, should be temporary.
This must come as sweet music to the government's ears!