An additional lease rental of Rs 200 crore on nine Boeing 787 Dreamliners was the reason for ending in the red this quarter, Arindam Majumder reports from New Delhi.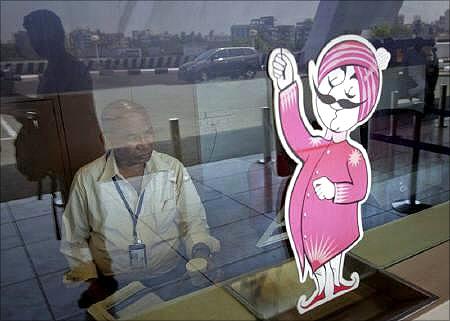 State-owned Air India, which according to Prime Minister Narendra Modi is on a recovery path, suffered an operating loss of Rs 460 crore (Rs 4.6 billion) in the July-September period, after another Rs 246 crore (Rs 2.46 billion) of losses in the financial year's first quarter, April-June.
Compared on a yearly basis, operational losses increased manifold by 55 per cent, from Rs 296 crore (Rs 2.96 billion) during the same period last year.
However, airline executives said an additional lease rental of Rs 200 crore (Rs 2 billion) on nine Boeing 787 Dreamliners was the reason for ending in the red this quarter.
To clear past loans, Air India had formally sold nine B-787s to a Singapore-based lessor, which it then took back on lease under a sale and lease back agreement. In this arrangement, the seller of an asset leases it back from the purchaser on a long-term basis and continues to use it.
Additionally, a weak rupee worsened things, with an estimated loss of around Rs 100 crore to a fluctuating exchange rate. So, operational expense rose 7.5 per cent to Rs 5,275 crore (Rs 52.75 billion).
"Our performance actually improved if compared to the previous year but an unfavourable exchange rate made things difficult," said a senior executive.
The executive said for the current quarter the airline was able to more than halve its total loss to Rs 508 crore, a decline of 57 per cent from Rs 1,197 crore (Rs 11.97 billion) in the corresponding period last year.
With a benign fuel price, private airlines also improved their numbers, despite a competitive pricing scenario. Market leader IndiGo's profit increased by 24 per cent to Rs 140 crore (Rs 1.4 billion), SpiceJet doubled its to Rs 58.9 crore (Rs 589 million) and Jet Airways' increased by 2.5 per cent to Rs 85 crore (Rs 850 million).
"Air India suffers from legacy issues, past loans. So, private airlines are not a like-to-like comparison. We are concentrating on our own performance and improving every day," a second executive said.
The airline has accumulated debt of around Rs 40,000 crore (Rs 400 billion), due to long-term loans taken for aircraft purchase.
The finance ministry has agreed to an additional infusion of Rs 860 crore in the supplementary budget for FY17, after the airline warned that lack of money support would hurt its recovery.
The executive said despite pressure on yields and a decline of around seven per cent in average fare, revenue increased by 2.8 per cent. "This is because we are now flying more, our aircraft utilisation has increased and productivity has increased," he said.
Minister of state for aviation Jayant Sinha had earlier told Parliament that AI's performance would improve in the second half of the year, due to a pick-up in traffic. However, the management feels adverse impact of demonetisation might disrupt the hope of ending the year with a profit in operations.
"Many people have cancelled their advance bookings and we are seeing a decline in new bookings by almost 10 per cent. So, the forecast for the next quarter remains uncertain," an official said.
According to the airline's turnaround plan, it was projected to see operating profit of Rs 1,086 crore (Rs 10.86 billion) in 2016-17.
Photograph: Reuters