The contract is important because the future of Switzerland's most crucial airport - Zurich - hangs in the balance.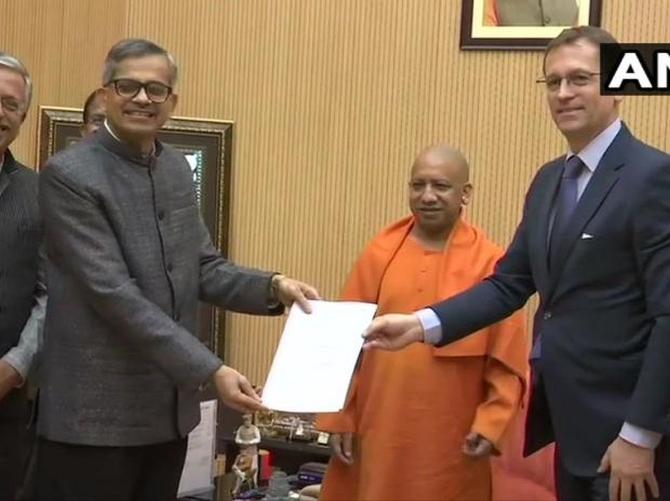 There is little that Andreas Schmid, the Swiss-born chairman of Flughafen Zurich AG (Zurich Airport International AG), and Yogi Adityanath, chief minister of Uttar Pradesh (UP), could have in common.
But Schmid, whose company is building the Noida airport in partnership with the UP government, finds himself on the same footing as the firebrand Hindutva leader who rules the state.
Both hope the Rs 30,000-crore ($4 billion) project, hanging fire for 20 years, shows some progress when UP goes to the polls in 2022.
For Zurich Airport AG, the contract is important because the future of Switzerland's most crucial airport (Zurich) hangs in the balance.
"With Noida International Airport being the largest single investment abroad, Zurich Airport International's investments will be roughly 1 billion Swiss Francs," said Jasmin Bodmer-Breu, spokesperson of Zurich Airport AG.
Noida's significance lies in the fortunes of Zurich Airport.
The airport lies just 15 miles from the German border and owing to the deafening impact of aircraft landing on border towns, Berlin has put severe restrictions on its airspace use between 10 pm and 6 am on weekdays and 8 pm and 9 am on weekends.
Plus, height restrictions on descending aircraft make landing manoeuvres at Zurich through German airspace during these hours a tricky affair.
Negotiations have been on for decades, without resolution.
Swiss authorities told the European Commission that the "no-fly" hours had reduced Zurich's handling capacity from 39 landings an hour to 20-28 landings, substantially increasing airport operation costs.
Zurich's handling capacity is also constrained by the fact that two of its three runways cross each other.
A 2020 report by Aviation Research Centre Switzerland noted, "Limited growth opportunities due to these constraints might endanger the competitiveness of Zurich and especially its hub function over time."
Noida's importance can be gauged from the fact that in May 2021, Zurich Airport AG hived off international airports into a separate business.
This will be headed by Daniel Bircher, an old company hand who has worked in India.
Once the initial phase of Noida is over, Zurich Airport AG's international airports will comprise 20 per cent of its assets.
"We are injecting Rs 2,005 crore as equity into Noida airport. Last month Yamuna International Airport Pvt Ltd (YIAPL) signed the financing agreements with the State Bank of India and Noida International Airport Limited, UP's nodal agency for the project, to achieve financial closure.
"YIAPL has raised Rs 3,725 crore in debt from SBI to be repaid over 20 years with one-year moratorium post-completion of the project.
"This is one of the largest financings in an Indian greenfield airport," said Bodmer-Breu.
But Noida is heavily banking on diverted traffic from the national capital's mainstay — the Indira Gandhi International (IGI) airport. IGI is developing a fourth runway, which would be able to handle 120 aircraft an hour — impressive by global standards.
But IGI would still struggle to handle peak-hour traffic.
This is where the Noida airport would be casting its net.
A PricewaterhouseCoopers (PwC) study noted that in the initial years, Noida Airport "is likely to cater to the peak hour demand of IGI and a sharper traffic profile.
"Over time as more number of hours at IGIA reach capacity, the slot allocation window at Jewar (Noida airport) to accommodate spillover flights will broaden.
"The potential spillover from IGI may start picking significant pace by 2029-30 as IGI reaches its capacity."
Like Zurich, Delhi also has disadvantages.
Flights to or from Northeastern and eastern India have to avoid flying over high security zones — such as "VIP area 89" over Rashtrapati Bhavan, the Indian Air Force base at Hindon and the Mathura refinery.
The creation of the Central Vista could expand these no-fly zones.
With every extra minute in the air adding to fuel burn and every hour of delay increasing turnaround times, the Noida airport could offer airlines significant cost benefits.
The traffic at the greenfield Noida airport is expected to boom once operations begin in 2022-23.
The PwC study estimates that in its first year of operation, Noida will witness a footfall of five million passengers (see chart).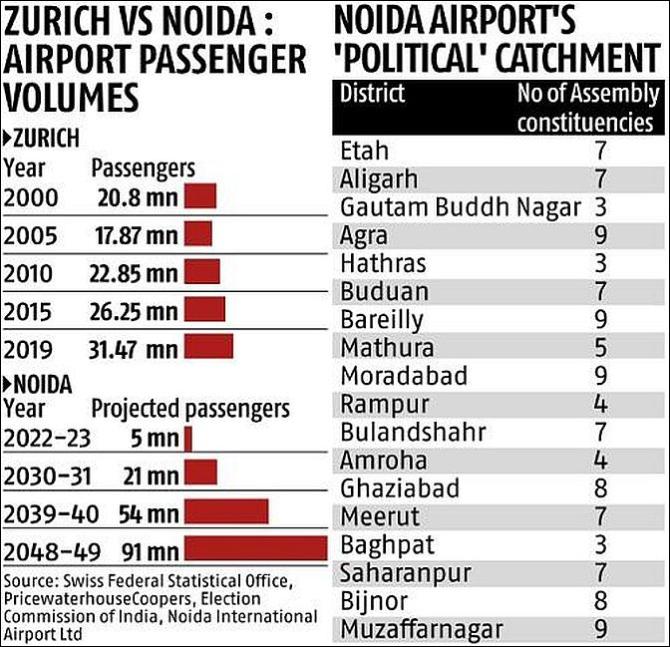 Given the ambitious development of the Delhi-Mumbai Industrial Corridor (DMIC), Noida airport's cargo potential could turn out to be more lucrative.
This boom is likely to reverberate in UP's hinterland in 18 districts in the airport's vicinity.
There was considerable buzz in real estate circles in Moradabad, Bulandshahr, Mathura, Agra, Aligarh, Baghpat and others.
Most of the towns of these districts are less than two to three hours from the Noida airport.
"Before Covid-19, I was dealing with people from Jaipur, Delhi and Lucknow who were constantly enquiring about properties in Mathura, Bulandshahr and even Meerut because of the proposed airport.
"After the airport's announcement there was a huge interest for land and plots that were much cheaper than Ghaziabad or Noida," said Lakhan Dahiya, a property agent from Baghpat.
This land-rush would have given Adityanath a potential election hot seller in 116 constituencies that fall in the airport's catchment area.
But this is where the Bharatiya Janata Party could face its biggest challenge in 2022, given the formidable anti-farmer front led by the influential Rakesh Tikait.
Adityanath has been consistently promoting the airport as one of his regime's biggest achievements.
But the pandemic has upset these calculations.
"Nobody would sell land for less than Rs 4 lakh a bigha in my village.
"Now people are willing to sell it for as low as Rs 2.5 lakh.
"There is no impact of the airport in our lives.
"What my village needs urgently is a sewer line. The first road and a proper cabled electricity connection came here only in 2014.
"Since then, there hasn't been any progress" said Brijapal Rathi, head of the Akhtyarpur village in Bulandshahr.
Rehmat Ali, the head of Chuharpur Bangar village a few miles from the proposed airport, said, "We do not even have a primary health centre.
"In these times we struggled for basic medicines or health care.
"Electricity comes four to five hours a day.
"The last signs of progress we saw was under Akhilesh Yadav's government. What use is this airport to us?"