Bankruptcy proceedings are going at a slower pace than what the bankers had envisaged and many cases have gone beyond the 270-day timeline set under the IBC mainly because of litigation.
Illustration: Uttam Ghosh/Rediff.com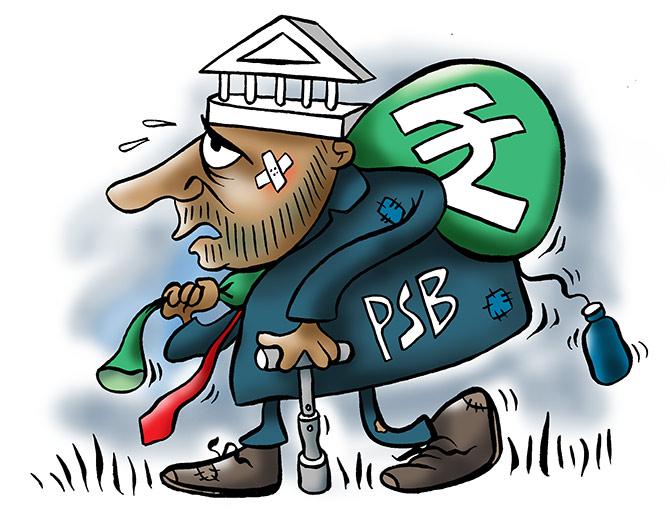 Several public sector banks are planning to sell their bad loans, including those being litigated at the National Company Law Tribunal (NCLT), in order to enter 2019-20 with fewer stressed assets on their books.
Bankruptcy proceedings are going at a slower pace than what the bankers had envisaged and many cases have gone beyond the 270-day timeline set under the Insolvency and Bankruptcy Code (IBC) mainly because of litigation.
A senior IDBI Bank executive said, "Bankers are becoming impatient because many big-ticket cases don't seem to be going anywhere."
United Bank of India (UBI) has identified loans worth Rs 3,000 crore for sale through auction.
The bank's board recently approved the decision to identify the accounts, confirmed Ashok Kumar Pradhan, managing director (MD) and chief executive of United Bank of India.
"Earlier we were expecting realisation of around Rs 3,200 crore this financial year on account of resolution of cases stuck at the NCLT," he said.
The bank does not expect recovering more than Rs 1,500 crore through the NCLT window this financial year.
"We have decided to take the auction route. This will help us expeditiously clean up the balance sheet," Pradhan added.
The IDBI Bank official said there were hopes of recovery from the first quarter of the current financial year but even in the fourth quarter, many cases were not resolved.
"Banks have to shore up their balance sheets in the final quarter of the financial year and do not have much choice there," he said.
IDBI Bank has put its exposure of Rs 29,000 crore to Alok Industries and Rs 3,900 crore to Jayaswal Neco on the block.
UBI has put accounts from the list of 40 companies recommended by the Reserve Bank of India for referral to the NCLT in its two lists.
The accounts include UBI's exposure of about Rs 650 crore to three Amtek group companies and about Rs 1,200 crore to Lanco group firms.
Dena Bank, Bank of India and Punjab National Bank too have put their bad loans on sale.
State Bank of India (SBI) announced auctioning its Rs 15,431 crore loan to Essar Steel with an e-auction slated for January 30.
SBI has quoted a reserve price of Rs 9,587.64 crore, which has been calculated on the basis of the net present value of minimum recovery, with an 18 per cent discount and a time factor of a year.
The Essar case has been dragging for more than 500 days now.
Central Bank of India, which is under the Reserve Bank of India's prompt corrective action, is also contemplating offloading its exposure to Essar Steel and many more NCLT cases.
"We will sell our exposure in Bhushan Power & Steel too," a senior bank executive said.
Many other banks are in wait-and-watch mode and see how NCLT cases pan out.
"While the management will have its own considerations if it plans to sell the assets to asset reconstruction companies, at the same time, SBI's views will be one of the considerations while taking any decision on the matter," said Mrutyunjay Mahapatra, MD and chief executive officer, Syndicate Bank.
Banks that have made adequate provisioning for NCLT cases say they have the time to wait and can take a further hit on the outstanding loan.
On the other hand, banks with less provisioning would prefer to exit loans before they slip further, the IDBI official added.
Public sector bank (PSB) executives say selling loans at this stage is the right decision, and it should have happened three months ago.
"There is the time value of money. Even if the NCLT gives orders in favour of the bidder approved by the committee of creditors, the other party is most likely to approach legal forums including the Supreme Court," said a senior PSB executive.
Ahead of the SBI auction, public sector banks are slated to meet officials of the Department of Financial Services in the finance ministry to discuss the non-performing asset (NPA) situation.
On Monday, officials of PSBs met Injeti Srinivas, secretary, Ministry of Corporate Affairs, and M S Sahoo, chairman, Insolvency and Bankruptcy Board, for reviewing the progress of the first 12 cases referred to the NCLT.
With most NPA accounts referred to the NCLT exceeding the 270-day limit, several banks are required to step up provisioning if they remain unresolved by the end of this financial year.
If the Essar Steel account remains unresolved by the end of the financial year, SBI will have to make an additional provisioning of Rs 6,000 crore, according to sources.