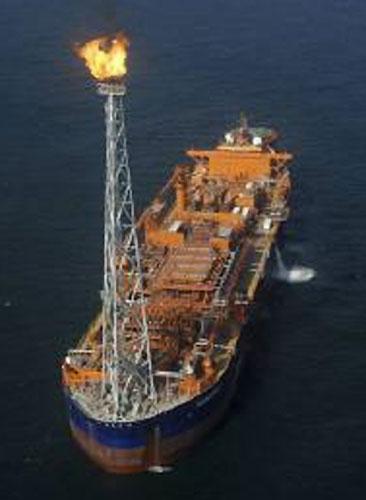 The Oil Ministry is moving the Cabinet to allow Reliance Industries retain three gas discoveries worth $1.45 billion in the eastern offshore KG-D6 block even after expiry of timelines.
Upstream regulator Directorate General of Hydrocarbon (DGH) had sought taking away the three finds from RIL as the company had failed to prove their commerciality by not conducting prescribed tests.
The Oil Ministry is, however, seeking relaxation of the rules for RIL as it feels rebidding the finds may lead to delay in development of the discoveries, which hold 345 billion cubic feet of recoverable gas reserves, sources privy to the development said.
Also, it feels RIL may go to arbitration which may lead to further delay in production and extra cost associated with the arbitration.
The three finds, which can be quickly put on production by RIL using existing infrastructure of currently producing gas fields as well as those being developed, are worth $1.45 billion at current gas price of $4.2 per million British thermal unit.
Sources said the ministry is likely to seek approval of the Election Commission before floating a draft note for inter-ministerial consultations.
After comments are received from the finance and law ministries besides the planning commission, it will be put to the Cabinet Committee on Economic Affairs (CCEA) for approval.
Sources said RIL will have to conduct DGH prescribed Drill-Stem Test (DST) on D29, 30 and 31 discoveries and only half of the USD 93 million will be allowed to be cost recovered.
If the CCEA approves, the same rule will then be applied to RIL's four gas discoveries (D-9, 10, 32 and 40) in North-EastCoast block NEC-0sn-97/1 (NEC-25) which hold recoverable reserves of 1.032 Trillion cubic feet.
Out of a total area of 7,645 square kilometres in KG-D6 block in Bay of Bengal, the government last year allowed RIL and its partners BP plc of UK and Canada's Niko Resources to retain only 1,4462.12 sq km area where regulator DGH-recognised discoveries have been made.
The area snatched away from RIL was more than 5,367 sq km that the company had offered to relinquish voluntarily and contained five discoveries - D4, D7, D8, D16 and D23 for which the DGH had opined that RIL missed deadlines for submission of investment plans.
The five discoveries together had 0.805 Tcf of reserves, or about one-fourth of the restated reserves in the currently producing Dhirubhai-1 and 3 (D1&D3) fields in KG-D6 block.
Sources said the 1,4462.12 sq km area that RIL was allowed to retain included the currently producing D1&D3 gas fields and D26 (MA) oil and gas field.
Besides, a cluster of four satellite fields (D2, D6, D19 and D22) and two other significant discoveries (D42 and D34), for which investment plans have already been approved, are also being allowed to be retained by RIL.
The area allowed to be retained also includes three yet-to-be-confirmed discoveries of D29, D30 and D31.