Air India pilots and crew often play musical chairs, leading to a substantial revenue loss for the airline in an inefficiently managed set-up
Illustration: Uttam Ghosh/Rediff.com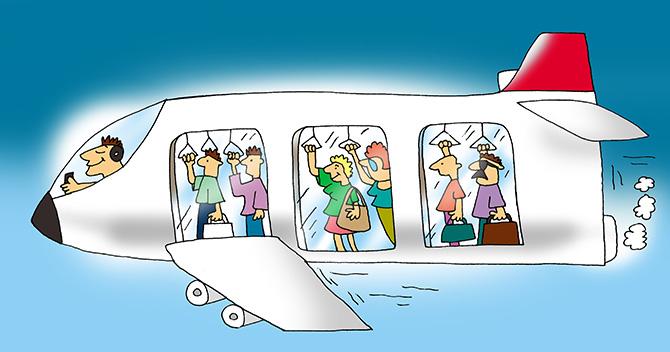 In yet another example of how not to run an airline, on an everyday basis 15-20 commanders and first officers and almost 50 crew members of national carrier Air India fly from their bases to operate flights from other bases, resulting in a loss of revenue seats, expenditure on hotels, and payment for staff that is not for actual flying.
Senior officials and sources in Air India say that this practice has multiplied. There are several reasons why this has been happening.
Many Air India pilots who were hired in Mumbai have to often come to Delhi to operate flights since the merger of the two carriers (Air India and Indian Airlines) and also after the airline has been forced to operate more out of Delhi owing to better infrastructure.
Mumbai as a hub has become more and more untenable as traffic has risen and this is true for all airlines.
Since many pilots were hired out of Mumbai or senior commanders and their families are based there, it has not been possible for the airline to move their bases on humane and practical grounds.
Most Dreamliner flights operate out of Delhi and ideally pilots would have to move base but in Air India, this doesn't happen.
A senior management source said while this was true, some amount of to-ing and fro-ing is also on account of lack of parking bays at certain airports.
Some amount of "dead heading" (the aviation term for the crew to travel as staff on duty to fly the next day) was unavoidable.
But a more serious problem has developed with the fleet of narrow body aircraft.
Typically, more of the flying schools and pilot- and crew-training institutes are in the northern part of the country.
For some reason, many flying schools in Chennai, Bengaluru, Thiruvananthapuram, Coimbatore and other cities in the south are virtually defunct for some years now.
As a result, a lot of the crew is based out of Delhi and other northern cities and when hired they don't want to shift base.
Also, many pilots of A320s and narrow-body aircraft, based in other cities around the country and have now been moved up to wide-body aircraft as part of normal career progression, have to fly into Delhi and Mumbai as most wide-body flights are from the two cities.
"Again their base can be changed but usually isn't," says a source.
How it works as a result is like this. A pilot has to operate a flight out of Chennai. He flies as staff on duty occupying a revenue seat, comes a night before and stays in a hotel in Chennai.
He operates the flight the next day and then returns to Chennai, spends another night and then leaves for Delhi, his base.
All the time spent counts towards his flying hours as he is on duty.
"If one adds it all up, this leads to lower productivity as the number of days involved goes up, higher costs due to taxes paid on the seat and hotel stay and loss of revenue for the seat in case the flight is full," says a source.
The crew is also paid for the time spent travelling up and down in flight allowances.
"So 70 hours of flying will include all the time spent in reaching the base from where the actual flight is to be carried out," explains the source.
A lot of the transfers, flight operations and rosters are in the hands of senior ground staff and many times the crew are kith and kin of these officers.
"There are times when a pilot arrives in Chennai in the morning and manages to leave by the evening after engineering a transfer," says a senior captain with the airline.
He says many of the pilots and the cabin crew simply "prefer" Delhi or the north and use their contacts in the airline, the Ministry of Civil Aviation and the Directorate General of Civil Aviation to engineer transfers.
Many flights allow the crew to earn allowances in dollars and some bases don't have flights to destinations outside the country, so sometimes you may well have a full crew complement flying from Kolkata to Chennai, Hyderabad or Kochi to operate to Singapore, Malaysia, Sharjah, Doha or any other international destination.
"This is so because all of them can earn dollar allowances," says a senior captain.
Even with the wide bodies, better planning would help.
Pilots say that the B777 operations have more potential out of Bengaluru and Hyderabad as these are the IT hubs and the maximum traffic to San Francisco and Chicago is the tech crowd from these cities but for some odd reason an extraordinary number of flights continue to operate out of Delhi.
Almost all B787 flights are out of Delhi and Mumbai.