At 47 protests a day, the state has become the most restive in the country and investors are becoming increasingly wary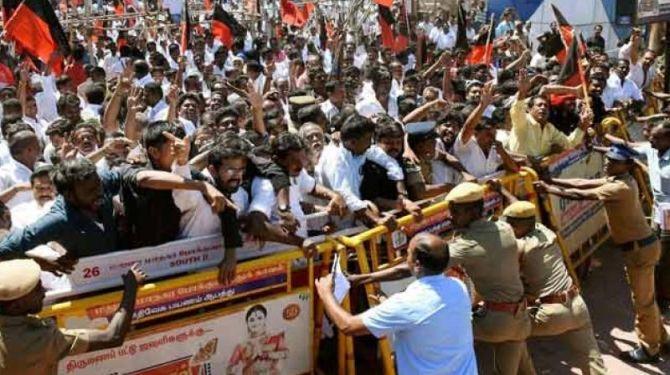 Recently, a delegation from a global consulting firm visited Tamil Nadu and met with industrialists, industry chambers, politicians and journalists.
The members were on a mission to understand the investment climate and ascertain whether the state was still a safe place for investors.
The questions over the investment worthiness of Tamil Nadu were puzzling given that the state is still the putative champion in terms of foreign direct investment inflows, ranking fourth in 2017 behind only Maharashtra, Delhi and Karnataka. However, their cause of worry came from a different quarter: protests.
In recent years, Tamil Nadu has become a hotbed for public agitations, becoming the most restive state in India at 47 protests a day.
The state reported 20,450 agitations in 2015, compared to 13,089 in Punjab, 10,477 in Uttarakhand and 10,039 in Delhi, data from the Bureau of Police Research and Development shows.
Of these, political parties organised 8,312 agitations, while others were by employees, labour organisations, students and communal groups.
The police firing that ensued in the wake of Vedanta's Sterlite Copper standoff claiming 11 lives has lent a fresh blow to the state's image.
"The administration has sent out a wrong message by firing at protesters," says the CEO of a company, which is investing Rs 1,800-2,000 crore in Andhra Pradesh, on condition of anonymity.
"The social harmony is affected and workers are getting restive."
It is hard to point to one factor for the discontent. The reason for protests run the gamut from anti-Hindi agitations, public expression of solidarity with the Tamils in Sri Lanka to Jallikattu (bull fighting), National Eligibility and Entrance Test, increase in bus fares, farm loan waiver and the Cauvery water dispute.
Although sporadic and sometimes lasting only a few hours, the protests invariably end up bringing Chennai to a halt, affecting industries operating in and around the city.
Several protests, however, have dragged on for years. The protests in Idinthakarai, a coastal village, against the expansion of the Kudankulam Nuclear plant and against several GAIL projects - gas pipeline, methane and hydrocarbon projects - went on for years.
The Sterlite issue that came to a head in May when the protesters turned violent resulting in the death of 13 people was also simmering for over two decades.
The plant has now been shut down and its future hangs in the balance.
The state government denies anything is wrong with the investment climate.
A few were attempting to create a wrong impression that Tamil Nadu was lagging behind in attracting investments, says Tamil Nadu industry minister M C Sampath.
In 2017, he says, the state received Rs17,745 crore in FDI, near about 8 per cent of the country's overall fund inflow.
To put this in perspective, Maharashtra received Rs 74,123 crore, or 31 per cent of the overall FDI, Delhi Rs 39,434 crore (20 per cent of total), Karnataka Rs 41,574 crore (8 per cent) and Andhra Pradesh, which is giving Tamil Nadu a tough fight in attracting investments, was at Rs 4,887 crore (4 per cent).
Sampath agrees Tamil Nadu has lost a few investors, most recently Kia Motors and Hero, to Andhra Pradesh, where land and power are given almost free by the state in addition to a host of other incentives, but that, according to him, hasn't changed Tamil Nadu's investment standing.
"From May 2011 to December 2017, the state has attracted Rs 118,099 crore in FDI as against Rs 330.24 billion during previous 11 years (April 2000 to April 2011). This shows investors are not moving away from Tamil Nadu," he says.
These numbers, however, don't tell the whole story. Industry members on condition of anonymity say that the government is not doing anything to assuage their concerns.
They point out for the year ended 2017, investment intentions in Tamil Nadu fell from the previous year.
It was Rs 3,130 crore from 62 proposals, compared to Rs 6,172 crore from 106 proposals in 2016.
Investment intentions, which is a barometer of investor sentiments, have been on a steady decline since 2013 (Rs 27,380 crore from 168 proposals). It declined to Rs 14,598 crore from 96 proposals in 2014, but increased in 2015 (Rs 19,811 crore in from 107 proposals) owing to the Global Investors Meet which saw the government signing a slew of agreements to secure investments worth Rs 242,000 crore.
Other states, meanwhile, have fared better. Karnataka has had investment intentions worth Rs 152,118 crore (38.48 per cent), Andhra Pradesh to the tune of around Rs 29,537 crore (7.47 per cent), Telangana to the tune of Rs 16209 crore (4.14 per cent), Gujarat Rs 79,068 crore (20 per cent) and Maharashtra Rs 48,581 crore (12.29 per cent) during January to December 2017.
Going by these figures, the state has fallen behind Karnataka, Andhra Pradesh and even Telangana in the South, apart from Gujarat and Maharashtra in the West.
Sampath, however, says, "While they got only intention proposals, we actually got money."
Data for the micro, small and medium enterprises (MSME) are not encouraging either. Data from the state's MSME Department shows a 18.45 per cent drop in the number of registered MSMEs in Tamil Nadu in 2017-18 from last year.
As many as 2,67,310 MSMEs were registered in 2016-17; this figure fell to 2,17,981 during 2017-18.
This means 49,329 industrial units wound up operations in one year. While demonetisation and GST are partly to blame, political instability had a role to play as well, according to a survey conducted by industry body the All India Manufacturers Organisation, which also shows of the all the MSMEs that closed in the year, 36 per cent shut down operations and only 28 per cent fell under non-performing assets.
In a parallel development, the number of workers employed in MSMEs has fallen by over 5,00,000; In 2016-17, the number stood at 18,97,619, but in 2017-18, it dwindled to 13,78,544.
"Political uncertainty, lack of clarity on the government's stand, and the alleged absence of ease of doing business are challenging. Things need to improve," says the chairman of a Chennai-based diversified group whose revenue is upwards of Rs 30000 crore.
The second edition of the Global Investors Meet in January in Chennai, for which the government has sanctioned Rs 73,000 crore, will be a test for the state's industrial fitness.
Photograph: PTI Photo