In the quarter ending June 2022, the growth of Internet subscribers was less than one per cent of all of 2021.
The growth rate of the Internet in India has almost flattened.
From double-digit growth rates through 2016 to 2020, it slumped to about 4 per cent in 2021 going by the Telecom Regulatory Authority of India (TRAI) data.
In the quarter ending June 2022, the growth of Internet subscribers was less than one per cent of all of 2021. It was less than a per cent even if you compared it to the same quarter from the previous year.
The fallout -- the number of people using broadband has hovered at the same level for two years now. The numbers using it for social media, video or entertainment has stalled at about 485 million, according to Comscore data (see charts).
The reason is not hard to find -- smartphones. As their prices hit the roof, smartphone adoption at the middle and lower end has stalled and therefore the Internet's growth has stalled.
This, even as usage or time spent continues to rise in double digits (see charts).
Smarting from a price rise
"Wireless (telephony) numbers continue to drop," says Anuj Gandhi, founder, Plug and Play Entertainment, and a former television executive.
"From the last two years, the organic growth rate of smartphones has stalled. There has been degrowth, we are back to 2019 levels," says Navkendar Singh, associate vice president, devices research, IDC.
Its data shows that the Indian smartphone market declined 10 per cent year-on-year in the third quarter of 2022 (July-September). This was the lowest third-quarter figure since 2019.
"The Internet economy is smartphone-based and overall the smartphone base has not increased," points out Singh.
India has more than 837 million Internet users -- 800 million of which use broadband. Out of these, about 600-630 million or just under 80 per cent use smartphones.
For millions of Indians, a smartphone is the first port of entry into the Internet. These are phones capable of processing bandwidth that allows you to watch a movie, listen to music or have a meeting online.
These are the data guzzlers that have made Google, Meta (Facebook, WhatsApp, Instagram), Netflix or MX Player what they are today -- dominant media players.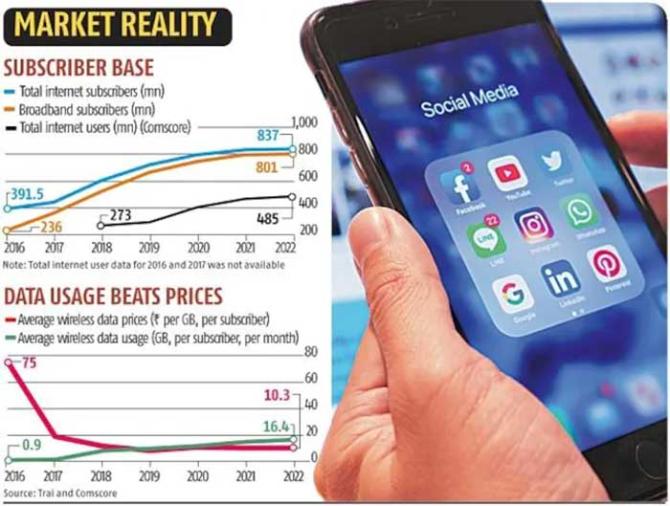 As the price of these phones went down the Internet has grown in India, making it one of the most exciting telecom and therefore media markets.
The pandemic, however, brought a halt to that. As the supply of chips used in smartphone manufacturing got choked, prices went through the roof.
Earlier, the sweet spot for people at the middle and lower end to upgrade from an ordinary phone to a smartphone was Rs 8,000. There is now no smartphone available in that range, says Singh. The average selling price is Rs 16,000-Rs 20,000.
"Affordability has gone," says one telecom executive. This has meant that people, who use ordinary phones and want to upgrade to one that could help them access all the goodies on the Internet, just didn't move up the value chain.
"New (chip) fabrication capacity will be operational in the next 3-5 years. The first major addition to capacity will come in the second half of 2023," says the telecom executive.
That will ease the demand-supply situation, making chips accessible for entry-level smartphones.
Since people who already own smartphones are in any case watching more films, shows or doing meetings etc, time spent continues to rise.
In the medium-term then, the impact on media consumption, advertising spends or subscription growth is not yet discernible.
But if growth at the entry level doesn't pick up this year, there is only so much existing broadband users can consume.
Feature Presentation: Ashish Narsale/Rediff.com