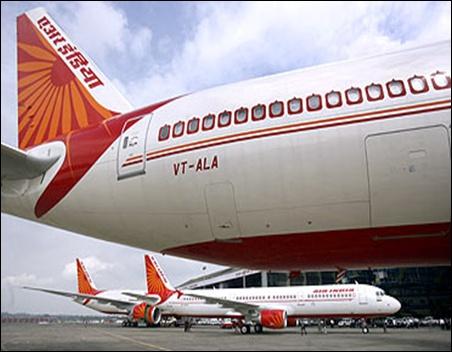 Govt wants to auction foreign flying rights as much of bilateral capacity is being unused
The much-awaited National Civil Aviation Policy got delayed multiple times as incumbent carriers furiously opposed a proposal by the civil aviation ministry to auction bilateral rights.
The reason the government wanted to auction foreign flying rights was because it was concerned about the unutilised bilateral capacity by Indian carriers.
Data show domestic Indian airlines such as Air India, Jet Airways, SpiceJet and IndiGo offer almost 50 per cent fewer seats than foreign airlines operating in India.
The data on foreign bilateral utilisation is compiled by the ministry of civil aviation.
As of June, domestic carriers were offering 242,365 seats on flights to and from India, compared with 432,456 seats by foreign airlines.
A senior official in the aviation ministry said: "On most international routes, capacity utilisation of Indian carriers range between 30 and 40 per cent.
"We are reviewing bilateral rights allocated to different airlines.
Those not utilising these rights are being asked to surrender the same as we do not want our own airlines to lose out traffic share to foreign carriers."
He added with easing of '5/20 norms' and new carriers such as Vistara and GoAir launching international operations, utilisation of seats will improve.
The 5/20 rule allows only those Indian airlines which have a 20-aircraft fleet and have operated in the domestic sector for five years to fly abroad.
The data also show Indian carrier do not fly to 67 out of the 109 countries India has bilateral agreements with.
For instance, not a single Indian carrier flies to any of the five African countries with whom the country has bilateral seat-sharing agreements.
India has signed air service agreements with Egypt, Ethiopia, Kenya, Mauritius and Seychelles.
On the contrary, Ethiopia flies 9,016 seats a week, which is 81 per cent of the total entitlements.
According to a senior airline executive, carrying out foreign operations becomes difficult for Indian carriers as there is low demand.
"The demands from those countries are not enough for a carrier to start a new route for us, the gestation cost will be too high," he said.
According to sector estimates, it takes at least six months to develop a route.
But, a closer look at the data will reveal that even in high-volume routes such as West Asia, foreign carriers have utilised their traffic rights more efficiently.
For instance, of the 51,000 weekly seat entitlements to Abu Dhabi, Indian carriers fly only 20,144 seats -- a mere 39 per cent of the total seat entitlements.
In contrast, their foreign peers have exhausted 82 per cent of their entitlements as of June 2016.
The case is similar for Qatar where Akbar-Ali-Baker, chief executive of Qatar Airways, has sought more traffic routes and seats from India. Qatar has exhausted their entire seat entitlements.
According to another airline executive, Indian carriers do not get preferred slots in foreign airports.
"Getting slots at the correct time is essential for the operation to remain profitable; Indian carriers hardly get those," he said.
The Federation of Indian Airlines, the lobby group representing private carriers IndiGo, SpiceJet, Jet Airways and GoAir, had recently written to the aviation ministry about non-availability of slots in overseas airports.
Image: An Air India aircraft. Photograph: Reuters