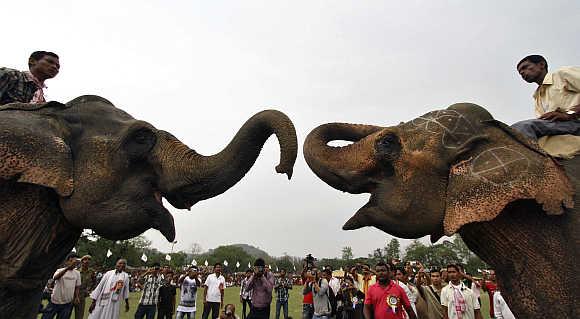 Disappointed with the Reserve Bank of India's decision to leave policy rates unchanged, India Inc on Tuesday said a rate cut would have helped restore the investment cycle as the industry continues to battle a slump in demand.
Experts said a future rate cut would depend on the inflation trajectory, behaviour of monsoon and global factors.
"At this time when credit demand is still flat and industry is facing a demand crunch, a rate cut would have done much to restore the investment cycle.
Confederation of Indian Industry is hopeful that RBI will resume the rate cutting cycle and support growth impulses in the economy in the next monetary policy," Confederation of Indian Industry Director General Chandrajit Banerjee said.
Reserve Bank of India Governor Raghuram Rajan on Tuesday kept the key policy rate unchanged citing higher upside risks to 'inflation trajectory' but said the central bank will remain accommodative provided data are supportive.
Accordingly, Rajan retained the short-term lending rate at 6.5 and the cash reserve requirement of banks at 4 per cent.
"This has lowered the chance for any reduction in interest rate in the medium term.
"Any reversal in CPI trajectory led by good monsoon, improvement in transmission and the effect of the US Federal Reserve policy meet on the USD/Rupee will guide future measures from RBI," the Head of Research at Geojit BNP Paribas Financial Services, Vinod Nair, said.
"The timing of the next rate cut would take a cue from whether a well-distributed monsoon in 2016 dampens inflationary concerns, the pace of improvement in transmission and the extent of volatility post any major geo-political events such as the Brexit," ICRA MD & Group CEO Naresh Takkar said.
"It appears that the uncertainties on the global horizon with Fed policy overhang and UK Brexit vote tipped RBI's decision in favour of a status quo.
"With its accommodative stance still in place, I now see high probability of a rate cut in August by at least 50 bps," YES Bank MD & CEO Rana Kapoor said.
Motilal Oswal Financial Services CEO Motilal Oswal said the central bank will maintain a status quo unless in the next couple of months data sharply reverses the inflation trajectory.
"While we continue to believe that there is some more scope for monetary easing, clarity on this will emerge only with incremental food inflation data, effect of monsoon on the disinflationary path of inflation, and degree of volatility from global factors," Oswal said.
By choosing to retain the benchmark policy interest rate at 6.5 per cent, the RBI has not given any surprise to the industry since the central bank wants to wait and see the impact of Monsoon along with certain global factors such as rising commodity prices on inflation, Assocham President Sunil Kanoria said.
He observed that the tight inflation targeting done through an institutional mechanism by the Finance Ministry should be done away with.
After all, when the RBI has been mandated to target inflation of 5 per cent by March, 2017, it is bound to be biased towards achieving that target, Kanoria stated.
Image: Two elephants fight during a traditional festival in Boko, Assam. Photograph: Utpal Baruah/Reuters. The image is used for representational purpose only.
© Copyright 2020 PTI. All rights reserved. Republication or redistribution of PTI content, including by framing or similar means, is expressly prohibited without the prior written consent.