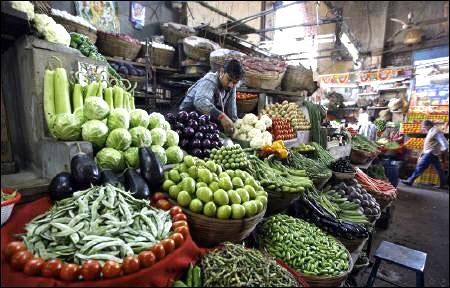 Sequel to optimistic monsoon forecast, besides high base of last year, say analysts
Food inflation is likely to moderate in the next three months on a subdued price trend in agricultural commodities and expectation of above normal rain in the coming monsoon season.
Triggered by a sharp increase in prices of agri commodities, led by those of pulses, sugar and vegetables, food inflation had moved up for six months.
However, in February, retail inflation as measured by the consumer price index dropped sharply after rising for the earlier six months; prices of mainline agri commodities remained elevated but had declined, relatively.
Agri prices had risen as a result of the deficient rain in the past two monsoons, with a fall in output and some crop damage.
Apart from weather related issues, the government will try not to let the retail prices of agri commodities go up.
Ram Vilas Paswan, the food minister, has said so on several occasions, and sp, food inflation is expected to remain under control.
The Consumer Price Index hit the lowest in six months in March at 4.83 per cent versus 5.18 per cent in February and 5.25 per cent in March 2015.
"India's inflation trend has been steadily improving. Food inflation has remained somewhat high due to two years of adverse weather.
With the forecast of above-normal monsoon for 2016, food inflation should see downward pressure.
"We now expect headline inflation to be 4.5 per cent (from 4.75 per cent earlier) by March 2017," goes a research report from Morgan Stanley, the multinational financial services agency.
Cereals and its products, with an overall weight of 12.35 per cent in the CPI, have had prices moderating since January.
Data compiled by the ministry of food showed a 1.5 per cent decline in the price of rise in wholesale markets to Rs 2,411 a quintal. Wheat fell nearly three per cent to Rs 1,956 a qtl.
"The CPI moderated in March mainly due to the base effect. Vegetable prices shot up last year; therefore, the numbers look moderate.
This will also happen this year for pulses.
Tur (pigeon pea) prices went up from Rs 80 to Rs 150 a kg.
Now, when prices come down to, say, Rs 130 if the crop is good, we will say inflation has fallen by 10 per cent.
It is these extremities which have caused CPI inflation to look modest. Also, with high prices, further increases would be of a smaller magnitude.
Therefore, while the WPI (wholesale price index) fall can be explained by commodity prices going down, CPI moderation is purely a statistical case of very high prices for specific products like onions and tomatoes in FY15," said Madan Sabnavis, chief economist, CARE Ratings.
The Reserve Bank of India recently said the gross value added in agriculture and allied activities moderated in the second half of 2015-16, pulled down by contraction in the third quarter due to the year-on-year decline in kharif production.
Turning to the fourth quarter, the second advance estimate of the ministry of agriculture indicate that despite acutely low reservoir levels and a deficient northeast monsoon, rabi foodgrain production increased over its level a year before -- mainly in wheat and pulses -- and compensated partly for the shortfall in kharif.
"Till the southwest monsoon sets in, we do not see any reason for a spike in food prices.
"Pulses and sugar have started moderating. Fruits and vegetables have too many uncertainties and, hence, are difficult to forecast.
"Unless there is any news of adverse monsoon rain, prices of agri commodities would remain under check, with food inflation below five per cent in 2017," said D K Joshi, chief economist, CRISIL.