India's largest-selling deo brand is constantly reinventing itself, says Sohini Das.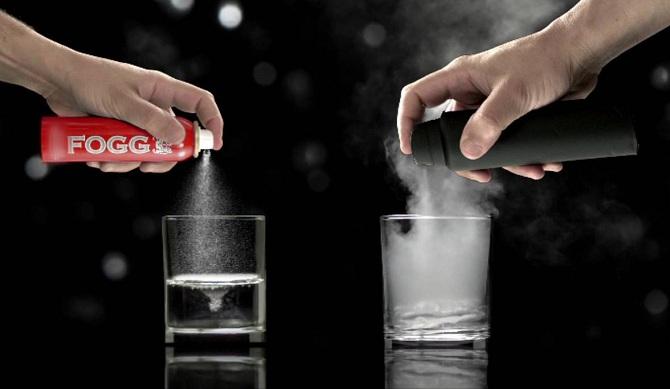 IMAGE: Fogg's initial advertisements of 'No Gas, Only Perfume' were about how the deo's fragrance lingered on the body rather than vaporising. The consumers clearly loved it.

There's a saying: It is more difficult to stay on top than to get there. For Ahmedabad-based Vini Cosmetics, the company best known for launching deodorant Fogg, this adage holds true.
In six years since launch, the market for deodorants in India has expanded four times to Rs 3,600 crore from Rs 900 crore earlier. The category has also become cluttered with big and small brands vying for consumer attention. Against this backdrop, there is only one consistent factor: Fogg remains the leader with a value market share of 20 per cent and volume market share of 22 per cent, according to its promoter Darshan Patel.
Latest Euromonitor market share was not available to corroborate what Patel has to say, even then, say experts, staying at the top is not easy, given that the domestic deodorant market is competitive.
The question then is how has Fogg managed to do it?
The answer lies in the brand's ability to reinvent itself, constantly.
From being a newbie pitching product attributes such as 'No Gas, Only Perfume' to a brand talking to youngsters as well as the older generation, Fogg has done it all in a bid to stay relevant to its consumers.
In the process, say experts, Fogg is becoming a difficult player to beat as competitors such as Hindustan Unilever, ITC, JK Helene Curtis, McNroe and Nivea are beginning to realise.
Once the leading deodorant brand in India, HUL's Axe is no longer in the top five list, according to Euromonitor. Data from 2013 to 2015 shows Fogg remains the leader throughout, followed by McNroe's Wildstone, Nivea, Park Avenue and ITC's Engage (Check chart: Topping the List).
2016 market share was not available.
Patel admits his strategy has been to expand the toehold that Fogg initially gave him.
'No Gas, Only Perfume' was all about how the fragrance of the deo lingered on the body rather than vaporising into thin air, which was a flaw in most deodorants back then. Fogg also advertised this proposition heavily in its early days, comparing number of sprays of average deos versus its own ability to do so. The consumer was clearly excited.
Patel's marketing acumen, which he'd sharpened while at Paras Pharma, the company that was acquired by Reckitt Benckiser (now RB) in 2010, was clearly at work.
It was at Paras Pharma that Patel, the second of three brothers, had imbibed the importance of identifying clear need gaps. He carried that philosophy into Vini Cosmetics, launched in 2010.
Company sources say the 'no-gas' product attribute pushed by Fogg has now been adopted by most players in the business. Fogg, they say, has set the benchmark.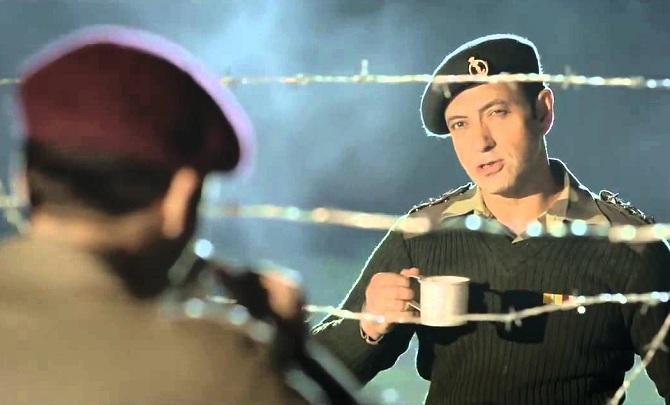 IMAGE: Fogg's evolution has largely involved pitching the brand to a larger audience with campaigns like the tongue-in-cheek 'Kya Chal Raha Ha? Fogg Chal Raha Hain' in 2015 and 'Pata nahin kyun, kuch log bas pasand aa jaate hain' in 2016.

Part two of Fogg's evolution in the last few years has largely involved pitching the brand to a larger audience.
The brand is doing this by talking to different people. The mother, husband, wife, grandpa and army officer have all figured in Fogg's advertising in the last two years in addition to youth, the core target group.
Patel says that pitching Fogg as a brand for all or a "family deo" as he chooses to call it, will be key to its survival in the future.
Patel's advertising agency, which handles the Fogg account, is in agreement.
Kawal Shoor, founding partner, The Womb, Fogg's advertising agency, says, "Darshan always wanted a broader, more wholesome positioning for Fogg. There is a reason for this. The penetration of deos as a category is just about 15 per cent in India. Most brands largely target the youth and use the hook of males attracting females to draw consumers. Darshan was clear that Fogg should avoid being a me-too."
Campaigns such as 'Kya Chal Raha Ha? Fogg Chal Raha Hain' in 2015 and 'Pata nahin kyun, kuch log bas pasand aa jaate hain' in 2016 are some examples of how Fogg has avoided being a me-too.
The Kya Chal Raha Hain campaign was tongue-in-cheek, driving home the point that Fogg was the leading deo in India.
'Pata nahin,' Shoor said, came from the consumer insight of people growing fond of someone they encounter.
In 'Pata nahin', a girl is shown taking a liking to a guy she encounters at a railway station, in part due to the deo he is using. But unlike the 'me-too' deo commercials of girl getting attracted to boy, this ad is subtle. After boy and girl meet, he misses his train and is left stranded at the railway station. Even as he rues about it, the train halts. The girl has pulled the chain, allowing the boy to board the train. It is clear why she did it: She likes him and wishes to see him in the compartment.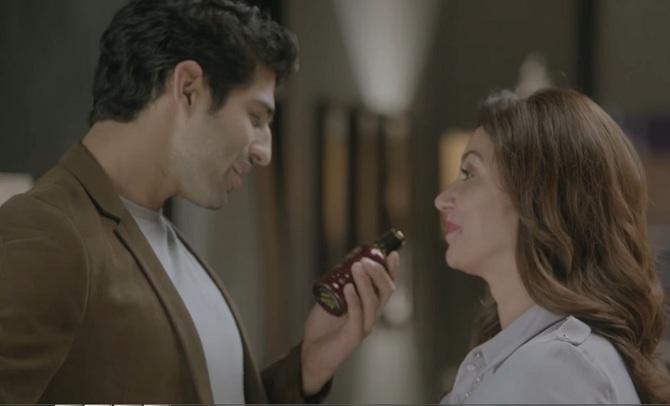 IMAGE: One Fogg ad showed a mother introducing her son to the deo. The company believes that pitching Fogg as a "family deo" will be key to its survival in the future.

Shoor says there are more commercials in the offing that will talk to a "family audience".
At the moment, the brand is busy pushing its premium offering called Fogg Scent, a perfume targeted at both men and women. One commercial shows the brand being introduced to the son by the mother. Another one has a wife telling her husband of the merits of switching to Fogg Scent.
Clearly, Fogg knows where it wants to go.