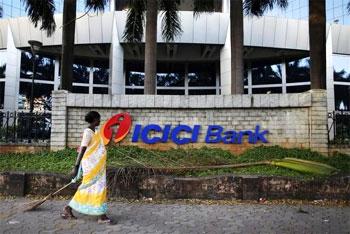 ICICI Bank says it blocked all UPI transactions made through PhonePe due to security concerns.
Flipkart-owned PhonePe said it had not received any official complaint from either ICICI Bank or the National Payments Corporation of India (NPCI) before the bank arbitrarily blocked all transactions made through the app starting Friday.
In a statement on Sunday, ICICI Bank had alleged that it had blocked all Unified Payments Interface (UPI) transactions made through PhonePe due to security concerns and that the app was indulging in restrictive practices.
On Monday Sameer Nigam, chief executive officer of PhonePe, hit back alleging the bank had never voiced its concerns, despite the service being in use for over two months.
'Our UPI payments integration has been live on Flipkart, Myntra and a couple of smaller merchant websites since October 2016. So, ICICI had more than two months to inform YES Bank, NPCI or us, if they felt our solutions did not meet the UPI guidelines,' Nigam wrote in an open letter.
'Either they felt our integration was okay until now, or they felt we were being restrictive but decided to sit on this fact till now, for reasons known only to them.'
PhonePe, which claims to have followed all of the security guidelines laid out by NPCI for a UPI-enabled app, says the block by ICICI Bank since Friday has led to over 20,000 failed transactions amounting to more than Rs 5 crore in value.
Moreover, the company's attempts to get a response have fallen on deaf ears.
'No one is telling us what the exact issues are, yet ICICI Bank claims the block will stay until the concerns are resolved,' added Nigam.
This is not the first time a bank has restricted its customers to utilise the service of new-age payment services by blocking transactions.
Paytm, the country's largest digital wallet which has over 150 million users, was blocked by India's largest public sector bank State Bank of India, where customers could no longer recharge their wallets using Internet banking features.
'We're just here to build really cool digital payment solutions which will solve consumer payment problems, and work with the banking system of the country to further the cause of making digital payments widely accepted in India. For now, it is my sincere hope that ICICI Bank will reverse this block and work towards find a lasting solution,' Nigam wrote asking ICICI to unblock its platform.
NPCI built the UPI platform to allow seamless transactions on smartphones from any two bank accounts, be it between individuals or an individual with a merchant or vice versa.